GoPro Hero3: The Best Action Video Camera Just Got Better
When extreme athletes want to capture that epic jump, wave, climb, ski run or dive, their go-to camera is the GoPro HERO. Light, compact, and able to survive just about any conditions a human could survive (and then some), the newly released HERO3 is lighter, more compact and 2 times more powerful. Available in three [...]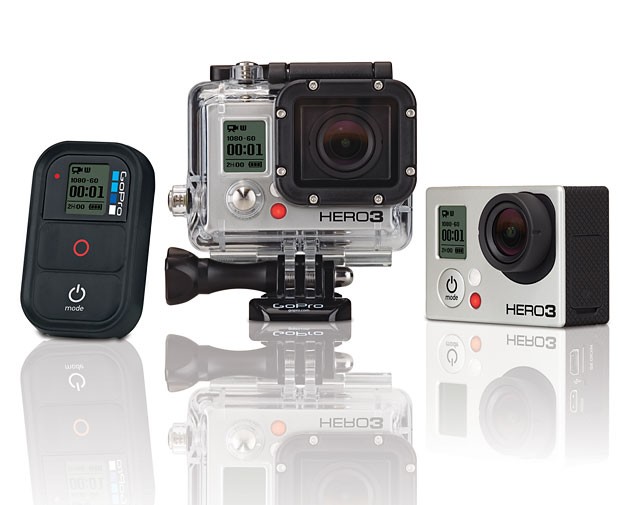 The GoPro HERO3 is smaller, lighter and sharper (Photo: GoPro)
When extreme athletes want to capture that epic jump, wave, climb, ski run or dive, their go-to camera is the GoPro HERO. Light, compact, and able to survive just about any conditions a human could survive (and then some), the newly released HERO3 is lighter, more compact and 2 times more powerful.
Available in three "trim lines," Black ($399.99), Silver ($299.99) and White ($199.99), the HERO3 is now 30% smaller and 25% lighter than the last model, feeling even more barely there when strapped to your helmet, board or skis.
If you're wondering which model fits best for you, here's a quick breakdown:
The Black is built for pros, the guys who are shooting footage that may make it to the big screen. Its glass lens is twice as powerful and sharp as before, and besides boasting a host of features like the ability to shoot in full Cinema resolution, shoot crystal clear 12 MP pics with bursts up to 30 per second, and shoot simultaneous pictures and video, it also has a handy WiFi remote for starting and stopping filming, without having to fumble through your helmet mount. And the WiFi can be used to share pics and vids while you're still on the mountain. (Provided, you know, there's a mobile hot spot around…)
The Silver model is made for the "prosumer," those of us who may not have a distribution deal, but still want pro looking results. Like the Black, it has WiFi built-in, but you'll have to purchase a remote separately, and it can shoot at 1080p, high enough to show off your exploits on your flatscreen at home. It's pic taking ability is only slightly less apt, coming in at 11MP, and only able to burst at up to 10 pics per second.
Both the Silver and Black models feature GoPro's Protune video mode, that "unlocks the camera's full potential," with things like noise reduction, faster data rate, and 24 frames per second frame rates.
The White is perfect for the budding, budget-minded, action enthusiast. It has built-in Wifi but won't work with the remote, it doesn't come with Protune mode, and can only burst at 3 pics per second, but if you're just looking for a cam to grab footage of the family ski trip or your first bomb down a mountain bike trail, you can't beat the White's quality or price.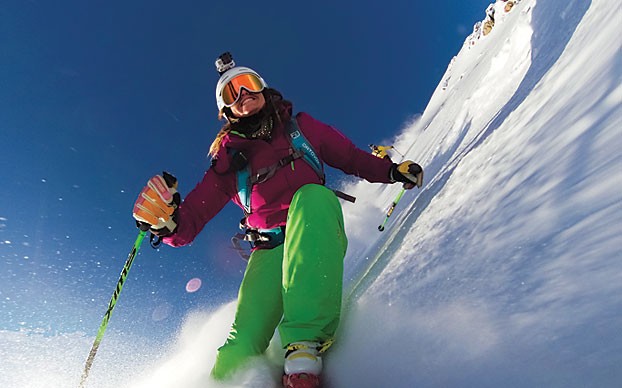 Mount to your ski for amazing action shots
All come with a waterproof housing that can dive 197 feet, assorted mounting hardware, a rechargeable Li-On battery, and various other mounts, depending on the model you go for. Just owning one makes you want to climb to the top of something high, and film yourself riding it all the way back down. You can almost smell the YouTube views…
To see videos shot with the HERO3 go to GoPro.com