Google Offers Arrives in San Francisco, New York City
The scope of Google Offers has expanded. After starting off beta in Portland last month, the daily deals website (yes, yet another one) arrived in San Francisco and New York City on Tuesday. Google Offers was introduced at the end of May along with Google Wallet, which will store credit-card information on smartphones, allowing in-store [...]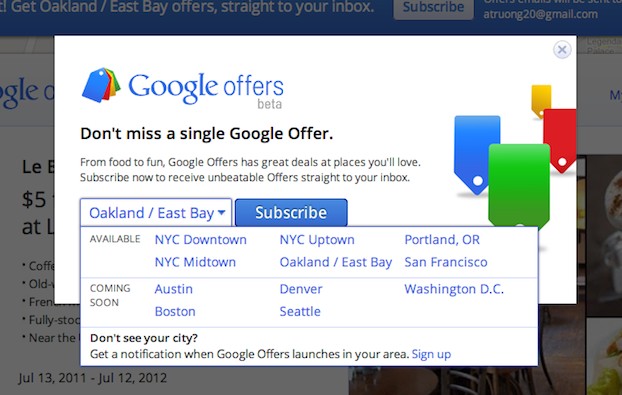 The scope of Google Offers has expanded.
After starting off beta in Portland last month, the daily deals website (yes, yet another one) arrived in San Francisco and New York City on Tuesday. Google Offers was introduced at the end of May along with Google Wallet, which will store credit-card information on smartphones, allowing in-store payments via phone. The two are designed to work seamlessly together.
The first offers? New Yorkers got discounts to red-velvet cupcakes, wine and chocolate, and Belgian fries. Folks of the Bay Area were introduced to deals at a 24-hour donut shop and French food.