Google Maps, Apple Maps, What Each Can't Find
Google's new mapping app for iOS can get iPhone users back on track, but it's still lost in ways of its own.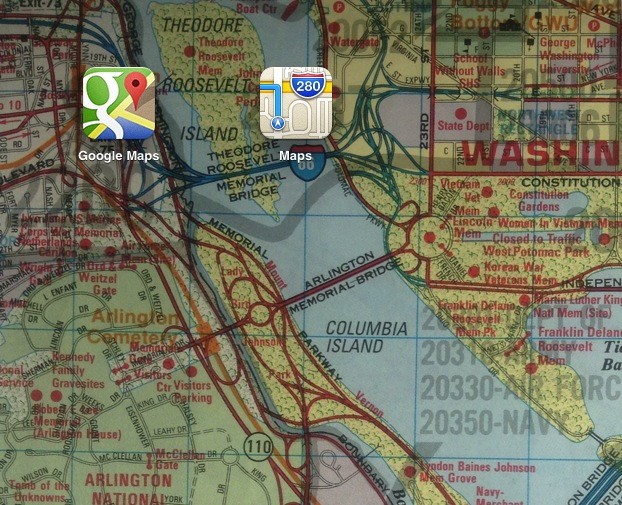 As you may have heard Wednesday (unless bad directions had you lost in the Australian countryside), Google now offers a standalone maps program for Apple's iOS. The long-awaited release gives iPhone users a compelling alternative to Apple's occasionally underinformed, transit-handicapped mapping app for iOS 6.
But for all of Google's progress (for a deeper assessment of its interface, see Jacqui Cheng's writeup for Ars Technica), it's not the last stop in mobile mapping. The ways each program dealt with a few Washington-area itineraries showed that both have things to learn.
PHOTOS: Google Maps Tries to Save the Planet
Discovery Communications to National Airport: Both apps agreed on two of three possible routes from Discovery's Silver Spring, Md., headquarters through the District to the airport. Google factored traffic into its time estimates and Apple did not. 
The high cost of parking at National would lead me to take Metro anyway. But Google's app, unlike its website, didn't note transit travel times on the same page as its list of driving routes. And if you did plan on parking at National, you'd also want to check on its availability; understandably, neither app offered help with that.
From my home to my friend Scott's house: This is a trick question: Because Google Maps ties into neither iOS's contacts list nor your Google contacts, I had to type in the address instead of choosing his name off a list. (Because you can't change iOS's default mapping app, you can't start a search from the Contacts app either.) On the other hand, Apple had me take a needless detour along the way to my friend's Annandale, Va. abode.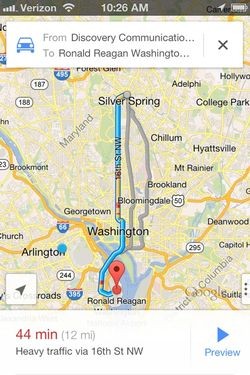 FedEx Field to Rosslyn:
Google offers a 30-minute route via U.S. 50 and D.C. 295 that includes a recently opened offramp. Apple suggests taking 50 and 295, but then would have you exit to eastbound Pennsylvania Avenue SE, make a U-turn to go west and then proceed along I-395. Bad idea: The first mile of that last stretch of highway closed two weeks ago as part of the same construction project.
McPherson Square to 16th and U Streets NW: Both handle walking directions fine. Google listed which Metro buses were scheduled to head north next, while Apple's app required me to switch to a third-party app; I opted for The Transit App, which has worked well in my earlier tests, but you can also use Google Maps itself.