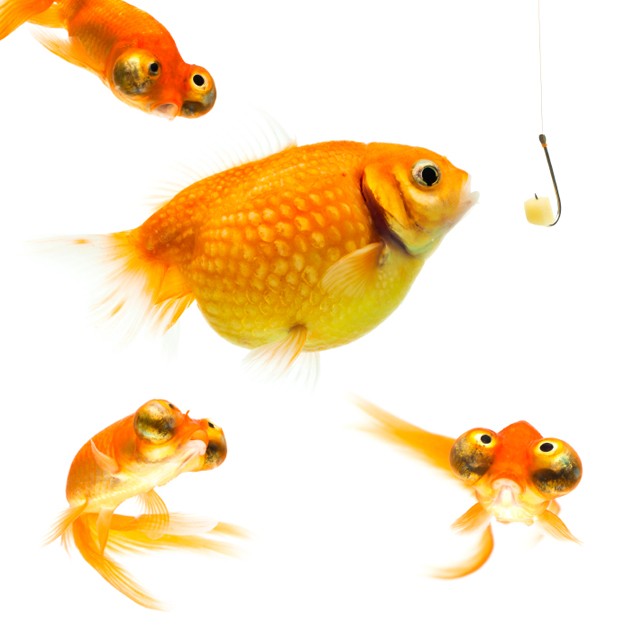 Anglers have long complained of the big ones that got away, but earlier this month a retired California school administrator landed a yellowfin tuna that weighed in at 405.2 pounds. If the International Game Fish Association approves the catch as a new all-tackle world record, then Mike Livingston will have broken a record that's stood since 1977. If anglers want to ensure Livingston hasn't caught the last largest yellowfin tuna in the world, they may want to let big ones get away more often.
While big mouth bass and trout fisherman have long known that catch and release is the only way to maintain a population of trophy-sized fish, "a big fish isn't any more highly prized in industry than a smaller fish," says David Conover, Director of the Division of Ocean Sciences at the National Science Foundation.
"Minimum size limits have been the standard for fisheries management for decades. The general idea is that fish should be allowed to reproduce at least once before they are killed," said Lee Crockett, director of federal fisheries policy at the Pew Environment Group.
But studies are showing that this tactic puts pressure on species to reproduce at smaller sizes, when they are younger. Consequently, this pushes generations of fish toward having smaller body sizes in general, and also depletes the population, since smaller fish tend to have fewer babies.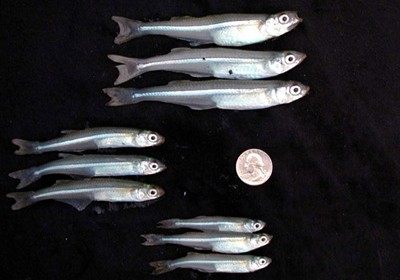 Last year, Conover, then with Stony Brook University, completed a decade-long study that showed fisheries-induced pressure on fish to genetically mature at smaller sizes could be reversed. The key, however, was that this reversal took several generations. Letting fish, which had genetically evolved to mature at smaller sizes, off the hook, didn't necessarily mean their progeny would be much bigger by the time it was their turn to spawn.
His study made a splash, but "we still don't have a consensus that fisheries management, in addition to accounting for ecological change, also needs to account for evolutionary change," Conover told me during a meeting of the American Geophysical Union.
SEE ALSO: Fish Talk to One Another
Not all scientists are convinced that the reduction in maturity size is a significant reason why species in the wild, such as cod, are no longer reaching minimum size limits within their populations.
"There are people who would argue that the fish are small because we are harvesting out the larger fish, and getting them big again is only limited to the number of years it would take to grow, not generations," Conover said.
For hard proof, molecular genetics on wild fisheries has to also evolve. "In the near future we may know what the genes are that we need to test for growth rates," he said. If we could point to a genetic marker and say 'here's a gene that controls for maturity.' If in one form the allele codes for later maturity and we can look at the frequency of that change, then we would have a way of testing even in wild fish."
In the meantime, any potential evolutionary benefits of management methods on a population are just happenstance.
The late Steve Berkeley — a fisheries ecologist at Long Marine Laboratory at the University of California, Santa Cruz — championed the "big, old, fat female" hypothesis. His work showed that older, fatter, female fish had a biological advantage over their younger, smaller females. Marine protected reserves offered the older fish a chance to do what they do best: pump out babies — lots of them, and stronger, healthier ones to boot.
A Goldilocks approach to fishing may help. Too small or too large, throw it back. This type of slot fishing, as it's called, puts evolutionary pressure on fish to mature quickly and grow quickly, Conover says. "To get through that slot they have to grow fast."
There are several overfished species that could benefit from better management practices whether they are implemented for evolutionary or ecological reasons.
"Although red snapper can live to 54, few are older than 10," said Holly Binns, a Pew Environment Group project manager who works on overfishing issues in the Southeast.
As for the 405.2 lb tuna, Conover remarks, "Catching a fish like that is like having a really cold day in the middle of winter. It doesn't indicate a climate trend."
Photos: (Top) iStockphoto; (Middle) In silversides, removing only the largest fish repeatedly over generations can cause profound downsizing of fish. Credit: Stephan Munch, courtesy Institute for Ocean Conservation Science.