Giant Eyeball Likely Belonged to Swordfish
The Florida Fish and Wildlife Conservation Commission now believe that the giant eyeball found on a Florida beach belonged to a swordfish.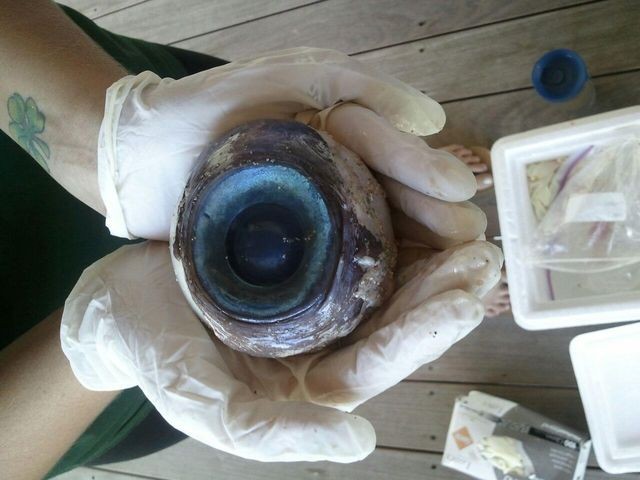 UPDATE Oct. 15, 2012: Researchers from the Florida Fish and Wildlife Conservation Commission now believe that the giant eyeball, found on a Florida beach, belonged to a swordfish.
"Based on its color, size and structure, along with the presence of
bone around it, we believe the eye came from a swordfish," Joan Herrera,
curator of collections at the FWC's Fish and Wildlife Research
Institute in St. Petersburg, said in a statement.
Cuts found around the eyeball suggest that a fisherman removed the eye and then threw it back into the ocean. Per the below, researchers originally thought the eyeball could have belonged to either a swordfish or a giant squid. Genetic testing results are still forthcoming to conclusively determine the exact species.
A mysterious eyeball that washed ashore this week on a South Florida beach belonged to either a giant squid or swordfish, marine biology experts believe.
Associated Press reports that after some discussion with colleagues, Florida International University in Miami assistant biology professor Heather Bracken-Grissom came to the conclusion. She informed AP that the lens and pupil match those found in a deep sea squid's eye. She notes that a giant squid's eyes can be as large as soccer balls and they easily dislodge.
Dan-Eric Nilsson of Lund University's Department of Biology and colleagues recently wrote about such eyes in the journal Current Biology.
Nilsson and his team wrote, "The eyes of giant and colossal deep-sea squid are 27 cm (10.6 inches) in diameter. Modeling suggests that the huge eyes are uniquely suited for spotting sperm whales."
Squid can regenerate body parts, and many marine animals can regenerate their eyes, so I can only hope that the one who lost this eye is still in the water of the living and will soon have a new eye.