Get Ready for Modern Warfare 3 with Limited-Edition Xbox 360
You're not a Modern Warfare 3 enthusiast if you're playing the game on a PlayStation or Xbox. Because enthusiasts will be clamoring for this Modern Warfare 3 limited-edition Xbox 360. According to Engadget, the custom console is a 320-gigabyte game system. This is the largest hard drive yet for an Xbox 360. The console along [...]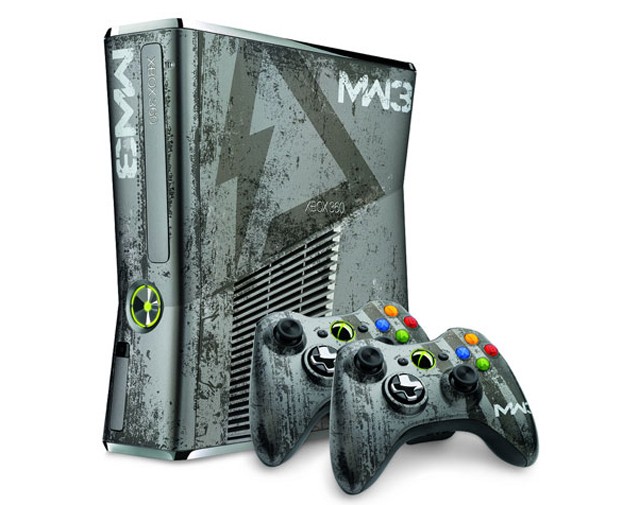 Image: Xbox
You're not a Modern Warfare 3 enthusiast if you're playing the game on a PlayStation or Xbox.
Because enthusiasts will be clamoring for this Modern Warfare 3 limited-edition Xbox 360. According to Engadget, the custom console is a 320-gigabyte game system. This is the largest hard drive yet for an Xbox 360. The console along with its two wireless controllers have that rugged war look to them (see photo above). And as expected, the customized Xbox 360 comes bundled with the latest Call of Duty game. To get you really amped up, as you're turning on the system, the Xbox plays undeniably Call of Duty boot-up sounds. All that for $399. Available Nov. 8.
If you can't wait until November for all this, Xbox 360 will release two limited-edition accessories, shipping to stores Oct. 11. They are the wireless controllers ($59.99 each) as well as a Modern Warfare 3-themed wireless headset with Bluetooth ($69.99).