Get Everyone's Opinion on Everything
By tallying up "cheers" and "boos," this site gives users a glimpse of popular opinion on just about any topic.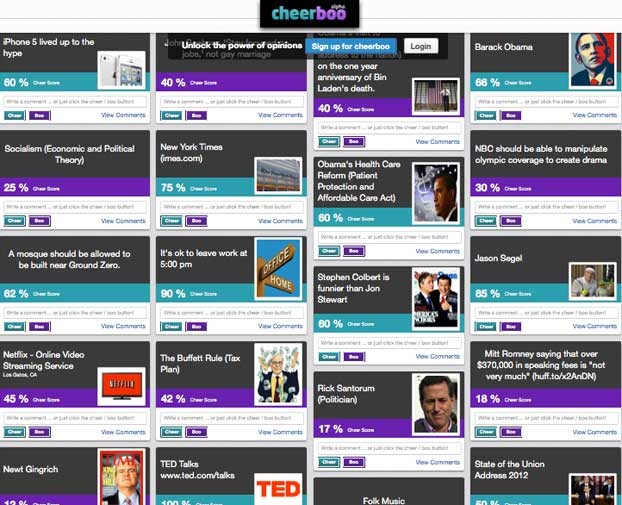 Opinions are not hard to come by — everyone's got one and most are willing to share. Now here's a way to see all of those opinions at once. Cheerboo is a website that crowdsources cheers and boos and turns them into a social graph. With topics ranging from people and celebrities to Supreme Court rulings and even milk, one can get a snapshot of the public's view on just about anything.
Alex Mittendorf and Sean Crockett built the site as a simple way to discover opinions online without having to sift through piles of commentary.
The site is set up with rows of boxes depicting topics with a title, an image and a "Cheer score" that provides a percentage how favorable the topic is with the majority. The score is compiled by users who log in and vote by clicking either the "cheer" or "boo" button. They can also leave comments.
The Affordable Care Act? 60 percent favorable. Leaving work at 5:00 p.m.? 90 percent favorable. Bloomberg's ban on large surgery drinks in NYC? 20 percent favorable. White Castle burgers? 45 percent favorable. Spinach? A surprising 88 percent favorable. Who says we don't like our veggies?