Get a Virtual Tour of Mauna Kea's Monster Telescopes
There is a world of telescopes out there and you may think that there's not enough time to visit them all. But you can visit them, though, at least virtually. Continue reading →
There is a world of telescopes out there and you may think that there's not enough time to visit them all. But you can visit them, though, at least virtually. A new set of images and movies were released this week featuring the observatories on Mauna Kea, shot with lenses that allow for their use in planetaria around the world for free.
PHOTOS: Cosmic Hotshots from Keck Observatory
Science on the Half Sphere is a collaboration between CosmoQuest and The Ward Beecher Planetarium at Youngstown State University (YSU) to create free content that any planetarium can use. Their first full feature film, Cosmic Castaways, is already available for full dome projectors, and a flattened version is available on YouTube.
Last year, Patrick Durrell of YSU traveled to Mauna Kea with a 180-degree field of view fisheye lens to capture more footage for use in planetariums. He came back with images and timelapses of the telescopes in action and the night sky as seen from this observatory site at nearly 14,000 feet. Since these are available under a Creative Commons license, anyone can enjoy them.
PHOTOS: ALMA: New Jewel of the Atacama Desert
Though they reveal their full beauty when projected onto a dome, they can be enjoyed on a flat screen as well. In fact, a fisheye lens is an excellent way to capture the full size and complexity of some of the largest telescopes in the world, such as the Gemini North Telescope, one of twin 8-meter optical and infrared telescopes, some of the biggest glass in use in astronomy today. Or, you can watch all eight dishes of the Submillimeter Array move in harmony. There are also full-sky timelapses and star trails of one of the darkest viewing sites on Earth.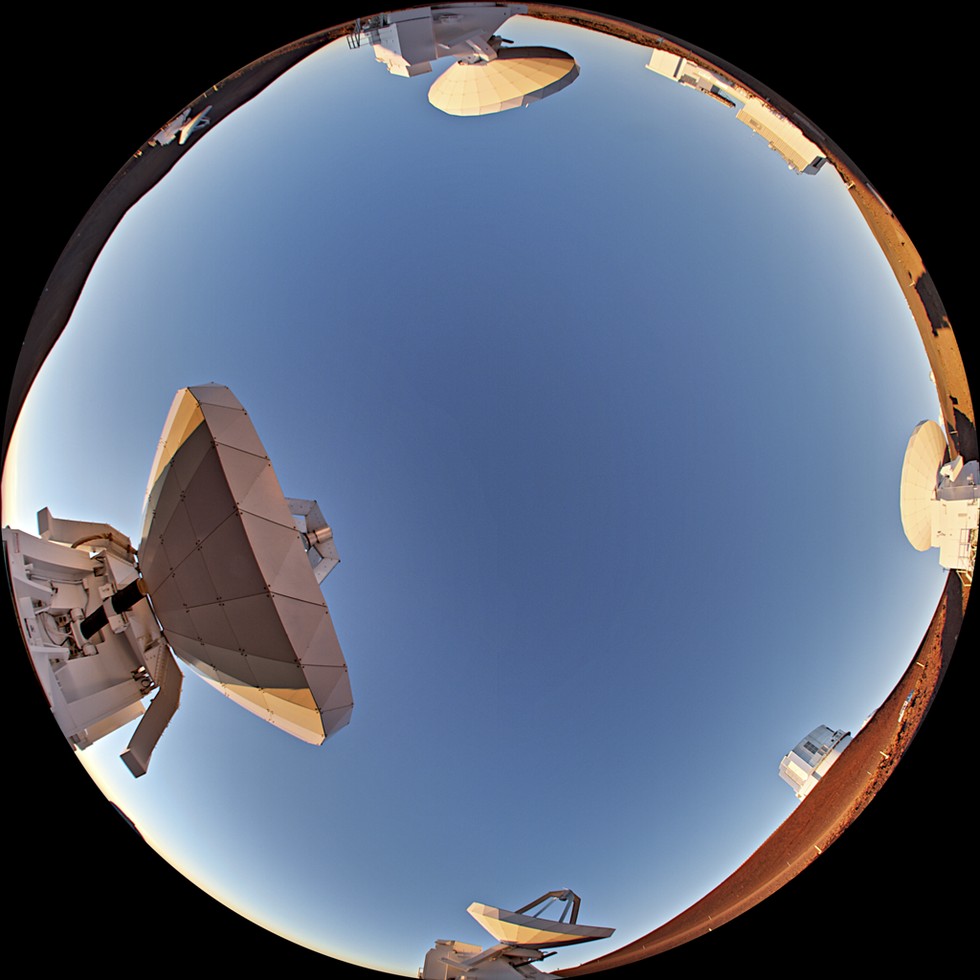 View hi-res version
The planetarium experience itself has become cheaper with the advent of portable planetaria, inflatable domes that can be purchased for a tiny fraction of the cost of a permanent building. Such portable domes allow for science outreach groups and science departments to bring the night sky to schools or to the public, during the day or on cloudy nights. Without the budget of a permanent institution, these roving planetaria could certainly benefit from low cost or free content to include in their repertoire.
PHOTOS: ALMA Inauguration: Journey to the Atacama
I'll warn you, though free to use, the files can be very large, but they are worth the wait of download time. Much work has gone into filming and production of these images and videos. I tried my hand at such photography while visiting the Atacama Large Millimeter/Submillimeter Array, but with no training and little time to get acquainted with the lens during our action-packed visit, my photos came out woefully overexposed. So I have to give a big hat tip to the production team that brought us these gorgeous views.
So take a look, take a break from your daily routine, and enjoy this unique view of the tools that astronomers use to understand the Universe.
Images: Released under Creative Commons by Science on the Half Sphere. 
Full Disclosure: The author is employed by CosmoQuest as a post-doctoral fellow.