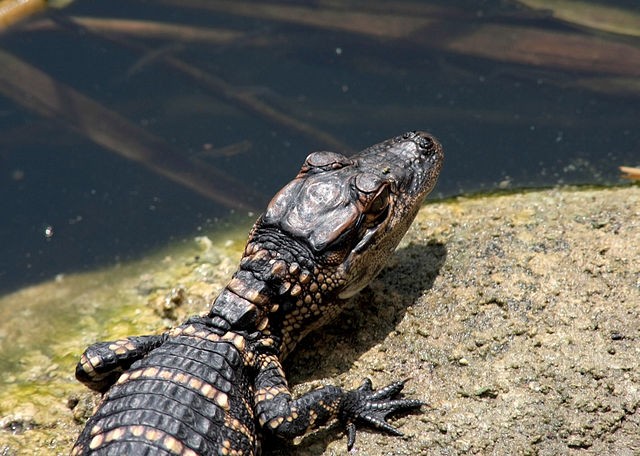 The Audubon Zoo in New Orleans recently suffered a gator grab and go. Ten baby alligators were snatched from an exhibit at the zoo.
The sticky fingers of the thieves could well end up in the bellies of the tiny beasts, or at least receive nasty wounds and serious infections.
"You'd think a baby alligator that size wouldn't be dangerous but they still bite," said Alex Price, whose family owns Insta-Gator Hatchery, on the website of New Orleans' Fox affiliate, WVUE. "When they bite you, these little alligators, they have bacteria in their mouths.  When the cuts heal you'll have infection in your hand and it won't heal for weeks."
The fear of finger mutilation may have led someone to drop off a container holding several baby alligators at a New Orleans intersection on Thursday evening. The New Orleans Police Department has not yet confirmed if these are the reptiles robbed from the zoo, reported WVUE.
IMAGE: A baby American alligator, Alligator mississippiensis (Ianaré Sévi, Wikimedia Commons)