Fire-Breathing Black Stallion Rides High
Seven-foot, red-eyed mutant horse car snorts flame and blows minds at the 2013 Bay Area Maker Faire. Continue reading →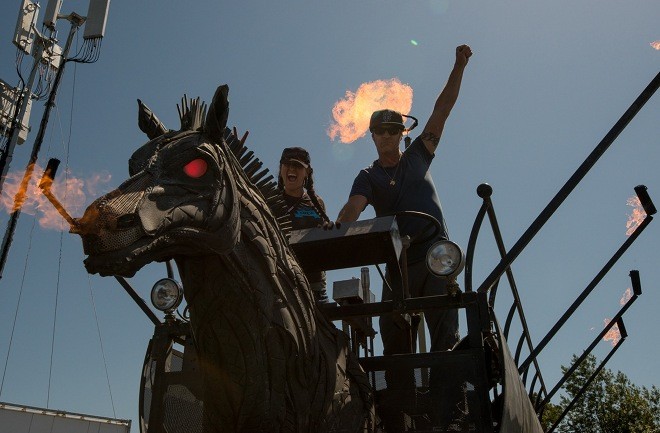 To leave out the Steam Punks and Burning Man habitués (aka "Burners") would be a great oversight, for they were just as integral to the community of the 2013 Bay Area Maker Faire as were the roboticists, engineers and sci-fi fanboys.
While it's hard to pick from the array of gigantic, psychonautical art projects that melted many a mind at the Maker Faire, Chester the Fire-Breathing Mutant Horse Car seems like as good a vehicle as any to tip my hat to. While he waits to gallop into apocalyptic sunsets, saddled by a band of psychotropic cowboys and cowgirls, Chester trot-rolled around the West Lot of the San Mateo Events Center last weekend, snorting flame and glaring down at fair attendees with red eyes that glowed like hot coals.
BLOG: Hockey-Puck Shaped Robot Makes Debut
Created by Jason Anderholm and Rebecca Anders as an art car for the Burning Man festival, Chester's main frame is from a Ford Econoline 250 truck that's been topped off with a passenger platform and a driver's seat seven feet off the ground. The black stallion's mane, head and neck were created out of recycled tires that have been carved and welded to the frame to look like muscles.
"The concept of Chester was first a dream sketched out on a napkin. Next thing I knew, he was in full on production at the Department of Spontaneous Combustion (DSC) in West Oakland, the heart of the industrial art scene in Northern California," Anderholm told Make magazine. "His original intention was an art car for Burning Man. He continues to be a Burning Man mutant vehicle as well as reaching out and doing other events in Northern California."