FBI Releases Photos of Boston Bombing Suspects
The FBI releases photos and video of two men sought in connection with the Boston Marathon bombings.
FBI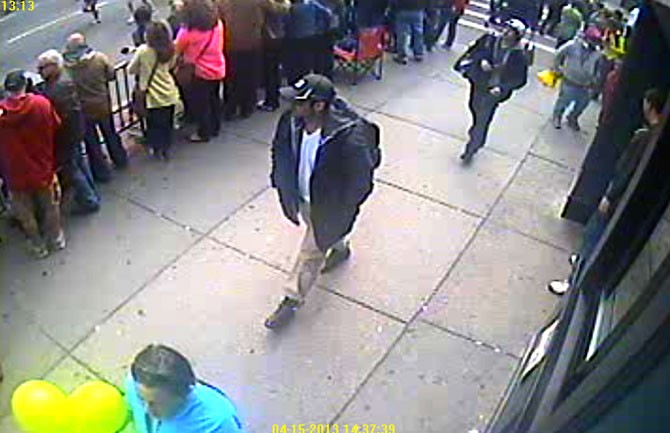 Two suspects (in black cap and white cap) are sought by the FBI in connection with the Boston Marathon bombings.FBI
The Federal Bureau of Investigation on Thursday released photos and videos of two men sought as suspects in the Boston bombings, urging the public to help identify them.
"No bit of information, no matter how small or seemingly inconsequential, is too small for us to see," Richard DesLauriers, the agent in charge of the FBI's Boston office, told a press conference, three days after Monday's attack.
The FBI also released video and more images from the surveillance footage.
One man was seen in the video setting down a backpack near the site of the second explosion, minutes before it detonated, DesLauriers said. He cautioned that the men are thought to be "armed and extremely dangerous."
The FBI has called for any leads on its web site: "If you have visual images, video, and/or details regarding the explosions along the Boston Marathon route and elsewhere, submit them on https://bostonmarathontips.fbi.gov/."
PHOTOS: When Terrorism Targets Sports
"For more than 100 years, the FBI has relied upon the public to be its eyes and ears," DesLauriers said. "Somebody out there knows these individuals."
Investigators are poring over evidence gathered in the wake of the twin blasts, which killed three and wounded around 180 others.
DesLauriers said no other information would be released, telling reporters: "This is our focus now."