The fate of Haiti's zoo, endangered species and other animals in the Caribbean country remains uncertain at present, with U.S. animal and veterinary organizations attempting to gather information while also standing by to allow rescuers to focus on human victims of the devastating 7.0 earthquake and its aftershocks. 
(Image: A manatee feeding on seagrass. The International Union for the Conservation of Nature has this species, Trichechus manatus, on its "Red List" of endangered animals in Haiti. Credit: U.S. Geological Survey)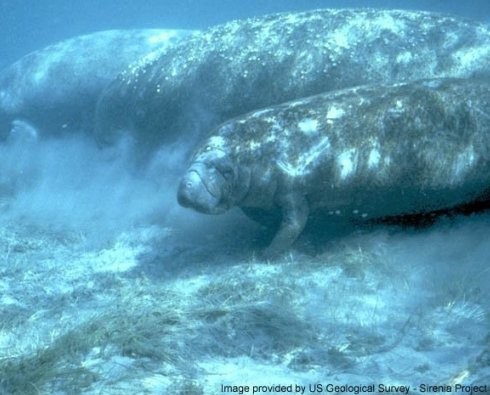 The American Veterinary Medical Association yesterday issued a release that mentions, "As always with disasters like this, the humanitarian rescue efforts
will be the focus in Haiti for the first week or so. However,
veterinarians are on standby to assist with the tragedy."
It adds, "Once the immediate human needs have been met, the AVMA is ready to address the animal issues in any way we can."
Bloggers Christine Frietchen and Linda Mohr write: "So far, animal relief organizations like the Humane Society and the
ASPCA are not making large appeals for Haiti's animal population. As
with Hurricane Katrina, it may be a few days before animals' agencies
can start rescue operations and get personnel and supplies into the
area. The International Fund for Animal Welfare is on alert, noting that humanitarian efforts need to be well underway before animal rescue efforts can begin in earnest."
Fermathe, Haiti, is home to a zoo that one past visitor reported housed monkeys, snakes, alligators and exotic birds, such as peacocks. The nearby hospital in Fermathe is still standing, but doctors, nurses and other staff there are said to be exhausted and struggling to care for the many patients.
Haiti is home to several endangered animals, according to the organization Animal Info. These include the critically endangered Puerto Rican Hutia (Isolobodon portoricensis), the endangered Haitian Solenodon (Solenodon
paradoxus) and the "vulnerable" manatee "sea cow" (Trichechus manatus) and Hispaniolan Hutia (Plagiodontia aedium).
Haiti Earthquake: How You Can Help The Victims:

The American Red Cross is accepting donations by phone. You can text "HAITI" to 90999 to donate $10 to the Red Cross's efforts, or call 1-800-Redcross or 1-800-257-7575.

Interaction, the largest coalition of U.S.-based NGOs focused on the world's poor, has set up a

UNICEF is also accepting donations for the relief efforts in Haiti and the Caribbean region. Visit