Fatal Black Bear Attacks on the Rise
Since 1960 in North America, more than 50 people were killed by black bears in the wild.
Corbis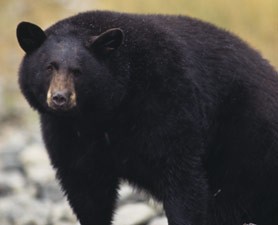 A black bear near Wrangell, Alaska. The number of fatal attacks by the bears has risen since 1960.Corbis
THE GIST
- A marked increase in fatal attacks by black bears in North America since 1960 is likely linked to growing human populations.
- The vast majority of the attacks -- 92 percent -- were carried out by lone male bears.
Fatal black bear attacks have risen along with human population growth in the last 50 years, according to a study out Wednesday that reviewed deadly North American encounters since 1900.
Over the past 110 years, a total of 63 people were killed in 59 non-captive bear attacks, most of those occurring in Canada and Alaska, said the study published in the Journal of Wildlife Management.
Eighty-six percent of those deaths have occurred since 1960, showing a link between fatal bear attacks and a rise in the human population.
"Each year there are millions of interactions between people and black bears with no injuries to people. So while the risk is low, it does exist," said University of Calgary professor emeritus Stephen Herrero.
"We didn't demonstrate why population growth is correlated with more bear attacks, but we suspect it is because there are more people pursuing recreational and commercial activities in black bear habitat," Herrero said.
The findings also dispelled a common myth that a mother bear protecting her cubs may be the deadliest type of animal to encounter -- a full 92 percent of deadly bear attacks were carried out by predatory lone males.
"Lone male black bears hunting people as a potential source of food are a greater cause of deadly maulings and related predatory attempts," the study said.
"Fatal attacks do not typically involve bears that are familiar with humans, although some fatal attacks did," it added.
Bears that have killed people before are more likely to do so again, and people traveling in pairs or groups are less likely to face attack than singles.
"Human food and garbage tends to attract bears and may increase the likelihood of serious bear attacks," the study added.