Farmed Dogs Once Featured as California Cuisine
Dogs were once prized for their fat content, suggest studies of 2,000-year-old canine burials.
Dante Dasaro - DDR house photographer
Detroit: The City of Roaming Dogs
May 1, 2012 -
Roaming dogs have been a part of the city of Detroit for a long time. It's estimated that the city has the most homeless dogs in the nation at anywhere from 30,000 to 50,000. The city, the poorest major city in the country, has a hard time controlling the issue. Many residents find that they can no longer pay to feed their dogs and just let them loose on the streets. A recent Rolling Stone article chronicled the issue in detail, along with the man who is on a mission to help the dogs and help his city. Photo: A pack of stray dogs located on Detroit's Westside.
Dante Dasaro - DDR house photographer
The Rapper and the Dogs Rapper Daniel "Hush" Carlisle grew up seeing stray dogs roaming the streets of his city. In 2010, Carlisle uploaded a video to YouTube about the stray dog problem in Detroit. It quickly gained a lot of attention. The video came after the city failed to give Discovery Channel the rights to film a show about Detroit's stray dog situation, for which Carlisle was a location scout. Since then, Carlisle, along with filmmaker Monica Martino, says the city has been supportive of the group they founded, Detroit Dog Rescue. Photo: Detroit Dog Rescue co-founder Daniel "Hush" Carlisle taking possession of an owner surrender dog in Detroit. The dog was later adopted out to a family outside of Michigan.
Dante Dasaro - DDR house photographer
Finding Homes Along with three other volunteers, Carisle and his team drive around the streets of the city fielding tips and looking for stray dogs who need help and who they can rescue. "About 80 percent of all the dogs we find have been rescued," Carlisle said. Carlisle's mission is to start the first no-kill shelter in the city. Photo: DDR field agent Shance Carlisle examining a mixed breed pit bull. The dog belonged to a family who lost their home to foreclosure on the Eastside of Detroit. The dog was killed a week later in a dog fight.
Dante Dasaro - DDR house photographer
Cash Finds a Home DDR supporter Christopher Altman with a boxer left abandoned in a home located on the Eastside of Detroit, after the owner passed away. The dog was left in the basement for eight months and fed occasionally by the owner's son. This boxer was adopted to a family in Monroe, Mich. The family gave him the name Cash.
Dante Dasaro - DDR house photographer
Honey Gets a Groom and a New Owner Honey, a Chow/Terrier mix, was abandoned by her owner on the east side of Detroit. She was found tied up to an awning. Here , Honey is getting her first grooming. She was adopted by her groomer and now lives in Utica, Mich.
Dante Dasaro - DDR house photographer
Chained Up DDR responded to a stray dog in the neighborhood. This American pit bull mix on the east side of Detroit was found with a double chain on its neck. The dog's owner eventually claimed the dog.
Dante Dasaro - DDR house photographer
The City's Bravest Help Out a Stray This Pit bull/hound mix, found resting on a bed in an abandoned industrial area on the Eastside of Detroit, was being fed by Detroit firefighters whose department was nearby.
Dante Dasaro - DDR house photographer
Creating Trust DDR field agent Patrick Ward gains the trust of a pit bull stray on Detroit's Southwest side. The dog was taken in and fostered by Animal Welfare Society.
Dante Dasaro - DDR house photographer
Joany Detroit Dog Rescue field agent Shance Carlisle rescues an American pit bull mix dog left abandoned on the Eastside of Detroit. After being treated for having a severe case of the mange, "Joany" was adopted out
Dante Dasaro - DDR house photographer
"Completely Wild" "A lot of these dogs are just completely wild," Carlisle said. "And they are hard to rehabilitate because they have been on the streets their whole life and have never had to deal with people or owners." His passion for his city and for the dogs is what motivates Carlisle. He has made himself known to the community and gets calls regularly from people about tips, stray dog sightings and he even from owners who can't afford their dogs anymore. "I talk to everyone from postal carriers to drug dealers," he said. "I do it because I want to help these animals and these people and my city." Photo: A pack of stray dogs located on Detroit's Eastside in an abandoned industrial park.
Dante Dasaro - DDR house photographer
The Stray Chow A recent article in Rolling Stone has helped give Detroit Dog Rescue some attention, along with some funding. Carlisle hopes that the momentum can keep going and that he can create a no-kill shelter. Photo: A Chow stray on Detroit's Eastside. This dog eluded DDR field agents and was not rescued at the time of this photograph.
Dante Dasaro - DDR house photographer
Adopt Yogi This is one of the dogs available for adoption via DDR's website. Yogi is a 9-week-old Terrier mix who is ready to come home with you.

Evidence is growing that dogs were once valued for their meat and regularly were consumed in California and likely other places throughout the world.
"Dogs are reared (or were) largely for the flesh which they supply ... like the farmer's yellow-legged chicken, when other meat is scarce," wrote Stephen Powers of the U.S. Department of the Interior, referring to the practices of Yokut Native Americans in his 1877 "Geographical and Geological Survey of the Rocky Mountain Region."
In 1991, Lynn Snyder in a University of Tennessee publication, noted that dogs often have a high fat content compared to other food sources and, unlike wild animals, their fat content varies little between seasons. Dogs then would have been an attractive food source, particularly during the winter and early spring, when wild food sources were lean.
The latest evidence comes from a recent study of multiple 2,000-year-old canine burials in California, with a focus on what are now the San Francisco Bay and Sacramento Delta regions. The study, accepted for publication in the Journal of Archaeological Science, represents the first to employ DNA analysis on canines from archaeological sites in the golden state.
Some of the California canine remains previously had been attributed to coyotes and wolves, but DNA determined the bones belonged to dogs.
Certain burials showed that the dogs had their hindquarters removed before internment. Dog bones were also found buried with a wide range of associated offerings, such as red ochre, quartz crystals, pipes, abalone shells and baskets still containing seeds.
Native American tribes, such as the Ohlone, Coast Miwok and Patwin, dominated the territories at the time. Differences in the dog burials could therefore reflect differences in how dogs were valued and treated by the diverse groups.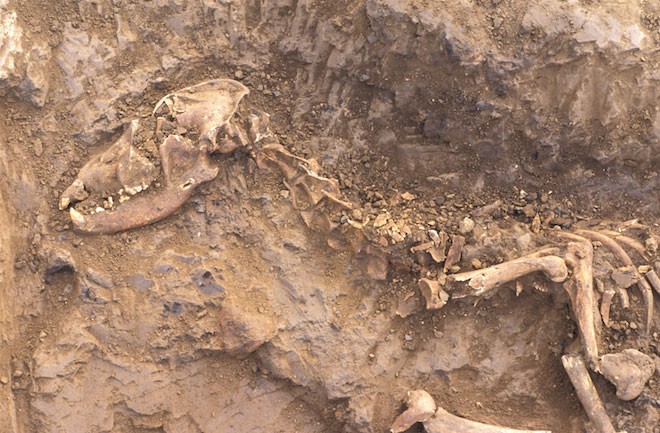 2,000-year-old canine burial in CaliforniaAlan Leventhal
In some cases, it appears that dogs were ritually killed, with two lines of evidence supporting that theory, according to lead author Brian Byrd of the Far Western Anthropological Research Group.
"These include occasional removal of a portion of the individual and the inclusion of rare, esoteric objects within the internment," Byrd told Discovery News. "If the dogs were just pets or companions that died of natural causes, then we would not expect to find this pattern. Similarly, double internments are unlikely to represent natural deaths, given the odds of two dogs dying at the same time."
Byrd and his team conducted isotopic analysis of the dog remains and found that the animals, when alive, "had a diet similar to humans." The dogs therefore either scavenged food near human settlements, or were fed scraps and leftovers.
Dogs may have been sacrificed as food for the dead or for other rituals. An initiation ceremony among the Patwin, for example, involved wounding the person and then covering that initiation wound with a bandage.
"This bandage has been dipped in the blood of a dog previously killed," wrote A.L. Kroeber in a 1932 University of California-published ethnography.
Ann Gayton, in another ethnography published by the University of California, described what happened among Yokuts when upland groups congregated at the foothill village of Chischas.
"The men arrived making skirmishes with their bows and arrows, killing dogs and chickens with permission from the Chischas, and afterward paid the latter with beads," Gayton recorded. "Then they commenced to eat them with great pleasure."
Dogs fulfilled other roles too, including helping with hunting, guarding villages, serving as beasts of burden and -- more in keeping with today's view -- serving as companions.
"I think what is clear is that dogs were valued, and that their roles in these societies were varied and complicated," Byrd said.