Farewell, Shuttle Discovery
Live long and prosper in your new home, Discovery. If androids dream of electric sheep, you will never stop flying.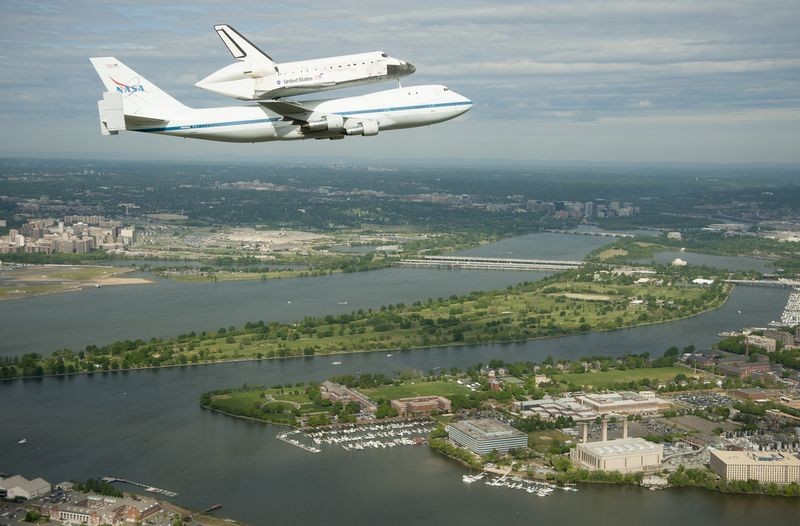 I debated at 3 a.m. whether to get up after just two hours sleep to drive out to the space center to watch shuttle Discovery's departure. I've been dragging myself out there at ridiculous hours for the last 25 years and frankly it's annoying. But once more unto the breach, as Shakespeare put it.
Best decision I could have made. Unlike my grim thoughts yesterday, it felt fine, good even, to have the shuttle on its way. "Well done, Discovery," I think as the spaceplane and its 747 carrier jet glide down the runway, one last time. "Good-bye."
I'm reminded again that the shuttle program could have had a different ending. It could have ended in the ocean, like Challenger, one of the two ships that didn't make it to a retirement home, to inspire stories in new generations. Or be scattered across Texas, like Columbia, the other shuttle lost in service.
On the bus back to the press site yesterday someone asked me if I knew if the Smithsonian was going to spruce up the shuttle a bit before putting it on display. The idea quells me. Destroy evidence of 39 spaceflights? Really? Aren't the miscolorations and scars exactly the point of why Discovery is going to a museum?
I watched the shuttle depart this morning standing next to the director of the Kennedy Space Center, Bob Cabana, a retired Marine Corps colonel and four-time shuttle astronaut himself now tasked with transforming NASA's biggest piece of real estate into a multi-user spaceport.
Bob is wearing a slightly faded red polo shirt, embroidered with a very low shuttle mission number — STS-41 — his first space crew.
Did you have to dig down deep in your closet for that?" I ask.
"Yes, actually," he replies, and goes on to explain his organizational system for former crew attire.
He's quiet and slightly tense watching for Discovery to reappear on the horizon, heading for a farewell flyover the Kennedy Space Center. We watch her sweep over the runway, flying much faster now than the achingly slow takeoff atop the massive 747 shortly after dawn. We're used to seeing the shuttle leave town much more quickly.
The 747 pilots dogleg past the massive Vehicle Assembly Building, where a cadre of photographers are perched, and head out of view. Cabana looks a little relieved.
Shortly after 11 a.m., the duo make a splashy arrival at Washington Dulles International Airport. Discovery's new home is the Steven F. Udvar-Hazy Center in Chantilly, Va., an annex of the Smithsonian's National Air and Space Museum.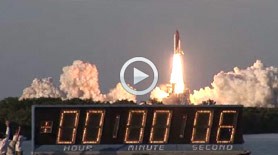 WATCH VIDEO: Find out what it is like to be launch director at NASA.
Two more spaceships will follow Discovery to different retirement homes — Endeavour is scheduled to leave in September for Los Angeles, where she'll take up residence at the California Science Center. Atlantis will skip the plane ride and be towed 12 miles down road to the Kennedy Space Center Visitor Complex.
As for us space reporters? Well, there is new stuff coming up, including a test flight of one of two new space freighters NASA has hired to fly cargo to the international space station. If things work out as planned, NASA wants to buy rides this way for its astronauts as well.
Concurrently, the agency wants to use the money it previously spent on the shuttle program to design, build and fly a new rocket and capsule for travel beyond the space station's orbit. That's farther down the road, but laying the groundwork, literally, is what Cabana's job is all about now.
So, live long and prosper in your new home, Discovery. If androids dream of electric sheep, you will never stop flying.
Image: Discovery , riding on top of a 747 jet carrier, flies over the Washington D.C. skyline as seen from aboard a NASA T-38 jet flying alongside the pair. Credit: Robert Markowitz/NASA