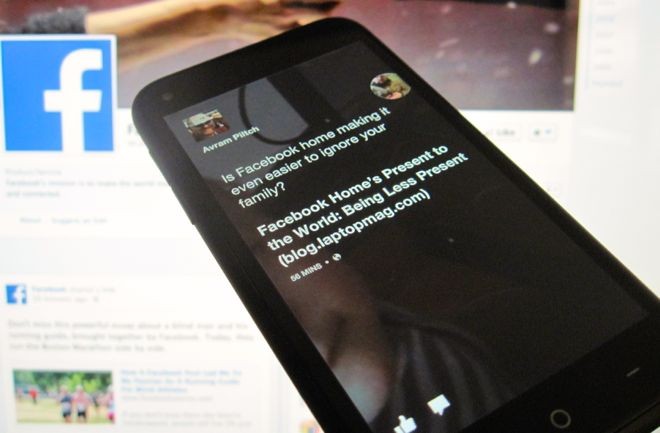 The one thing I didn't expect from the "Facebook phone" — the HTC First that AT&T; sells pre-loaded with Facebook's Home software – is how it could get in the way of using the social network.
That's not for a lack of screen real estate devoted to Facebook. Home replaces the usual Android home and lock screens with an ever-changing parade of status updates from friends and pages. As shared photos gently slide across the screen, you can Like or comment on any of them with one or two taps.
ANALYSIS: Facebook 'Likes' Reveal Private Data
In a similar way, Facebook messages vault to prominence with Home's "Chat Head" feature – also available in Facebook's just-updated Messenger app for Android — which displays each active message (or text-message) thread as a button in the top-right corner.
A third Home component, the app-launcher screen, puts status-update, photo-sharing and check-in buttons atop a subset of installed apps.
But these parts can mesh together poorly. When I started a witty reply to a friend's status update from the home screen and then switched to something else, I had to flip through other people's updates until I returned to my pal's. The Chat Head button inevitably hides part of the text of updates shown on the home screen; with multiple threads open, still more of the screen gets obscured.
(Disclosures: I market myself on Facebook, as does Discovery News.)
The rest of Android suffers too. The launcher's default selection of apps includes Facebook itself, Facebook Messenger and the Facebook-owned Instagram — but not your calendar or contacts list.
You can add those and other programs to the launcher (Facebook can track what apps you run from that screen, but not what you do inside them) by dragging their icons from a second launcher screen, accessible if you swipe left from the launcher.
ANALYSIS: How Facebook Sells Your Personal Information
But Home conceals three other data points: time, signal strength and battery charge. I thought Microsoft was going too far in hiding the battery and signal icons in Windows Phone, but at least it kept the time visible; here, the time vanishes once you tap the "lock screen" unless you change a default setting or go through a tap-swipe-scroll-tap dance to switch to the Android desktop.
I used "lock screen" in quotes because Home runs outside Android's regular screen lock. even without the pattern, PIN or password you've set, a stranger can read everybody's status updates and comment on them as you. Please try not to lose a phone with Home installed.
The weird thing is that underneath Home — which you can't uninstall but can deactivate by tapping the menu button from the home screen and selecting "Turn Off Facebook Home" — the HTC First exhibits fewer alterations to Android than usual.
Aside from an unnecessary rearrangement of system buttons that removes the recent-apps shortcut to add a menu command (I've seen worse), you're looking at pretty much a stock configuration of Google's operating system. It doesn't run the current 4.2 release, but hardly any Android phones do.