Face, Meet River: Bellyak Body Boats
There's a new breed of boats for river rats, and it promises a more visceral, in your face, duck's eye view of whitewater. Instead of sitting in or on the boat, you lie on it, face-first. Meet the Bellyak. This innovative boat is the idea of the son of Perception Kayak founder Bill Masters, so [...]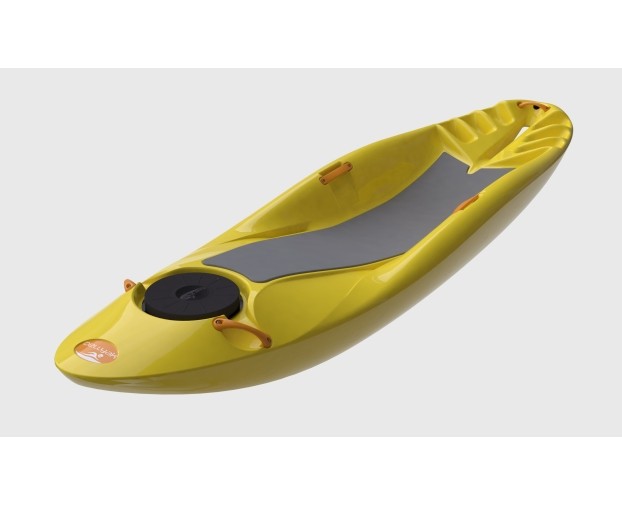 Bellyak Frequency
There's a new breed of boats for river rats, and it promises a more visceral, in your face, duck's eye view of whitewater. Instead of sitting in or on the boat, you lie on it, face-first. Meet the Bellyak.
This innovative boat is the idea of the son of Perception Kayak founder Bill Masters, so he's no johnny-come-lately to the river scene. Adam Masters says the concept was born from his attempt to lie face-first on his kayak in order to shoot down a 'tunnel' formed from low-hanging bushes on a creek by his house. His first bodyboat was formed from an old cut up Perception 3d kayak, filled with insulation and spray foam and wrapped with vinyl sheeting and duct tape, and while not exactly waterproof, it proved the concept was valid.
After building several displacement-hulled prototypes, Masters decided that a flat hull (or planing hull) was the appropriate design to pursue for both stability and ease of turning. Fast forward to today, and Bellyak offers two versions of the boat, a river runner and a play boat, and the word on the river is that Bellyaks are "exciting and exhilarating, and surprisingly easy."
The Frequency is an all-around river running boat, suitable for both beginners and experts, with a dynamic planing hull and secondary chines for better control, speed, and stability.
"This boat is for everyone. Stable like the family station wagon, if the family station wagon was a face first river machine. Space to carry you and your stuff wherever you want to go. High performance planing hull offers speed and stability. Integrated footcups and handholds give you precise control of the boat. If you've never been on the river this is a great boat for you, or if you're a seasoned paddler who wants a new way to explore." – Adam Masters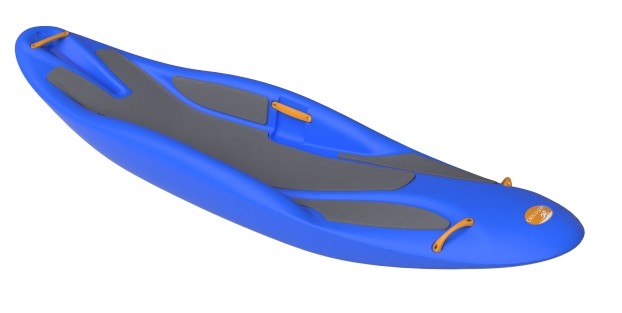 Bellyak Play
The Play model is, well, a playboat, with a high performance planing hull for fast transitions, and a shorter length for playing in small water features, and is as comfortable in the surf as well as the river.
"Designed to play every feature of the river and to be ridden laying down, kneeling or sitting. Hull designed for surfing, low volume stern allows boat to be paddled like squirt boat. Park and play, surfing, downriver, this boat can do it all. If you already paddle a kayak and understand the dynamics of the river this boat is for you. Excellent in the surf as well." – Adam Masters
The Bellyak boats are currently in production, and should be available in local outdoor stores and kayak dealers in the near future. If you'd like to check one out firsthand, take a look at their events/demo schedule for dates and locations.