Expect A Mild Winter, But Not Like Last Year
Meteorologists agree there is little probability of another winter as balmy as last year's.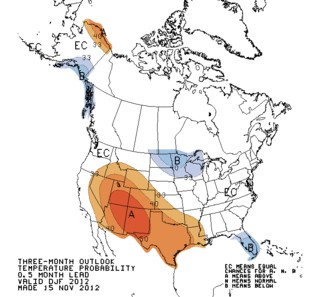 NOAA CPC's three month climate outlook map for Dec. 2012 through Feb. 2013. CREDIT: NOAA National Weather Service Climate Prediction Center
Much of the United States enjoyed a warm start to December, but
meteorologists agree there is little probability of another winter as
balmy as last year's.
"Last year was an extreme," Mike Halpert,
deputy director of the National Oceanic and Atmospheric Administration's
Climate Prediction Center (CPC), told Discovery News. "This year,
although the U.S. is favored to see above average temperatures in some
areas, Florida and parts of the Upper Midwest have probabilities leaning
towards cooler than average weather."
The CPC produced a set of three month outlook maps
that show a probability of warm winter temperatures centered at first
in the Four Corners region of the Southwest and gradually spreading
east. By April much of the U.S. east of the Rocky Mountains is forecast
to have above average temperatures. The north coast of Alaska may also be milder than average.
However, Halpert noted that
long-term forecasts are based on probabilities, not certainties, and that averages can represent the middle ground between two extremes, not actual temperatures.
"While
the consensus of many computer forecasts point to a milder than average
winter, centered over the southern Plains, it is unlikely that it will
be as mild as 2011-12 winter since the factors that govern seasonal
weather are arranged differently as we approach winter," Paul Knight,
meteorologist at Penn State and Pennsylvania State Climatologist, told
Discovery News.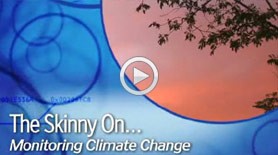 VIDEO: Monitoring Climate Change
One factor that changed this year were the atmospheric circulation patterns in the Arctic, noted Knight.
"The
center of chilliest air, which last winter oscillated between northeast
Siberia and Alaska, seemed to be split this year with one cold core in
central Siberia and another in northwest Canada," said Knight.
That
cold air core in Canada makes it easier for Arctic air to sweep into
the northern section of the U.S., which wasn't the case last year.
Another
difference this year is the state of the El Nino Southern Oscillation
(ENSO). The La Nina conditions that affected last years' winter faded
away, but was not replaced by an El Nino. When the ENSO is in a neutral
state as it is now, forecasting can become more difficult. Instead of an
800 pound gorilla in the room, there are numerous 300-pounders, and
there is no easy way to know which atmospheric ape will be the top
banana as the season progresses.
"The El Niño cycle will likely
play little role in this year's winter," Halpert said. "That adds
another layer of uncertainty, because it removes the influence of a
major force in global climate patterns.  On a global scale we can
generally forecast what El Niño or La Niña will do, but without their
overpowering influence there are many other phenomena which can affect
winter weather in ways that are harder to predict."
Precipitation is forecast by the CPC maps as "equal chances"
for most of the U.S. this winter. Equal chances means that anything is possible, above, near, or below average
precipitation, explained Halpert. In parts of the South, centered around Tennessee and Kentucky, precipitation may be above average.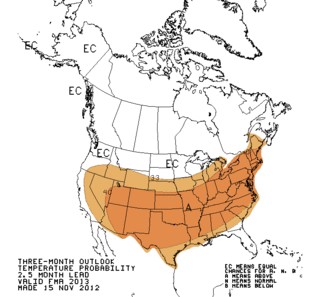 NOAA CPC's three month climate outlook map for Feb. 2012 through April 2013. CREDIT: NOAA National Weather Service Climate Prediction Center
A forecast by Accuweather predicted heavy precipitation in the Northeast and Mid-Atlantic. Will yet another intense storm scourge the area lashed by Sandy?
"Accuweather
has a proprietary technique for seasonal forecasts, which we are not
privy to," said Knight. "Our approach would be a blend of the most
reliable computer seasonal forecasts merged with an analog/statistical
approach. We do not see any useable information in predicting
precipitation a season in advance."
No matter what happens in the
Northeast, if the center of the nation doesn't get much rain or snow,
American farmers may have a tough 2013. Farmers depend on winter rains
to moisten the soils for spring planting. Melting ice and snow  also
swell waterways used for irrigation.
November
brought no relief to a parched country. Besides the aftermath of
Superstorm Sandy, the month was very dry. The U.S. faces the possibility
of a multi-year drought that could seriously reduce agricultural
productivity and halt barge traffic on the Mississippi River.