Energy Change Key to Meeting UN Climate Change Goal
The world can still meet the UN goal to limit global warming provided it cuts annual greenhouse gas emissions by 40-70 percent by 2050, a top expert panel said Sunday.
Corbis
Scientists have urged governments to make the world "carbon neutral" by the second half of this century.
Louise Mair
Argus Butterfly
A once rare butterfly living in the United Kingdom is the latest unexpected beneficiary of the rising temperatures brought about by global climate change. Over the last 25 years, the brown Argus butterfly can now exist over a larger range thanks to a warmer environment and a new plant host to raise its young. And these fortunate insects aren't the only ones who stand to benefit from a warmer world. Yes, over the coming decades, there are certainly many other species, including humans, that will feel increasingly pressured by environmental changes brought about by climate change. But there will be some balance of winners and losers among the different species on this planet. Here's a look at some of those who will likely come out ahead.
Corbis Images
Albatross
Change in wind patterns as a result of climate change has helped albatrosses in the Southern Ocean find food more rapidly, according to a study published in a January 2012 issue of Science. The faster and more intense winds reduce the amount of energy albatrosses need to expend to fly, particularly useful given that these birds can fly distances spanning thousands of miles. By using less energy and finding more food, the albatrosses are healthier and often have better breeding outcomes, according to the study's authors.
Corbis Images
Gray Nurse Shark
Worldwide, around one third of oceanic shark species are at risk of extinction, according to the International Union for the Conservation of Nature (IUCN). These animals are primarily at risk as a result of human intervention, particularly the overfishing of sharks for their fins. But there is one species of shark that may stand to benefit from man-made climate change, the Australian gray nurse shark. Like many shark species, gray nurse shark populations have been under pressure. This species could disappear entirely by 2050. However, thanks for warmer waters surrounding Australia, two separate populations of this nurse shark on each side of the continent may reunite for the first time in 100,000 years.
Corbis Images
Orca
Sharks aren't the only sea life that might benefit from warmer waters. Killer whales, too, appear poised to take advantage of rising ocean temperatures, exploiting new feeding areas as Arctic snow ice melts that were once off limits. The orca's gain, however, could be detrimental to other species. Killer whales prey on two species, the beluga and the narwhale, considered "near threatened" by the IUCN. With their chances to escape to safety from the predatory killer whales dwindling as ice melts, these species could face further pressure to their populations.
Corbis Images
Pine Beetle
This tiny insect has made major inroads into the North American continent thanks to warmer temperatures. Mountain pine beetles can decimate entire forests. During cold snaps, they are killed off. But with shorter, warmer winters, more of these bugs are surviving through the cold season and expanding their ranges even further.
Getty Images
Jellyfish
Acidifying oceans and warmer waters might be encouraging swells in populations of jellyfish around the world. Although the notion that jellyfish are benefiting from climate change has been subject to debate, studies have shown that coastal jellyfish populations are generally on the rise. More jellyfish would be bad news for any species that relied on the oceans for its food supply, including humans. Jellyfish can essentially reorder the food web by eating the same plankton that would otherwise be consumed by fish, restricting the transfer of energy on the food chain since predators tend to avoid them. The increase in jellyfish populations could also lead to an ecological disaster by resulting in an increase in carbon beyond what oceans can cope with, according to a report from The Guardian. When jellyfish die, they break down into biomass with considerably higher levels of carbon than their vertebrate counterparts. Bacteria that thrive on decaying organisms cannot absorb carbon as well and instead breathe it out into the atmosphere as carbon dioxide.
U.S. Fish and Wildlife Service
Trumpeter Swan
Once standing on the brink of extinction due to over-hunting for their meat and feathers in the 19th century, trumpeter swans have made a comeback in Alaska, thanks not only to restrictions on hunting these birds but also to global warming. Warmer temperatures have allowed the swans to expanding their ranges, and longer summers have allowed to greater opportunities for breeding and raising young, according to Scientific American.
Corbis Images
Ant
Americans spend some $40 billion a year caring for their lawn, according to Bloomberg News. And that industry could get even more lucrative with the spread of a pest that has its sites set on your home turf: fire ants. According to a report from the National Wildfire Foundation, the range of red imported fire ants could expand some 21 percent in the United States, more than 80 miles northward, within the lifetime of a child born today.
iStockphoto
Mosquito
If there's one creature who's climate change gain is our loss, it's mosquitoes. No longer restricted to strictly tropical environments, mosquitoes have spread as warmer temperatures have crept into environments they had never previously been. More mosquitoes means higher potential to spread diseases, including malaria, West Nile virus and dengue fever. This greater risk of disease is not only bad news for humans, but also some animals, including certain bird species, who had previously been unexposed to these pests. In fact, even some of the world's largest creatures are not immune to the disease transmitted by these tiny insects. Last month, the Whale and Dolphin Conservation Society revealed that two whales kept in captivity died as a result of diseases carried by mosquitoes.
Corbis Images
Yellow Bellied Marmot
Although most mammals won't be able to flee climate change quickly enough, some are taking full advantage of the changing conditions. The yellow-bellied marmot, which calls Colorado's Rocky Mountains home, fattens up ahead of winter before its long hibernation into spring. With a shorter season though, the marmots are emerging larger than they otherwise would. As a result, they've also been breeding more and passing their larger size onto their offspring.

The world can still meet the UN goal to limit global warming provided it cuts annual greenhouse gas emissions by 40-70 percent by 2050, a top expert panel said Sunday.
The cost will not be crippling, but the longer it takes to switch to cleaner energy sources, the harder and more expensive it will become to halt warming at the UN's targeted two degrees Celsius (3.6 degrees Fahrenheit) over pre-Industrial Revolution levels.
The Intergovernmental Panel on Climate Change (IPCC) warned starkly that on present trends the planet would be 3.7-4.8 C warmer by 2100 -- a level many scientists say could be catastrophic.
NEWS: Obama to Bypass Congress on Climate Change
"There is a clear message from science: to avoid dangerous interference with the climate system, we need to move away from business as usual," said Ottmar Edenhofer, co-chairman of the UN expert group that compiled the report.
While most scenarios for meeting the target "require substantial investments", he said, this "does not mean that the world... needs to sacrifice economic growth."
UN climate chief Christiana Figueres said the findings challenged governments to make the world carbon-neutral in the second half of the century.
"We cannot play a waiting game where we bet on future technological miracles to emerge and save the day," she said in a statement.
ANALYSIS: Global Warming: Why Only 95 Percent Certainty?
The report is the third and final chapter of a mammoth overview by the Nobel Prize-winning panel -- its first assessment since 2007.
Compiled by hundreds of experts over four years, it collates the available science on climate change, seeking to inform national policies and the faltering global effort, which Figueres oversees, to formulate a pact by 2015 on curbing emissions.
A summary of the document, issued Sunday, warns that delaying further cuts to 2030 would "substantially increase the difficulty" of reaching the 2C goal.
For a 66 percent or "likely" chance of meeting it, the concentration of greenhouse gases in the atmosphere must be contained at about 450 particles per million of CO2 equivalent (ppm CO2eq) in 2100 -- compared to 430 ppm CO2eq in 2011.
NEWS: Act Now, Delay Climate Troubles
This would entail a 40-70 percent emissions reduction from 2010 to 2050, nearing zero by 2100.
Unprecedented Emissions Rise
There would also be a "tripling to nearly a quadrupling" in the share of energy from renewable and nuclear sources and from traditional fossil or new biofuel sources whose emissions are captured.
This will come at a cost -- clipping about 0.06 percentage points annually off growth in global consumption, which would otherwise have been about 1.6-3.0 percent per year over the century, according to the estimates.
The calculation did not factor in potential savings from tackling emissions, including healthier humans and ecosystems and energy security.
"The IPCC is clear that acting on climate change is possible, beneficial and affordable," said WWF climate representative Samantha Smith.
"If we act now, costs will be only a very small fraction of global economies."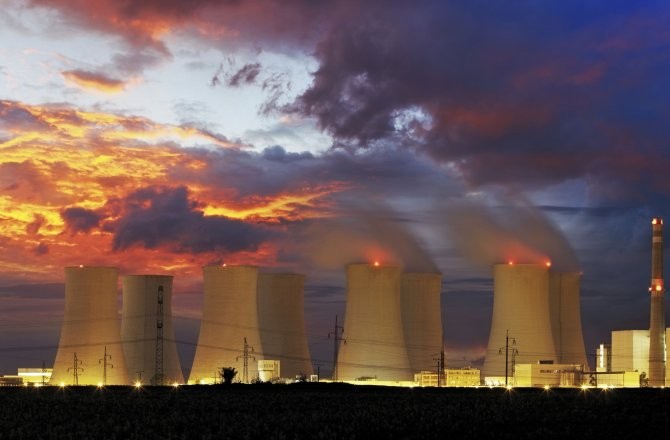 iStock/Thinkstock
But Nicholas Stern, a British economist who authored a 2006 report on climate costs, warned the energy clean-up lacked essential tools.
"We need sound policies, such as a strong price on carbon, and much more investments in technologies to reduce emissions, including electricity storage, renewables, nuclear power, and carbon capture and storage."
The summary said atmospheric greenhouse gas levels of about 500 ppm CO2eq by 2100, which yields a lesser chance of staying under 2C, would require emissions 25-50 percent lower by 2050 than in 2010.
PHOTOS: Animals Benefiting from Climate Change
From levels of 550 ppm CO2eq by 2100, the chances of reaching the 2C target become less than 50 percent, and worse.
The document -- which listed options but made no recommendations -- said emissions increased an unprecedented billion tonnes per year in the decade ending 2010, driven by rapid economic growth powered by fossil fuels.
On current trends, 2100 atmospheric levels could be almost double or even triple those of today, it added.
'Wake-up Call'
Options for action include phasing out fossil-fuel subsidies, investing in cleaner sources, and rolling out technology -- still in its infancy -- to capture and store carbon emissions from power plants that burn coal, oil and gas.
NEWS: Even Doubters Want To Prepare For Global Warming
US Secretary of State John Kerry described the report as "a wake-up call" for entrepreneurs.
The list also includes cutting energy waste and halting deforestation, boosting low-carbon public transport systems and designing smarter cities that are less energy-hungry.
"The global energy market represents a $6 trillion (4.34-trillion-euro) opportunity, with six billion users around the world. By 2035, investment in the energy sector is expected to reach nearly $17 trillion," he said.
UN chief Ban Ki-moon said the report should prompt countries to act "swiftly and boldly on climate change."
European climate commissioner Connie Hedegaard threw down the gauntlet to other major emitters to "reduce emissions now".
ANALYSIS: How Global Warming Will Change Your Life
"We in Europe will adopt an ambitious 2030 target later this year," she said. "Now the question is: when will YOU, the big emitters, do the same?"
The Summary for Policymakers was adopted on Saturday after a line-by-line scrutiny by government representatives and scientists.
The full report, over 2,000 pages, should be released within days.
In the first volume of its Fifth Assessment Report, released last September, the IPCC predicted temperatures could rise 0.3 to 4.8 degrees C this century and sea levels creep up by 26-82 centimetres (10-32 inches).
The second chapter, published last month, warned of the rising risk of conflict, hunger, floods and mass displacement from coastal erosion.