Electric Race Cars Shifting Into Gear
Electric cars are making headway on the race track and are set to eventually outpace their gas-guzzling cousins.
Electric vehicles (EVs) are increasingly finding their way into the world's most prestigious and competitive race tracks. While advances in technology have yet to allow fully electric vehicles to successfully compete alongside gas-powered ones, EVs are making strides toward outpacing their traditional counterparts.
The best evidence of this may be the Nissan ZEOD RC, which will be entered in the 2014 Le Mans Garage 56, a racing competition that showcases innovative, experimental vehicles.
"Nissan has already been out with a fully electric road-going vehicle, the Leaf, and now we're taking it to the next level by doing a full lap at Le Mans," said Rick Kulach, spokesperson for Nissan U.S. Motorsports. "A lap at Le Mans is eight and half miles, so we decided there has to be a way to make it work."
While Nissan avoids the dreaded h-word, hybrid, the ZEOD RC operates on both battery and fuel power. "The ZEOD features regenerative battery charging," said Kulach. "The vehicle is lightweight and efficient, so that a number of laps can be run in fuel mode, and then the final lap range will be extended under pure electric power."
If it all sounds highly experimental, competitive racetracks have historically been breeding grounds for new automotive technology and some of the vehicles that compete are technically still in development. The major holdup in EV racing now is simply the limitation imposed by battery technology. In a road race competition, such as drag racing, a battery collects energy on turns and when braking. That energy advantage does not exist on an oval-shaped track, the type of track used by many speedways, such as NASCAR, according to EV pioneer John E. Waters.
"When you move to an oval course, when you have speeds up to 250 miles per hour, it takes a tremendous amount of force and rapid drain on the minimal energy storage of batteries as they exist today," said Waters, who helped develop a battery pack system for General Motors electric car, the EV1 in the 1990s, and later founded Bright Automotive, inventors of the 100-miles-per-gallon, plug-in hybrid electric commercial vehicle.
"Absent a better battery life, another potential way of racing EVs would be to alter the track itself," said Waters. "A track that would be similar to a slot car track would work to actually charge the battery as you're going around the track."
Until that happens, researchers are hard at work figuring out ways to use the current battery technology to its fullest potential. While that happens, a number of manufacturers are putting the best of their current EV technology front and center in world competitions. Toyota entered is hybrid model TS030 in the 2012 Le Mans competition, but a road accident followed by engine failure caused it to withdraw. This year, the same model was re-entered, but overshadowed by Audi's R18 e-tron Quattro, also a hybrid car. The Audi model won the 2013 Le Mans 24 Hour race.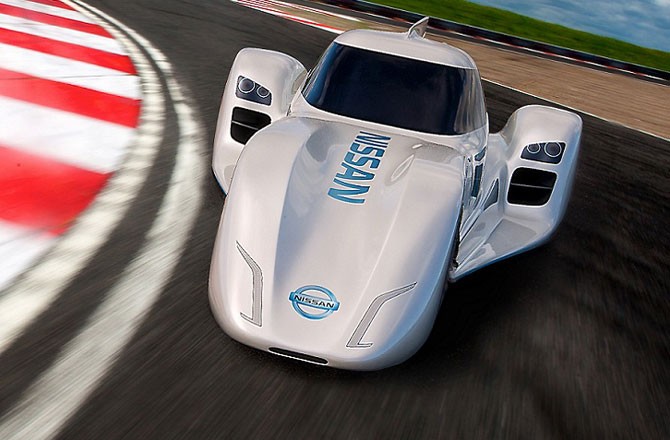 Nissan's ZEOD RC will be entered in the 2014 Le Mans Garage 56, a racing competition that showcases innovative, experimental vehicles.Nissan
The transition from the above-mentioned hybrid vehicles to pure electric cars in auto racing will happen, but it is still some years away, according to Brett Smith, the co-director of manufacturing, engineering and technology at the Center for Automotive Research.
"Electric cars are still not great for racing," Smith said, "except for the fact that electric motors are fabulous performance pieces. "Energy storage in a battery does not compare to liquid storage in gasoline. The reality is it won't be there in the next five years, maybe not even in the next 15 years. So racing is possible with constraints."
Although Waters says experimental electric cars have achieved sustained speeds of more than 180 miles per hour and established world speed records above 300 mph, the issue will continue to be endurance on the track. But in a recent speech to the American Chemical Society, Waters said the real advantage electric cars have is "instant torque," the twisting motion that turns wheels that has enabled electric test cars to go from zero to 60 in less than four seconds.
"Electric race cars have not sustained speeds more than 150 miles per hour because the lithium batteries currently used only last about 10 minutes before a pit stop," Waters said.
Meanwhile, some researchers are working on the all-important issue of cooling the engine during a race.
"The ability to keep things cool is the ability to achieve higher power levels without things overheating," said Wally Rippell, chief technology officer for AC Propulsion, a high profile developer in the EV market. "The horsepower rating of an electric motor is based on the ability to cool itself. If you look at races that last more than a few minutes, 10 miles or more, the cooling function becomes a central part of it," said Rippell, who has worked on EVs since the 1960s.
Meanwhile, the consumer electric car industry is making the long hard climb into the American culture. Tesla Motors, under the direction of visionary Elon Musk, recently introduced a luxury sedan, the Model S, starting at $50,000. The lowest capacity Model S battery powers the car up to 160 miles per charge – at least 60 more than most competitors. The prices are still too steep for most car buyers, but it has been reported that next year Tesla will introduce another new model, starting at $30,000.
"My advice is the market will drive the product," said Waters. "Make a better product that's more fun to drive and people will buy it. The Model S is like that. Driving the Model S is a life changing experience."