Easily Fix Christmas Lights with LightKeeper Pro
Tis the season for Christmas lights, and all the headache that comes from a single burnt out bulb. Turns out Home Depot, Target and other home-improvement stores had the solution all along. LightKeeper Pro can fix most strings of light within seconds. The most common reason why light sets fail is because the shunts fail [...]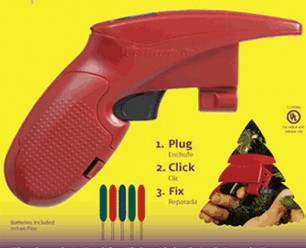 Image: LightKeeper Pro
Tis the season for Christmas lights, and all the headache that comes from a single burnt out bulb.
Turns out Home Depot, Target and other home-improvement stores had the solution all along. LightKeeper Pro can fix most strings of light within seconds. The most common reason why light sets fail is because the shunts fail to energize. LightKeeper's Quick Fix Trigger sends a shaped electrical pulse to clear the shunt, allowing it to operate properly. This lets the current flow through and illuminate the rest of the bulbs. To use, plug LightKeeper into an empty light socket — it doesn't have to be the bad bulb, pull the trigger and the lights should come on.
If that doesn't fix it, LightKeeper also can help locate the bad bulb with an audible voltage detector, that tells you where the electricity stopped flowing. Ulta-Lit Technology, which makes LightKeeper Pro, is serious about Christmas lights. Like the Butterball Turkey Hotline, customers can call 888-ULTA-LIT seven days a week between Thanksgiving and Christmas for lighting assistance. Available for $20.