Earth's Crust Does the 'Caterpillar Walk'
A new theory could explain how colliding tectonic plates manage to burp up deep rocks at the same time they are swallowing others. ->
TOBY MELVILLE/Reuters/Corbis
All gemstones are rare; some are just harder to find than others.
In fact, there is no consensus on what is the rarest mineral or the rarest gemstone because there is no consensus on the definition of "rarity," according to the Gemological Institute of America. However, many of the stones in this series come from only one or two localities in the entire world, so in that sense, they are scarce.
Pink Star Diamond
In the image above, model Annabeth Murphy-Thomas poses with the Pink Star diamond at Sotheby's auction house in central London. The diamond was put up for auction in Geneva on Nov. 13, 2013, at $60 million, an already record price for a gemstone, and sold for $83 million. Diamond cutter Isaac Wolf of New York purchased the Pink Star diamond ring, and renamed it the Pink Dream. The diamond measures 1.06 inches by 0.81 inches (2.69cm by 2.06cm).
SCREENGRAB HTTP://WWW.SOTHEBYS.COM/
This Blue Moon diamond, discovered in South Africa in January, 2014, weighs in at 12.03 carats, and is the largest cushion-shaped stone in that category to ever appear at auction. The Gemological Institute of America declared the Blue Moon to be "internally flawless." It was purchased in November, 2015, by Hong Kong businessman Joseph Lau, who spent $48 million on it for his seven-year-old daughter, Josephine.
Facebook/Lucara Diamond Corporation
This giant rock is said to be the biggest diamond unearthed in more than century. Second in size only to the 3,106-carat Cullinan diamond found in South Africa in 1905, this chunk was found in Botswana.
Information from Gemological Institute of Ame
Opal is Australia's national gemstone, and black opal is the rarest and most valuable of its kind, at times selling at prices that rival the best diamonds. The stone must have a rich, black background, but base colors come in all shades of gray, which is why opinions vary on what is a "true" black opal. Found in the Lightning Ridge area in northwestern New South Wales, black opals are natural, solid stones that absorb scattered white light, giving it brilliant spectral colors.
Information from Gemological Institute of Ame
The Gemological Institute of America (GIA) calls musgravite "a rarity among the rare... a particular gem on our research examination 'want list.'" A very close relative of another hard-to-find gemstone, taaffeite (and often misidentified as such), musgravite was first discovered in 1967 in the Musgrave Range of South Australia. Facet grade -- the baseline measurement of how clean cut a sellable stone must be -- for musgravite was not reported until 1993. As of 2005, there were only eight musgravite specimens in the world.
Information from Gemological Institute of Ame
Discovered in 1951 in Mogok, Burma, painite was once considered the rarest mineral on Earth. For decades, only two crystals were known to exist. It didn't obtain official gemstone status until 1957 when the British Museum conducted X-ray analysis on a sample. In 1979, a third crystal was recovered by the GIA. Today, more than a thousand crystals and crystal fragments have been found. However, only a small percentage of the rough are suitable for sale. Painite is made up of aluminium, calcium, boron, zirconium and oxygen. It gets its orange-red to brownish-red color from trace amounts of iron.
Information from Gemological Institute of Ame
Jeremejevite is an extremely rare, aluminium borate mineral. It was discovered in the late 19th century and named after Pavel V. Jeremejev, a Russian mineralogist and engineer. Until recently, the only two known localities for jeremejevite were Mt. Soktuj in the Transbaikal region of Russia and Cape Cross, Swakopmund, Namibia. Not much is known about jeremejevite. The color is typically aquamarine, but other records show the mineral can also be dark blue, pale yellow-brown or colorless.
Information from Gemological Institute of Ame
Red diamonds, just like any other diamonds, are made of compressed carbon. However, the brilliant red color in these diamonds is formed from a structural defect in the crystal lattice structure, which is why they are the rarest of the colored diamond collection. Only a handful have ever received the grade of "Fancy Red," meaning that they are pure red with no modifying color. Most are sold at market for millions of dollars. The Argyle mine in Australia is the primary producer of pink and sometimes red diamonds.
Information from Gemological Institute of Ame
This transparent, blue gem first turned up in 1962 and has been found scattered throughout northern Tanzania in Africa. Ranging in color from light blue to pure blue to dark violet-blue, the deepest hues are valued most. Made popular by jewerly giant Tiffany & Co. in 1968, Tanzanite has seen wild price fluctuations over the years. Tanzania's violent political, social and economic conditions have made it difficult at times to mine the mineral. However, the nation remains the gem's only known source.
Information from Gemological Institute of Ame
Although "red emerald" is its snazzy marketing name, and it was originally called "bixbite," this mineral goes by the name "red beryl" today. The brilliant red-purple color is not a trick of the light. The stone's actual chemistry is distinctive and separate from other beryls. It is found along fractures in topaz rhyolites. The gem crystallizes when rhyolite-derived gases, vapors from heated groundwater, and preexisting minerals and volcanic glass in the rhyolite react all at once. There is only one known commercial production of gem-quality red beryl in the world: the Ruby Violet (or Red Beryl) mine in the Wah Wah Mountains of Beaver County, Utah.
Information from Smithsonian's National Museu
Still one of the rarest gems known today, this pinkish mineral was named after the Poudrette family, owners and operators of a quarry near Mont Saint-Hilaire, Quebec, Canada, where poudretteite was first found. It was discovered as a few tiny crystals during the mid-1960s, but wasn't recognized as a new mineral until 1986. The first documented gem-quality specimen of poudretteite wasn't discovered until 2000, when it was found in Mogok, Burma. This remarkable, flawless 9.41 carat poudretteite gem from Burma is truly one-of-a-kind. It is considered to be one of the largest -- if not the largest -- faceted poudretteite in existence.

The geological mystery of how colliding tectonic plates can force some rocks very deep into the Earth, then pop them quickly back to the surface, may have been solved with what's being called a "caterpillar walk."
The classic way of thinking about colliding plates is that one plate is shoved under another and they just keep ramming towards one another. The plate that goes under eventually peels off into the mantle and is gone. But that doesn't explain how rocks that get pulled down and altered by the pressure so they become loaded with ultra-high pressure minerals — like the metamorphic eclogite rock shown above in my hand and at right — get boosted back to the surface so quickly. We know it happens because these pressure-altered rocks are found at the surface.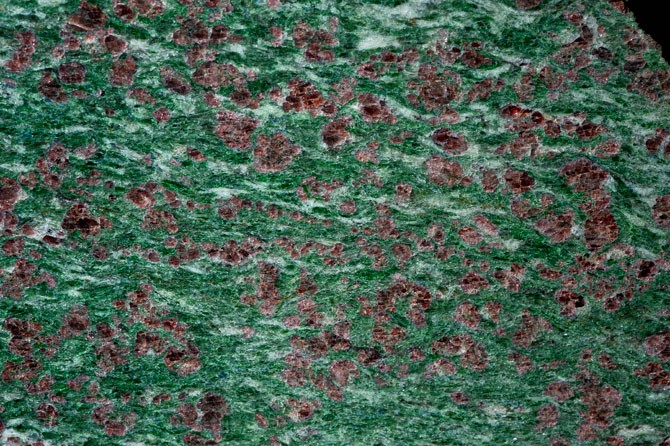 PHOTOS: World's Largest Salt Flat
A team of European geologist have looked at the situation in the Aegean and have come up with a model that might explain it. They propose that when plates collided in the Aegean, the sinking plate, as it peeled away and sank into the mantle, sucked down some rocks with it that were then quickly (geologically speaking, which means over millions of years) caught up in the upward flow of material that filled the space of the sinking plate. An analogy, if I'm getting this right, might be the way water would rush in if you quickly separate your hands underwater. The authors of the paper, in the latest issue of Geology, made a movie of the process that you can see here.
Anyway, this upwards flow of rock created an area of the Earth's crust that was no longer smashing together, but stretching out. That means there are lots of vertical faults allowing deep rocks to rise to the surface (in the same was that a row of tilted books on a book shelf eventually reveal lower and lower portions of books if you allow them to spread out over the length of the shelf). Add to that the normal erosion of rocks by weather, and you should be able to get eclogites up in record time.
The caterpillar part comes in when you follow the rocks in the collision zone. At first they are bunched up and pulled down into the collision zone, then they are sucked up again and spread out in the crust. Think caterpillar on the ceiling. First spread out flat, then bunched up (collision and pressurization of the rocks) then spread out again (and the rocks that were deep are now shallow).
And just in case anyone was wondering, the fact that this process brings up metamorphic rocks does not mean they are in way connected to the metamorphosis of a caterpillar into a butterfly. It's just a fun semantic coincidence.
IMAGES:
(Top) Metamorphic eclogite rock. (Larry O'Hanlon)
(Side) Eclogite is a metamorphic rock with a mixture of garnet (almandine-pyrope) and a green matrix of sodium-rich pyroxene (omphacite), this one from Norway is 425 million years old. (Gerald & Buff Corsi/Corbis)