Double Rainbow Guy Aims to Go from Yosemite to the White House
Remember that viral video from early last year, in which a man goes on a morning hike and gets really ecstatic while witnessing a giant double rainbow across the sky, outside his home near Yosemite National Park? Well that man, Paul Vasquez -- although more well-known as "The Double Rainbow Guy" or by his nickname [...]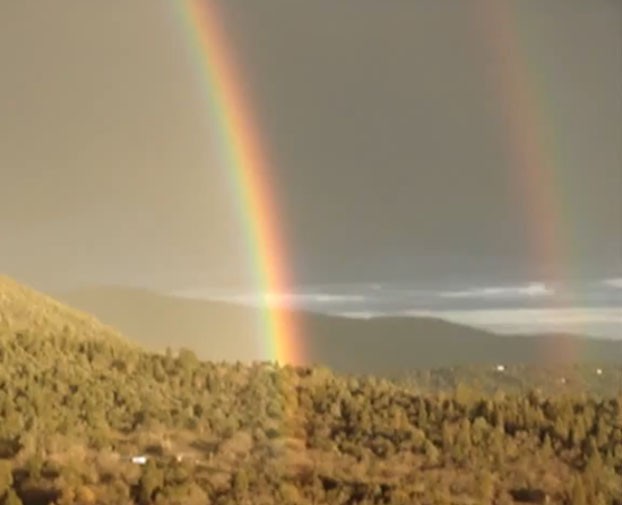 The famous rainbow that originally put Paul Vasquez in the public eye.
Remember that viral video from early last year, in which a man goes on a morning hike and gets really ecstatic while witnessing a giant double rainbow across the sky, outside his home near Yosemite National Park? Well that man, Paul Vasquez — although more well-known as "The Double Rainbow Guy" or by his nickname "Yosemitebear" — is back in the public eye again, well after he did the news and late night talk show circuit. This time, he's running for the presidency in 2012, according to CNN, using a Facebook-integrated social media platform called Votocracy.
While many people, including myself, would brush this attempt at the White House as a silly publicity stunt, environmentalists should be happy to know that at least Vasquez brings attention to the importance of alternative energy in his campaign, "Emergency! Alternative Energy!" He writes:
President Obama has a long term plan to get Americans partially off of foreign oil and on to alternative energy. This is too little too late. Humanity is headed for a cliff, anybody who does not see it has their head in the sand. The only way to avoid going over this cliff is to declare a state of emergency and get the most energy consuming country on the planet off of oil… If I were to become President I would declare a state of emergency like Eisenhower did with the highway system or Kennedy did for the Moon race and get us off of foreign oil and on to alternative energy. Wind, solar, bio mass and all the rest. We need to put Americans to work building the infrastructure to connect our alternative electrical generating and transmission capacity to the people.
Vasquez admits, "I am not a politician but I am a man of the people." While he might not have a real shot at the White House, at least the core of his intentions are noteworthy.
Photo at top: Hungrybear9562 via YouTube