Discovery Channel Telescope Helps Identify Incoming Comet
The Discovery Channel Telescope has played a key role in identifying what could be one component of a comet twin -- both expected to fly past Earth later this month.
Lowell Observatory/DCT
The 4.3 meter Discovery Channel Telescope (DCT) is located at Happy Jack, Ariz., 40 miles southeast of Flagstaff.
Massey/Neugent/Lowell Obs./NSF
In 2012,
the huge 4.3-meter Discovery Channel Telescope
opened its unblinking eye and wowed the world with a series of stunning 'first light' imagery. Science then, the telescope, which is located at Lowell Observatory in Flagstaff, Ariz., has undergone full commissioning and astronomers are excited to begin its first science run in early 2015. The DCT is a joint $53 million project between Lowell Observatory and Discovery Communications that took 9 years to construct.
PHOTOS: Discovery Channel Telescope Approaches 'First Light'
Astronomers are currently using the DCT to examine some of the most vexing mysteries of the solar system by probing deep into the Kuiper Belt, beyond the orbit of Neptune. They also aim to expand our knowledge of the universe, examining how dwarf galaxies evolve. It will observe the universe in two wavelengths: optical and near infrared. During the commissioning process with the Large Monolithic Imager (LMI) that is attached to the DCT, many astronomical targets were imaged in great detail.
Here are a few from the stunning sampling featured in the DCT Gallery at Lowell Observatory.
VIDEO: Building the DCT
First up is the familiar shape of the Horsehead Nebula, which is located around 1,500 light-years away in the constellation of Orion. In this scene, the opaque dusty 'head' is silhouetted by the purple hue of hydrogen gas that is being ionized by the nearby bright star Sigma Ori, a process easily picked out by the DCT's sensitive optics.
Massey/Neugent/Lowell Obs./NSF
The Sombrero Galaxy (M104) is perhaps one of the most recognizable galaxies in the night sky. It is positioned edge-on with its dusty disk blocking light from the inner stars. The Sombrero can be found 28 million light-years away in the constellation of Virgo.
Massey/Neugent/Dunham/Lowell Obs./NSF
Like the Sombrero, NGC 891 is also an edge-on spiral galaxy, located 32 million light-years away.
Barandi/NAU/Lowell Obs./NSF
Packed with 5 beautiful galaxies, Stephan's Quintet makes for a stunning astronomical scene. 4 of the 5 galaxies are located around 300 million light-years away whereas the 5th (lower left) is much closer; around 40 million light-years distant. It is thought that the 4 main members of the quintet are interacting and will someday merge -- a galactic dynamic that the DCT is tasked to better understand.
Massey/Neugent/Levine/Lowell Obs./NSF
As opposed to the edge-on examples, NGC 6946 is an Sc type spiral galaxy and almost perfectly face-on from our perspective. The galaxy, which is 20 million light-years away, is rich in young, massive stars and HII regions.
Neugent/Massey/Lowell Obs./NSF
The spiral galaxy NGC 7331 is the largest member of a small group of galaxies that includes NGC 7337 (lower left), NGC 7335 (larger galaxy to the upper left), and NGC 7336 (smaller galaxy to the upper left). None of the galaxies are located in close proximity, they just appear that way from our perspective.
Massey/Neugent/Levine/Lowell Obs./NSF
The DCT may be the perfect tool for some galactic astronomy, but it is just as adept at spying on celestial objects in our solar system. Take this first quarter moon for example -- wonderful detail can be seen the the lunar mountains and impact craters.
Massey/Neugent/Covey/Lowell Obs./NSF
NGC 772, an Sb-type spiral galaxy, is obviously a disturbed galaxy, having been tidally tugged by another galaxy, causing its stars to scatter and warp the galaxy's shape. NGC 772 is located 100 million light-years away.
Neugent/Massey/Lowell Obs./NSF
M15 is a stunning example of one of the globular clusters of stars that can be found orbiting our Milky Way galaxy. It is a rich globular cluster filled with ancient stars that are up to 12 billion years old; some of the oldest stars known.
Neugent/Massey/Lowell Obs./NSF
The Helix Nebula is a nearby planetary nebula with a tiny white dwarf star in its center. The nebula, an expanding cloud of dust and gas, was created when a red giant star died, throwing its outer layers of material into space. Eventually just this white dwarf remnant remained, surrounded by a beautiful nebulous cloud.
Massey/Neugent/Lowell Obs./NSF

Not one, but two comets will fly past Earth later this month, one of which will be the third closest comet flyby to occur in recorded history. Both comets seem to share astonishingly similar orbits, which is an interesting clue to their origin, but the second object's true identity was confirmed by the 4.3-meter Discovery Channel Telescope (DCT) at Lowell Observatory, near Flagstaff in Arizona.
PHOTOS: Discovery Channel Telescope's Epic Cosmic View
Discovered by the University of Hawaii's PanSTARRS telescope on Maui, Hawaii, in January this year, Comet P/2016 BA14 was initially identified as an asteroid, but a joint University of Maryland and Lowell Observatory team used the DCT to zoom in on the interplanetary visitor to find it has a tail, a sign that it is in fact a small comet.
This discovery coincides with the expected flyby of Comet 252P/LINEAR on March 21, which will swing past our planet at a close (yet safe) distance of 3.3 million miles (approximately 14 times the Earth-moon distance). 252P was discovered in 2000 by the Massachusetts Institute of Technology's Lincoln Near Earth Asteroid Research (LINEAR) survey and is known to be around 250 meters wide. Comet P/2016 BA14 is thought to be around half that size and will zip past the following day, but will come closer to Earth flying by at a distance of 2.2 million miles (9 times the Earth-moon distance).
The P/2016 BA14 flyby will be the closest recorded comet encounter since the flyby of comet D/1770 L1 (Lexell) in 1770 and C/1983 H1 (IRAS-Araki-Alcock) in 1983.
Already this event is notable, but the double encounter is likely more than just a coincidence. In fact, these two objects were likely once part of the same comet.
PHOTOS: Discovery Channel Telescope Approaches 'First Light'
"Comet P/2016 BA14 is possibly a fragment of 252P/LINEAR," said Paul Chodas, manager of NASA's Center of NEO Studies (CNEOS) at the Jet Propulsion Laboratory in Pasadena, Calif., in a NASA news release. "The two could be related because their orbits are so remarkably similar.
"We know comets are relatively fragile things, as in 1993 when comet Shoemaker-Levy 9 was discovered and its pieces linked to a flyby of Jupiter. Perhaps during a previous pass through the inner-solar system, or during a distant flyby of Jupiter, a chunk that we now know of as BA14 might have broken off of 252P."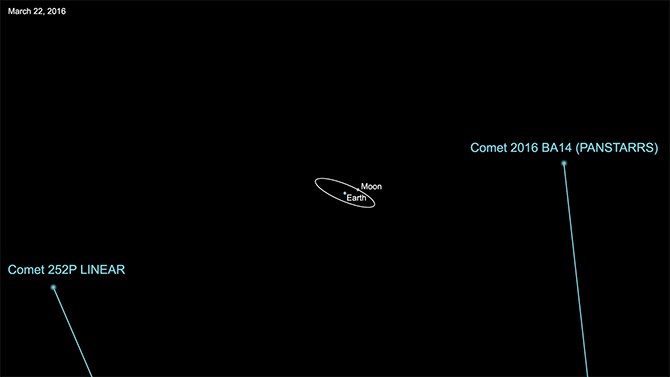 Comet 252P/LINEAR will safely fly past Earth on March 21, 2016, at a range of about 3.3 million miles (5.2 million kilometers). The following day, comet P/2016 BA14 will safely fly by our planet at a distance of about 2.2 million miles (3.5 million kilometers).NASA/JPL-Caltech
Follow-up observations of 252P/LINEAR and P/2016 BA14 by the NASA/ESA Hubble Space Telescope and NASA's Infrared Telescope Facility will try to find further hints as to both comets' origins, perhaps proving they are both chunks of the same icy object that was somehow torn apart.
As far as comets go, neither object is particularly massive and neither have orbits in the future that pose a threat to Earth.
"March 22 will be the closest comet P/2016 BA14 gets to us for at least the next 150 years," added Chodas. "Comet P/2016 BA14 is not a threat. Instead, it is an excellent opportunity for scientific advancement on the study of comets."
PHOTOS: 7 Intimate Close Encounters with Comets
Because they are so small, these cometary lightweights will be hard to observe, so only the most powerful, professional-grade ground-based telescopes can spot them.
The Discovery Channel Telescope saw "first light" in 2012 and is the fifth largest optical/near-infrared telescope in the continental United States. It is designed to track down objects orbiting the sun as far afield as the Kuiper Belt (beyond Pluto), including comets flying through the solar system, but also specializes in the study of dwarf galaxies.
It is powerful telescopes like the DCT that are critical to the safeguarding of Earth from incoming comet and asteroid threats and high-resolution studies of this possible comet "twin" will help us not only understand the composition and structure of these icy bodies, they will also provide a clue as to how comets form and how many more are out there.