Discover the Handcrafted Beauty of Merrimack Canoes
If you agree with the line in Kenneth Grahame's Wind in the Willows, "There is nothing - absolutely nothing - half so much worth doing as simply messing about in boats.", then you will want to take a look at these beautiful handcrafted boats from Merrimack Canoe Company, because if you're gonna spend time messing [...]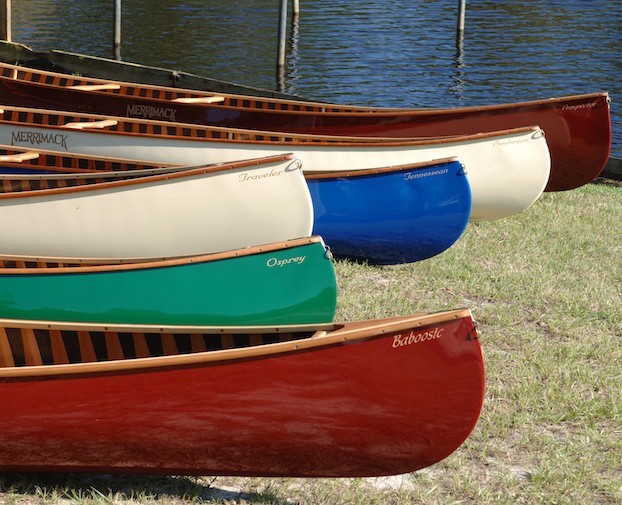 If you agree with the line in Kenneth Grahame's
If you agree with the line in Kenneth Grahame's Wind in the Willows, "There is nothing – absolutely nothing – half so much worth doing as simply messing about in boats.", then you will want to take a look at these beautiful handcrafted boats from Merrimack Canoe Company, because if you're gonna spend time messing about in a boat, you might as well do it with style.
Merrimack is headed up by Randy Pew, the grandson of the L.H. Beach, who developed the original wood-reinforced fiberglass hull and founded the canoe business up in Merrimack, NH in 1954. The company is now located in Crossville, TN, but each boat is still built by hand, with Randy and his friend Scott Hale producing two canoes per week.
"Although today we use modern composite materials for our hulls, we build Merrimack canoes basically the same way my grandfather did, and being a third generation Merrimack Craftsman, I'm very picky about the details. You won't find another canoe on the market with more craftsmanship and detail in its construction."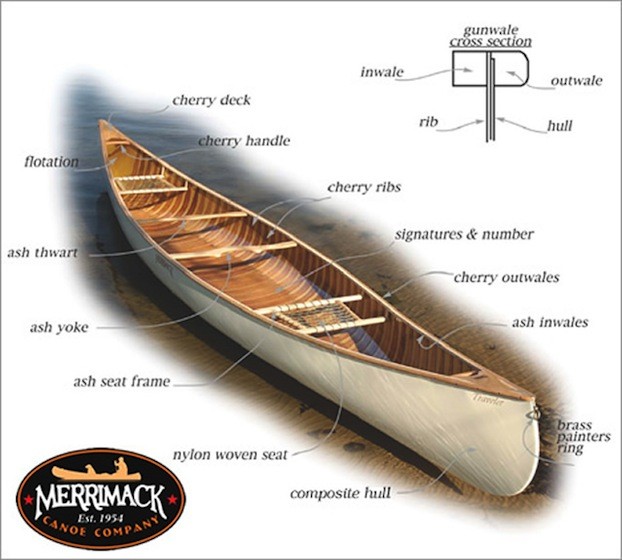 Each Merrimack canoe is built to order from scratch, so you aren't getting just another boat, but a limited edition, handmade, working piece of art. The boats are built with cherry ribs, decks, handles, and outwales, and ash inwales, seats, thwarts and yoke. The hull is a carbon fiber composite, and this design renders a boat with the desired stiffness but a light weight overall.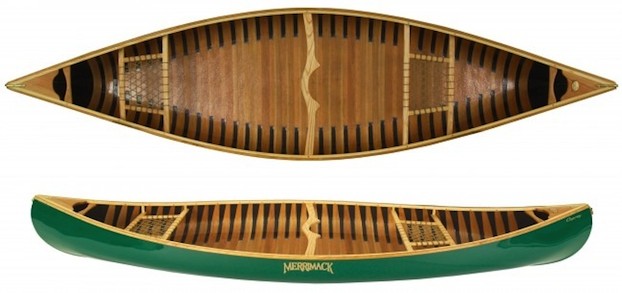 Merrimack Osprey Canoe
The Osprey is the original model, with a 50+ year history. This canoe is 13′ long, weighs in at 48 pounds, and its wide beam (39″) keeps it stable for just about any type of waterplay. The Osprey sells for $3,125.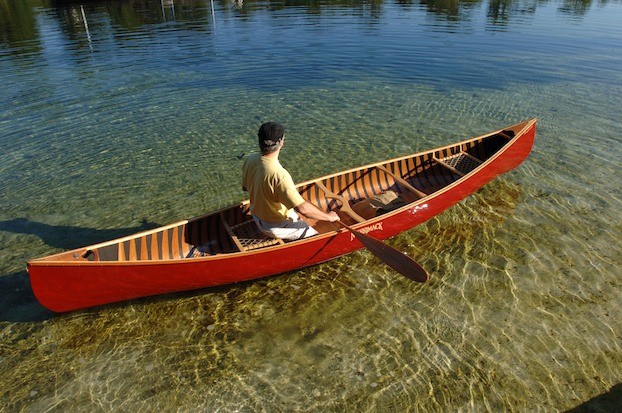 Merrimack Prospector
For experienced paddlers and long term canoe-packers, the Prospector is the choice for multi-day river trips, with plenty of room for all of your gear. The 16′ long canoe "spins on a dime – even when fully loaded" and is said to track and perform well even with a single paddler. The Prospector sells for $3,240.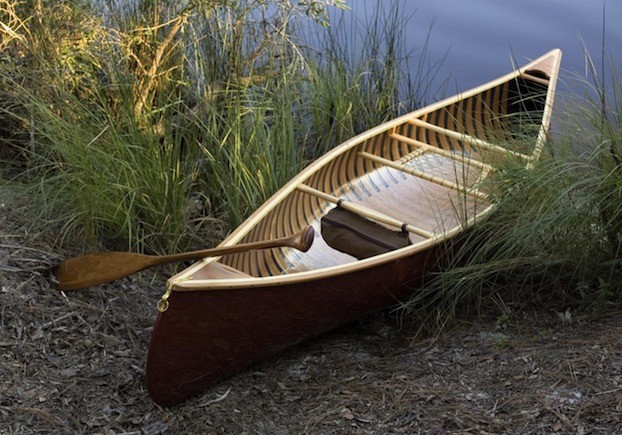 Merrimack Baboosic
For the experienced solo paddler, the Merrimack Baboosic Canoe is quick and agile, capable of exploring tight spots with ease, and the boat is also a great freestyle canoe. The Baboosic is 14′ long and was designed by Randy Pew, Merrimack Master Canoe Builder. $3,105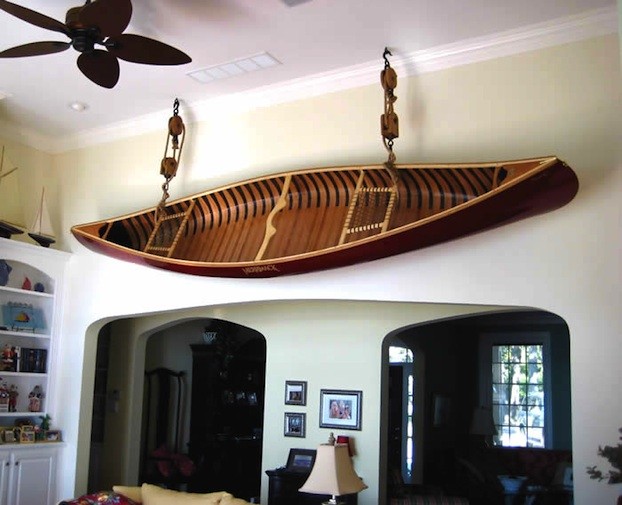 And hey, even if you never go near the water, these canoes are beautiful enough to hang on the wall, where they will become a family heirloom to be passed down from generation to generation. Get more information and or request their buyer's guide here: Merrimack Canoe Company