Digital Watch with Touchscreen and Apps is Like Having a Tablet on Your Wrist
Click to watch the Kickstarter video describing all the functions of the new Touch Time digital watch Remember how the geeks in school always wore those super nerdy digital watches that had functions that found the sine and cosine of whatever, and had all the design esthetic of a Radio Shack leftover bin? Well imagine [...]
Click to watch the Kickstarter video describing all the functions of the new Touch Time digital watch
Remember how the geeks in school always wore those super nerdy digital watches that had functions that found the sine and cosine of whatever, and had all the design esthetic of a Radio Shack leftover bin?
Well imagine what would happen if the cool kids got a chance to design their own digital watch, and you'd get the new Touch Time from Phosphor.
It doesn't get any cooler than Nike+ designer Stefan Andren, who is the aesthetic genius behind the Touch Time. It's got a slick black and white touchscreen instead of those tiny buttons, allowing you to swipe to change from screen to screen and function to function. It also lets you customize the screen, choosing from 7 different watch dials, depending on your mood and style.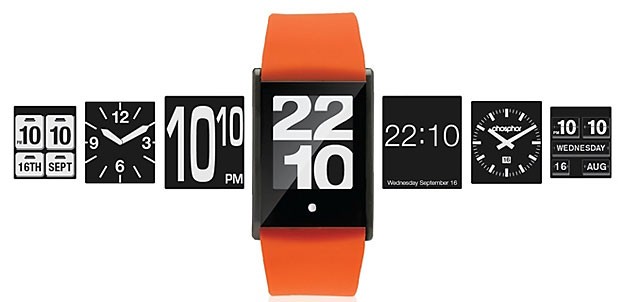 Touch Time lets you choose your face, depending on mood and style
Because our phones, tablets and even cars now run apps, they decided our watch should too. The Touch Time apps include an Alarm clock, Stopwatch, Calendar, Reminders, World Time that tracks up to 6 different time zones, Lunar Phases, and yes, even a Calculator. Just tap the app to access, and touch the screen to operate.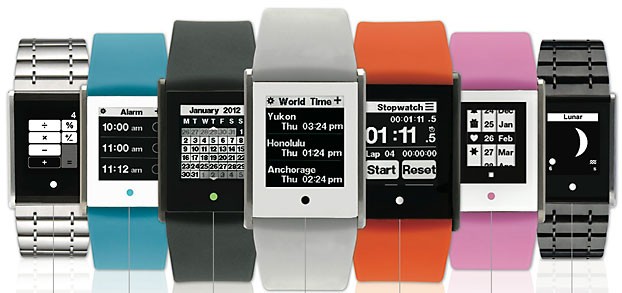 It also runs a number of apps, from a calendar to a lunar phase tracker to a calculator
It never needs to be synched or charged, the replaceable battery will run the Touch Time for a year or so, and it comes in a variety of colors and materials, including silicone, stainless steel and webbing. A far cry from the digital watches of yesteryear that came in some sort of silver coated metal that discolored and peeled after a while. I'm going to stop just short of calling it "geek chic" and instead just be happy there is finally a digital watch for those of us who don't speak Klingon or plan on being a virgin until our late forties.
From $125
All photos courtesy of Phosphor