Deploy Tactical Bacon for Pork Belly Preparedness
We live in the age of bacon. There are bacon festivals, bacon milkshakes, bacon dental products and toiletries, bacon peanut brittle, bacon cocktails, and even bacon first aid. So before the zombie apocalypse happens, you know you're gonna want to stock up on these quintessential cured pork belly strips. Of course, when the power goes [...]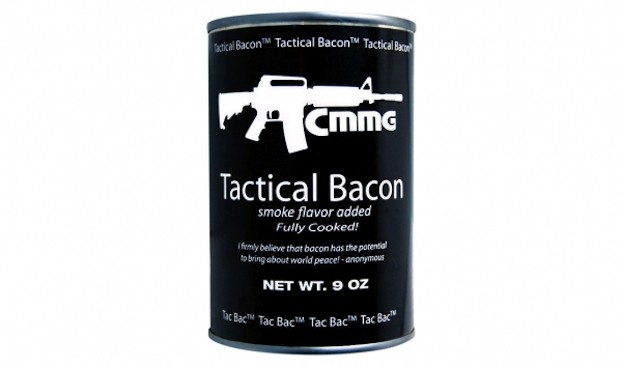 We live in the age of bacon. There are
We live in the age of bacon. There are bacon festivals, bacon milkshakes, bacon dental products and toiletries, bacon peanut brittle, bacon cocktails, and even bacon first aid.
So before the zombie apocalypse happens, you know you're gonna want to stock up on these quintessential cured pork belly strips. Of course, when the power goes out, that frozen bacon is going to go fast, so do yourself a favor and pick up some doomsday-proof supplies, like Tactical Bacon.
A single 9 oz can of Tactical Bacon contains more than 50 strips of pre-cooked bacon, just waiting for your own culinary touch. As Max says, "How does it taste? Like bacon!":
The bacon inside these cans is rated for 10+ years of shelf-life, so if you're thinking ahead and stock up, you could be mixing yourself up some Bacon-tinis long after the rest of civilization has been rendered brainless. Just don't forget to stock a can opener.