Deep Freeze Needed to Kill Bed Bugs
As bed bugs strike dread and produce itchy welts in a growing number of people, scientists are racing to better understand what makes the insects tick.
Dania Richter
Ticks resemble little bumps on skin, but a closer look reveals the barbed mouthpart (hypostome) that's inserted in human flesh and can't easily slip out. Dania Richter of the Technical University of Braunschweig watched, under very high magnification, ticks using other mouthparts to pierce skin, generating "a toehold," before a breaststroke-like action pulled in the barbed hypostome. The study is published in the latest Proceedings of the Royal Society B.
S. Turner, UC Riverside
This scanning electron micrograph image of a southern house mosquito (foreground) makes evident the straw-like mouthpart used to suck human -- and other -- blood. The red and black additions highlight smelling activity. It's believed that a mosquito can smell a person from 100 feet away.
Jonathan Coddington
Spiders in the genus Loxosceles, including the brown recluse, are among the few common spiders whose bites can seriously hurt people. Greta Binford, an associate professor of biology at Lewis and Clark College, recently studied the spiders, including the one shown here from South America. The spider bites can cause our skin to die. "Our bodies are basically committing tissue suicide," she explained. "That can be very minor to pretty major, like losing a big chunk of skin. The only treatment in that case is usually to have a skin graft done by a plastic surgeon."
R. Hanus
Older workers within a rainforest termite species,
Neocapritermes taracua
, have built-in "explosive backpacks" that become bigger and more deadly over time. The blue in this image -- showing several workers and a soldier termite -- is actually a sack of toxic blue liquid. Jan Šobotnik at Academy of Sciences of the Czech Republic in Prague found that worker termites could explode this toxin onto enemies during suicide missions that help their colonies.
Michael Caterino
Entomologist Michael Caterina and his team studied clown beetles, which munch on fly larvae found in decomposing bodies He snapped this shot, which shows one such beetle's mandibles. It's apparently a bug-eat-bug world, even in the remains of the deceased.
Ben Rowson
Slimy slugs are the bane of gardeners, but a recently discovered slug species makes others seem tame. The 'ghost slug,' found in Cardiff, Wales, lives on land, is carnivorous and possesses blade-like teeth. It's out all year round -- not just on Halloween.
Sam Droege, Flickr
This fly was photographed after it became stuck in a glob of hand sanitizer, so it was likely frozen in this image seconds before its demise. The photo reveals the fly's compound eyes, which have the fastest visual responses in the animal kingdom. The tongue-like proboscis is also sticking out.
freebird, Flickr
Leeches are predominantly bloodsuckers that feed on blood from humans and other animals. When leeches bite into a victim, their saliva prevents blood from clotting, causing victims to bleed from the wound for hours. The good news is that this effect has beneficial microsurgery applications, such as helping doctors reattach tiny veins.
David Hughes, Penn State University
The zombie-ant fungus invades an ant's brain, causing the insect to march to its death at a mass grave near the ant colony. The fungus winds up the winner, since it then erupts via spores that come out of the ant's head. A parasitic fungus, however -- the white and yellow material in this image -- can castrate the zombie-ant fungus, allowing the ant to live.
Linda Tanner, Flickr
Photographer Linda Tanner spotted this black widow spider in an old, dark barn, heading for a front porch. Black widows are very common, and are often found in garage door slats, hiding in dark corners, under woodpiles and in other places in and around homes. Usually they mind their own business, focusing on their insect prey, but their venom can cause human victims to experience nausea, muscle aches and paralysis of the diaphragm, which can lead to breathing difficulties.

Bed bugs have fed off human blood for more than 3,000 years and the parasites have only grown more pervasive in recent years.
Despite a dip in bed bug populations in the 1950s due to heavy use of DDT and other pesticides, infestations are now reported in all 50 states. According to survey results released earlier this year by the National Pest Management Association, 99.6 percent of pest management professionals across the country reported a bed bug infestation over the previous 12 months. And more than three-quarters of respondents said that bed bugs were the toughest pests they came up against.
As bed bugs strike dread and produce itchy welts in a growing number of people, scientists are racing to better understand what makes the insects tick with the goal of ultimately finding better ways to control them.
But even as refined guidelines emerge for how to avoid and treat bed bugs -- including a new study that details the frigid temperatures needed to freeze bed bugs to death -- it's becoming clear that the blood-suckers won't go down without a fight.
"Most bed bugs have multiple types of resistance to pesticides," said Joshua Benoit, an entomologist at the University of Cincinnati. "Until someone develops a new chemical that serves as a very good pesticide that can also be safe enough to treat with inside houses, it's going to be a while before we're bed-bug free."
Bed bugs are tiny, flat, reddish-brown insects that require warm blood meals to survive. They are hearty creatures, able to survive up to eight months between eating by settling into a quiescent state. And they reproduce quickly, making them extremely difficult to get rid of.
Two species of bed bugs are responsible for most infestations that affect people, according to the Centers for Disease Control and Prevention. And while the insects don't carry diseases, they can cause sores, expensive property damage and major headaches for people who are unlucky enough to host colonies in their mattresses. Public health concerns include allergic reactions, secondary infections, depression, sleep-deprivation and anxiety.
In an attempt to get the upper hand, scientists have been looking for weaknesses in bed bug biology. One theoretical target is a type of symbiotic bacteria that lives inside the insects and produces B vitamins for their hosts. When researchers removed the bacteria from bed bugs, they reported in Proceedings of the National Academy of Sciences in 2010, the insects grew more slowly and became sterile.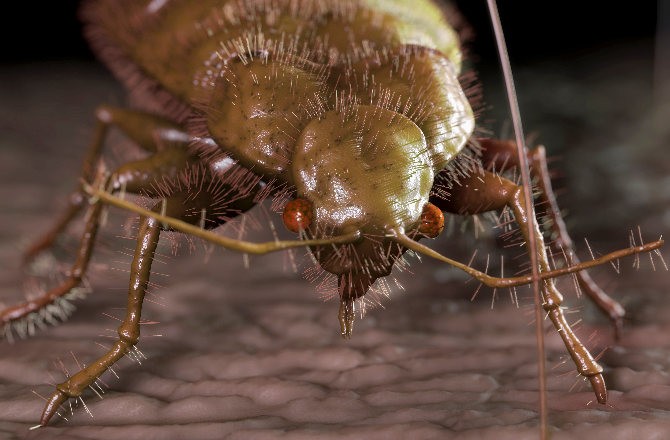 Science Picture Co./Corbis
Scientists have yet to use that discovery to develop any new weapons against bed bugs but creative solutions may become necessary as studies show that bed bugs are becoming increasingly resistant to the pesticides most commonly used to fight them.
During the winter of 2011 and 2012, a team of scientists from the University of Kentucky collected 21 populations of bed bugs from homes in four Midwestern cities. Genetic analyses revealed 14 mutations involved in resistance to pyrethroids, which are the standard insecticides used against bed bugs.
The genes worked in different ways but many reduced the ability of the toxin to penetrate the skin and reach the insects' nerve cells, the researchers reported earlier this year in Scientific Reports. Every single population had at least two forms of resistance to the insecticide. More than 70 percent of pesticide-resistance populations used at least five mechanisms to evade the poison.
"It's not just one little thing," Benoit said. "As people have been applying more and more pesticides, bed bugs have become more and more resistant in order to survive."
When chemicals fail, freezing the bugs out may be a viable option, suggests a new study. Based on preliminary results and anecdotal evidence that cold can kill the parasites, researchers from the University of Minnesota embarked on a systematic attempt to determine just how cold is cold enough.
Bed bugs don't have antifreeze proteins or other strategies for tolerating frosty temperatures, the researchers reported this month in the Journal of Economic Entomology. But they can resist below-freezing conditions for weeks.
To kill bed bugs at all life stages, said University of Minnesota entomologist Joelle Olson, temperatures needed to drop below -13 degrees Celsius (8.6 F), but death did not come quickly. It took 80 continuous hours -- or more than three days -- at -16 degrees Celsius (3.2 F). Below -20 C (-4 F), death came after about 48 hours.
Kitchen freezers tend to fluctuate in temperature, Olson said, which means it might take longer than expected to freeze bed bugs to death at home. Using a thermometer can ensure you're achieving cold enough temperatures for long enough. The study also suggested bagging infested items to limit condensation and to prevent the bugs from escaping into the freezer.
As useful as freezing can be in combination with pesticides, reduction of clutter and discarding of infested items, Olson added, it will never work as the only strategy for killing bed bugs.
"Freezing is another option to kill bed bugs, but it is just one part of many steps that should occur," she said. "I want to make sure people understand they should contact pest management professionals. It is not a treatment protocol in itself."