Deadly Ice, Snow Storm Grips Winter-Weary U.S.
A deadly ice storm stranded scores of people on slick roads and knocked out power to hundreds of thousands of U.S. homes.
A deadly storm packing heavy snow and ice plowed into the eastern United States Thursday, triggering widespread road accidents and flight cancellations as hundreds of thousands of people were left without power.
The storm enveloped the capital Washington in a deep, white blanket, closing much of the federal government, and blotted visibility in New York City, where several more inches of snow were expected later Thursday.
Thousands of travelers were stranded as flights, including at major air hubs in Atlanta and New York, were canceled, and nearly 800,000 homes and businesses lost power, mainly in Georgia and North and South Carolina.
The latest brutal freeze to hammer the eastern states of the country since the start of the year has been dubbed "Snowmaggedon," "mind-boggling" and "historic" by major television networks and forecasters.
Media reports said at least 11 people had died as a result of the storm.
One of the latest casualties came in New York early Thursday, when a snow plow struck and killed a 36-year-old pregnant woman in a supermarket parking lot, police said.
The woman was taken to hospital where her baby was delivered by cesarean section and said to be in a stable but critical condition.
As the storm moved north, the National Weather Service warned that the "mammoth dome" of Arctic air would cut a wide swath of winter weather from Georgia to New England.
Moisture from the Atlantic "will continue to fuel widespread precipitation," it said.
Sleet and freezing rain were expected to set up along I-95, the major interstate highway that runs the length of the eastern seaboard.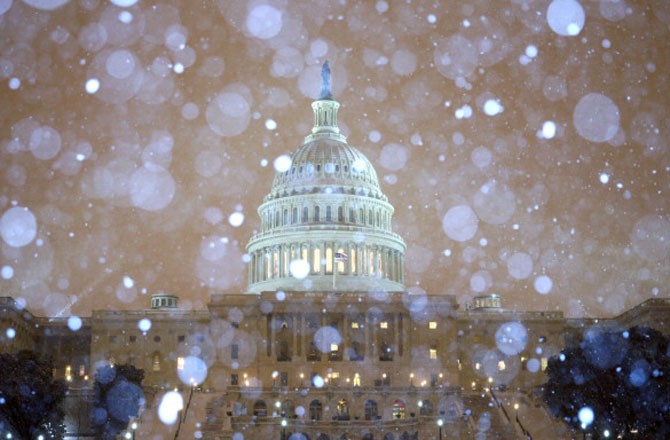 Snow falls in front of the U.S. Capitol building on Feb. 13, 2014 in Washington, D.C.Getty Images
"This storm is dangerous," said North Carolina Governor Pat McCrory. "Road conditions are treacherous in many areas."
Massive traffic jams from snow slicked roads made evening commutes in the South agonizing, hours-long affairs with the usually temperate cities of Raleigh and Charlotte transformed into ice- and snow-covered parking lots.
Hundreds of traffic accidents were reported in the Carolinas and Georgia, where frozen roads hampered emergency response efforts.
President Barack Obama has declared states of emergency in Georgia and South Carolina in order to deploy federal resources to help deal with the frigid storm.
McCrory urged North Carolinians to stay indoors -- even if it meant sleeping at work -- rather than risk the treacherous roads.
"If you're in a safe warm place, stay in a safe warm place," McCrory told CNN.
"We've already had two fatalities and we don't want to see more."
Specialty website FlightAware said airlines canceled at least 3,700 flights on Wednesday while a further 6,500 had been scrapped on Thursday, including many to and from New York, Atlanta, Philadelphia and Washington.
Downtown Washington was a virtual ghost town. Most buses were not running and subway cars were nearly empty.
As the snow started blowing in overnight, temperatures hovered around 26 degrees Fahrenheit (minus three Centigrade) but the bracing winds making it feel more like 15 degrees, forecasters said.
The White House cancelled its daily news briefing, and federal agencies told workers to stay home.
The Federal Emergency Management Agency said it was in contact with state emergency offices in densely populated Maryland, Pennsylvania and Virginia to assess their assistance needs as the storm builds.
In addition to the FEMA aid, various localities across the region had readied emergency shelters at churches and recreation centers where residents could stay warm should they lose power.
Military personnel had also been mobilized, with more than 2,300 Army and Air National Guard pressed into action, according to a Pentagon statement.