Da Vinci's 'Last Supper' Gets Digital Makeover
Modern methods are breathing new life into this more than 500-year-old masterpiece.
Bright, vivid colors adorned Leonardo da Vinci's The Last Supper, according to a digital reconstruction of the masterpiece at the exhibition "Leonardo da Vinci's Workshop" at Discovery Times Square Exposition in New York.
Painted to provide monks at the church of Santa Maria delle Grazie in Milan with something to contemplate during meals, the mural is considered one of da Vinci's greatest works.
Unfortunately, the painting began to deteriorate as soon as it was finished in 1498.
"Today, The Last Supper is faded and cracked. Thus, these brilliant, saturated colors may appear shocking, but we believe this reconstruction is the closest representation of how the fresco must have looked like when Leonardo painted it," Mario Taddei, exhibit creator and scientist at Milan's Leonardo3, told Discovery News.
The digital reconstruction is the result of painstaking analysis based on hundreds of high-definition photographs of the masterpiece.
"It was a sort of archaeological reconstruction. The high-definition pictures allowed us to localize the original pigments," Taddei said.
Pixel by pixel, the researchers cloned da Vinci's original pigments, using their virtual palette to restore areas where the color is irreparably lost.
In order to complete the fresco's missing parts -- a doorway was cut through the mural in 1652, lopping off Jesus' feet -- Taddei and colleagues turned to contemporary copies of The Last Supper, such as the one by Giampietrino, a painter influenced by da Vinci.
"We have managed to reconstruct the entire scene. It was a huge task, since only 20 percent remains of the original Last Supper," Taddei said.
Indeed, trouble for this masterpiece began just a few years after it was completed, mainly due to da Vinci's painting technique.
Unlike conventional fresco murals, in which water-based paint is applied on wet plaster to adhere to the surface as the wall dries, da Vinci's piece was executed with multiple layers of oil and plaster.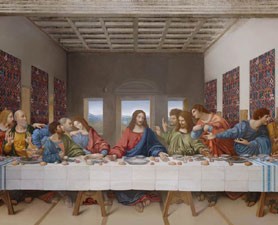 The bright, vivid colors of the original Last Supper appear in this digital reconstruction.Courtesy of Leonardo3
While allowing greater precision of detail, this technique left the mural particularly vulnerable to moisture. Within a few years, paint began flaking off.
In 1556, art historian Giorgio Vasari called the work a "muddle of blots." By 1796, Napoleonic troops occupying Milan were so unimpressed that they converted the refectory into a stable and amused themselves by throwing bricks at the Apostles' heads.
The Last Supper narrowly averted disaster in World War II when a bomb fell on the roof of the church. Protected by sandbags, it went largely unscathed.
As the mural deteriorated, sections were touched up using various chemicals and techniques -- some of which may have been more detrimental to the painting than either the French cavalry or the aerial bombardment.
The latest restoration efforts, which began in 1979 and lasted 20 years, made great gains in revealing color and detail, but a more thorough cleaning could destroy the work beyond recognition.
"The researchers at Leonardo3 have great modular views, as shown by their models of Leonardo's machines," Alessandro Vezzosi, director of the Museo Ideale in the Tuscan town of Vinci, where the artist was born in 1452, told Discovery News.
"As for digital restorations, they are always welcome. They are usually too clean and soulless, and in this case might be too sharp. But they do not harm and often add to our knowledge of the artwork," Vezzosi said.
Leonardo3's reconstruction has indeed revealed some unknown details, such as an ideal city sketched in fragments to the left of Jesus' face, and a salt shaker that appears to have been knocked over by Judas.
"Details about these findings will be published in a forthcoming book on Leonardo's paintings. We are also planning to digitally reconstruct all of Leonardo's works," Taddei said.