Curiosity Steps Up Search for Alien Life on Mars
Mars rover Curiosity will look for environments where life could have taken hold -- and been preserved.
NASA/JPL-Caltech
Artist's impression of Curiosity using its ChemCam instrument to analyze rock minerals.
NASA
If you've never heard of Pareidolia -- the psychological phenomenon of seeing faces in inanimate objects -- you're about to get a hefty dose of the effect. NASA's Mars Science Laboratory, Curiosity, snapped almost 900 images from its mast-mounted cameras, which were knit together to create a billion-pixel picture. Since you can pan and zoom around the image, we couldn't resist the urge to find some faces (and other amazing shapes) to get the rocks rolling. First up: Forget Jesus in a piece of toast: This rock formation appears to be the head of Moses.
NASA
Speaking of bearded men, clearly, Santa Claus lives on Mars! The zoomable panorama, at http://photojournal.jpl.nasa.gov/targetFamily/Mars, lets users cruise around the Red Planet and find what they will, even if it's a holiday saint.
NASA
A character from Super Mario can clearly be seen surfing across the surface of the Red Planet. Armchair explorers can choose from natural color, enhanced color or black and white versions of Mars.
NASA
This Martian rock formation looks remarkably like an angry dragon. To find these faces didn't take long with a back-and-forth scanning technique, using the controls on the JPL site. Try it yourself and tweet us the images @Discovery_Space. We'll add them to the gallery.
NASA
Smiling evil faces on Mars: They don't tell the truth. The truth being, of course, that all of these faces are just rocks. The human brain is wired to see order in chaos -- and especially face shapes. One of the most famous instances of Pareidolia was the Face on Mars.
NASA
Dragons, skulls and witches -- oh my, it must be Halloween up there! The panorama is 1.3 billion pixels, so there is plenty of opportunity to zoom into other crazy rock formations.
NASA
The spooky face's best friend, tortured soul, lies not far away on the Martian surface.
NASA
A wounded bird? It couldn't be. Not on Mars. But this formation looks just like a felled, large bird.
NASA
Although there are no frogs living on Mars, these rocks look like a large frog was squashed by a falling pillar. Frogville's demise?
NASA
This smooth path could fool you into thinking there are highways on Mars. What else can you find in the panorama? Tweet whatever it is that catches your eye to @Discovery_Space, or post to our Facebook page or our Tumblr at discoverynews.tumblr.com/. We'll add them to this gallery!

NASA's Mars Science Laboratory ratchets up the quest to the next ingredient in the recipe for life -- organic carbon.
THE GIST
- Mars rover Curiosity will look for environments where life could have taken hold -- and been preserved.
- The wheeled robot will explore a three-mile high mound of what appears to be layers of sediment.
- Touchdown is slated for 1:31 a.m. EDT on Monday.
With the arrival of NASA's Mars Science Lab on Monday, a new chapter begins in the age-old quest to determine if there is life beyond Earth.
The rover, nicknamed Curiosity, is not a life-detection mission per se. NASA tried that direct approach in the 1970s with the twin Viking landers. Considering what scientists later learned about the Martian environment, it was no surprise those experiments didn't lead to a rush of follow-on missions.
The quest of life on Mars bloomed anew in the 1990s in the wake of a stunning report that a Martian meteorite recovered on Earth had what appeared to be fossilized Martian bacteria. Later analysis refuted that conclusion, but it stimulated new ideas about how and where Martian life might have evolved.
Meanwhile, scientists were making new discoveries of life in extreme environments on Earth, opening up a range of potential habitats for life beyond the planet as well.
"At least in the past, Mars looks like it could have supported life," said NASA's lead Mars Program scientist Michael Meyer.
NASA's revamped quest for Martian life began with a simple premise: Find signs of past water, since water is believed to be a key ingredient for life.
Over the past decade, an increasingly more sophisticated armada of robotic probes returned strong evidence that Earth's little sibling dramatically changed at some point in its past, transitioning from a warm, wet world to the cold, dry and acidic desert that exists today.
Curiosity ratchets up the quest to the next ingredient in the recipe for life -- organic carbon, which provides structure for living entities. The key to finding it on Mars, if it exists, is to find places where it could have been preserved, a challenging proposition since the same processes that make rock tend to destroy carbon.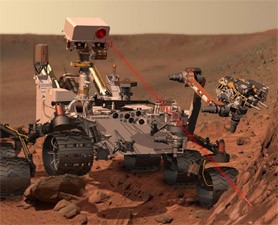 Artist's impression of Curiosity using its ChemCam instrument to analyze rock minerals.NASA/JPL-Caltech
"The challenge for Mars exploration is first to try to identify environments that might have been habitable and then to ask, 'Is this the kind of place where organic carbon could have been preserved?'" lead mission scientist John Grotzinger, with California Institute of Technology, told Discovery News.
On Earth, the earliest record of microbial life dates back 3.5 billion years, the same time scientists believe Mars was wet and warm. Single-celled micro-organisms were discovered in 1958 inside a glass-type rock known as chert.
"That was the key to the castle," said Grotzinger, a geologist.
"Everybody went out looking at Precambrian chert," he said, referring to a period of time between the origin of Earth 4.6 billion years ago and about 570 million years ago.
Chert is not life's only preservative, and Curiosity's landing site, though apparently chert-free, is rich with other materials, such as clays, that could do the job.
The rover is designed to spend at least two years exploring an ancient crater and an unusual, three-mile high mountain rising from its floor.
Scientists believe the mound, known as Mount Sharp, is the remains of sediment that once filled the basin.
"The layers provide an opportunity to rove up the surface of Mount Sharp and come through time to see how the environments have changed," Meyer said.
It would be the first comprehensive record of what may be billions of years of time, a record which on Earth has been disrupted and erased by tectonic plate movements, weathering and other natural events that regularly rewrite the planet's surface.
"We're not just looking for water anymore," Grotzinger said. "With this mission, expectations go up. The scientific challenge is much greater. It's going to be harder to address this question of habitability."
Curiosity is due to touch down on Mars at 1:31 a.m. EDT Monday.