Crowds Build for Second Obama Inauguration
The 44th US president and the first African American to hold the office begins his second term.
Joe Raedle/Getty Images
People wave American flags as people gather near the U.S. Capitol building on the National Mall for the second Inauguration ceremony of Barack Obama.
Getty Images
President Barack Obama was sworn in today for the second time in as many days for his second term in the Oval Office. In a slight twist on tradition, Obama was sworn in today using two Bibles, one belonging to Abraham Lincoln and the other once owned by Rev. Martin Luther King, Jr. Every inauguration brings with it its own take on traditions depending on the officeholder or the circumstances of the swearing in. In this slideshow, explore some of the most memorable moments in inauguration history.
Corbis Images
During Obama's first inauguration in front of a record-breaking crowd for such an event, the Chief Justice John Roberts, who administers the oath of office, misplaced a word in the oath. According to Section 1 of the Second Article of the U.S. Constitution, the words any president has to say to assume the office are as follows: "I do solemnly swear (or affirm) that I will faithfully execute the office of President of the United States, and will to the best of my ability, preserve, protect and defend the Constitution of the United States." Roberts misplaced the word "faithfully." In an effort to prevent theories that Obama hadn't legally been sworn into office, the Chief Justice readministered the oath in the White House using the correct wording. Given that President was sworn in twice in 2009 and twice in 2013, Obama has in total taken the oath of office four times. Only Franklin D. Roosevelt has taken the oath as many times.
Corbis Images
On the night a president is sworn into office, they celebrate with a series of inaugural balls to commemorate the event and celebrate the efforts of all the people that helped bring the politician into office. In 1993, at a number of the inaugural balls, Clinton appeared on stage toting his saxophone and played for the crowd. Clinton jammed with Ben E. King, Herbert Hancock and Thelonius Monk at different events.
Corbis Images
On the 200th anniversary of the presidency, George H.W. Bush took the oath of office and acknowelded the historic event by placing his hand on the same Bible that George Washington used two centuries earlier to be sworn in as the first President of the United States.
Corbis Images
Any president just being sworn into office is bound to want to hit the ground running in ticking off their top policy priorities as soon as the inauguration is over. Few though can claim a political victory of sorts moments within minutes of taking the oath. Shortly after President Ronald Reagan was sworn into office in 1981, 52 American hostages that had been held in Iran for a year and a half were released. The crisis contributed to Jimmy Carter failing to secure a second term in office.
Library of Congress
President Abraham Lincoln has what might be the most famous inaugural address in history after he took the oath of office for his second term. In his speech, coming as the Civil War was winding down, Lincoln said, "With malice toward none, with charity for all, with firmness in the right as God gives us to see the right, let us strive on to finish the work we are in, to bind up the nation's wounds, to care for him who shall have borne the battle and for his widow and his orphan, to do all which may achieve and cherish a just and lasting peace among ourselves and with all nations."
National Archives
Although Lincoln might have the most famous speech in inaugural history, his successor Andrew Johnson might have given the most unmoored speech in history. In what is supposed to be an apolitical event that lays out the agenda of the incumbent for the next for years, Johnson's address was considered listless, incomphrensible and even foolish by his peers. A lot of that might be due to the manner in which Johnson prepared for the event, by downing glass after glass of whiskey.
Library of Congress
Of any president in history, William Henry Harrison holds two records that are related. He has given the longest address in inaugural history at 8,445 words. He is also the most inconsequential president in history having caught pneumonia and died a month in into office. George Washington, by contrast, in a speech ahead of his second term in office only spoke 135 words, and look at how well he's remembered.
Library of Congress
Tradition holds that every president swear the oath of office on a Bible. In some instances, as was the case this year as well as for the swearing-in of president George H.W. Bush, some presidents elect to take the oath using two Bible. Whether this was the case in the early years of the Republic though is unclear. John Quincy Adams swore the oath on a book of laws, rather than a Bible. According to his own account, Adams eschewed using a Bible because he did not want to mix religion and politics.

Excited crowds poured into downtown Washington on Monday for Barack Obama's second inauguration as US president, anchored on a call for America to unite despite ugly political divides.
Barack Hussein Obama will raise his right hand and place his left on Bibles once owned by Martin Luther King and Abraham Lincoln and swear the oath of office before mustering for four years threatened by strife at home and abroad.
The 44th US president, and the first African American to hold the office, launched his second term with a private swearing-in ceremony on Sunday, before basking in the full pomp of his office with public celebrations Monday.
Obama, who will set the rhetorical tone for the remainder of his presidency with an inaugural address to a crowd expected to reach half a million, will headline a parade and then waltz with the first lady at glittering inaugural balls.
Bundled-up Obama supporters trekked into town to join snaking lines for Secret Service checkpoints guarding the entry to a steel-fenced secure zone around the White House and the inaugural parade route.
Armored military vehicles and parked buses blocked major roads, as part of a tight security vice which included air and river exclusion zones, road closures and a heavy presence of police and National Guard reserve troops.
The white domed US Capitol building, draped with huge Stars and Stripes, where Obama was set to take the oath of office at just before 1700 GMT, was etched against the dark pre-dawn sky with spotlights.
Temperatures were forecast for a relatively comfortable upper 30 degrees Fahrenheit (3 to 4 degrees Celcius), much warmer than the bitter chill that has had crowds shivering at some previous inaugurations.
Though the mood was festive, as revelers crammed into coffee shops and subway trains heading downtown, Obama's second inauguration lacks the sense of historic promise and hope that greeted his first term in 2009.
His political brand has been damaged by an exhausting first term battling the worst economic storm in decades and brutal partisan warfare with his Republican rivals, notably over taxes and spending.
Yet Obama, 51, has a legacy to defend, including a historic health care law and a retrenchment from draining wars abroad, and he is vowing to make good on the promise of a fairer economy, which anchored his re-election win.
He signaled late Sunday, at a reception for supporters, that he would dwell on the "common good" and the "goodness, the resilience, neighborliness, the patriotism," of Americans in his address.
"What we are celebrating is not the election or the swearing in of the president, what we are doing is celebrating each other and celebrating this incredible nation that we call home," Obama said.
"And after we celebrate, let's make sure to work as hard as we can to pass on an America that is worthy not only of our past, but also of our future. "
Obama's senior advisor David Plouffe said Sunday that the president will ask Americans in his inaugural address to remember what unites them, rather than political divisions which have split the country down the middle.
"He is going to talk about how our founding principles and values can still guide us in today's modern and changing world," Plouffe said on the ABC News show "This Week."
"He is going to say that our political system does not require us to resolve all of our differences or settle all of our disputes, but it is absolutely imperative that our leaders try and seek common ground."
Obama, with a slight smile, took the oath Sunday in a private ceremony in the Blue Room of the White House.
Chief Justice John Roberts, who stumbled when swearing in Obama to open his first term in 2009, slowly read each line of the oath out loud, before the president repeated phrases first intoned by George Washington, 224 years ago.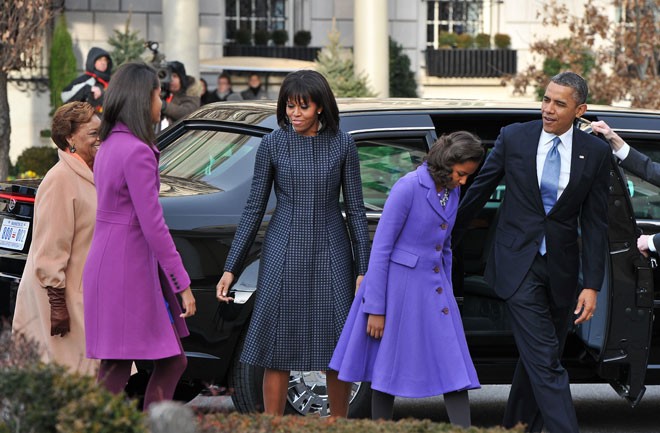 US President Barack Obama, First Lady Michelle Obama and their daughters Sasha(2nd-R) and Malia arrive at St. John's Church on January 21, 2013 in Washington, DC, hours before Obama participates in a ceremonial swearing in for a second term in office.NICHOLAS KAMM/AFP/Getty Images
Obama hugged his wife and children Malia, 14, and Sasha, 11, before quipping: "I did it" to his youngest daughter.
The cheeky Sasha shot back: "You didn't mess up!"
Michelle Obama later sent a personal tweet saying: "Barack just took the official oath at the @WhiteHouse & used my grandma's bible for the ceremony. I'm so proud of him. -- mo."
The Constitution states that US presidential terms end at noon on January 20. When that date falls on a Sunday, there is a private swearing-in ceremony before public celebrations and a second oath taking the next day.
Four years on, Obama's status as the first black president in a nation born on a racial fault line almost seems like an afterthought now -- perhaps a sign of progress.
But poignantly, Obama will takes his second, second term oath of office on the federal holiday marking civil rights pioneer King's birthday.
In another historic echo, Obama will become the second president to be sworn in four times -- thanks to the Roberts stumble in 2009 and his double oath duty this year, joining Democratic icon Franklin Roosevelt.
Obama faces several boiling foreign crises likely to shape his legacy.
The US confrontation with Iran is fast-headed to a critical point with the specter of military action becoming ever more real the longer diplomacy over Tehran's nuclear program remains stuck in neutral.
And terror strikes that killed Americans in Benghazi and Algeria call into question Obama's election year sound bite that "Al-Qaeda is on the run," despite the killing of Osama bin Laden in Pakistan in 2011.