Couple in Qatar Found Guilty in Organ Theft Death
An American couple say they have been wrongly convicted of causing the death of their adopted daughter. Continue reading →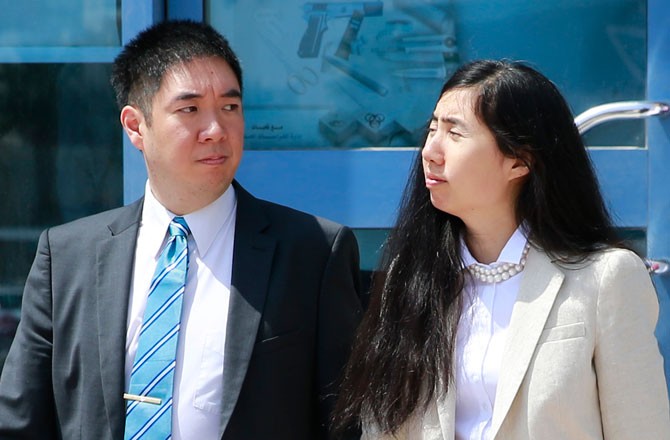 Matthew and Grace Huang, an Asian-American couple living and working in the Persian Gulf country of Qatar, were arrested and put on trial last year accused of starving one of their adopted African daughters to death in an attempt to harvest her organs.
Their 8-year-old daughter, Grace, had been raised severely malnourished in Ghana and had been treated for an anorexia-like condition. She died in January 2013 from unknown causes after being found by her parents and rushed to a hospital. Their other two children, now 8 and 12, were put in an orphanage but eventually returned to the United States to live with relatives.
BLOG: U.S. Couple Faces Bizarre Murder Charges in Qatar
According to a New York Times report:
"Prosecutors raised questions about why defendants of Asian heritage would adopt African children and asserted that they had deliberately withheld food and let her die. The prosecution's case was undercut, however, by testimony from friends, medical pathology experts in the United States and a defense team that punched holes in a flawed pathology report that helped formed the crux of the charges against them. Defense lawyers asserted last month that the report might have been fabricated and asked Qatar's attorney general's office to investigate possible prosecutorial misconduct."
The fact that Qatari prosecutors considered the adoption of African children by an American couple of Asian descent to be inherently suspicious strongly suggests that this prosecution is based at least in part on cultural misunderstandings. Mixed-race families and adoptions are virtually unknown in Qatar.
But how did rumors of organ theft enter into this tragedy? Though this claim is bizarre, it is not unheard of.
Folklorist Veronique Campion-Vincent, one of the world's top authorities on this type of story, notes in her book "Organ Theft Legends" that in some versions of this urban legend "the scenario is of pseudo-adoptions, in which children left poor countries only to die upon operating tables, not to be welcomed into loving families; it is commonly referred to as the Baby Parts Story, since organs taken from these children were allegedly used as 'spare parts' in transplants."
Indeed, the prosecutor's accusations against the Huangs fits this narrative perfectly: A wealthy American couple adopted children from the poor African country of Ghana only to kill one of them for her organs.
Matthew Huang described their circumstances as "Kafkaesque" and issued a statement that read in part, "The prosecutor accused us of trafficking our legally adopted children with the intent of selling their organs. That is how ridiculous this is."
The Huangs will remain free — though likely unable to leave the country — while their case is being appealed.
Matthew and Grace Huang, a U.S. couple who were accused of murdering their adopted daughter Gloria, stand outside the entrance of the Court of First Instance after their trial in Doha, March 27, 2014. Credit: Mohammed Dabbous/Corbis