Getty Images
Mark Zuckerberg
May 15, 2012 --
Happy birthday, Mark Zuckberg. The Facebook founder and chief executive officer turned 28-years-old Monday. It's a big week for Zuckerberg, whose company is primed to launch the most anticipated IPO of the year -- a move which could value Facebook at nearly $100 billion. The average S&P 500 CEO in America is twice Zuckerberg's age, according to the Associated Press. Zuckerberg is at the forefront of a new generation of young, tech-minded CEOs who have found their fortunes and major successes as other 20-somethings are still getting their feet wet in their chosen careers. Here we take a look at other young, notable entrepreneurs whose success came well before their first gray hair.
Getty Images
David Karp At age 25, Tumblr founder David Karp created a fast-growing international social media, blogging platform. Using money he acquired as a software consultant, Karp began Tumblr in 2007, when other blogging platform had already been widely available. As Karp mentioned in an interview the TechCrunch, Karp saw an opportunity to create a medium for digital postings that were more substantial than a tweet but less verbose than a full blog post. Tumblr has since taken off among users, and Karp has since built a fortune for himself, with an estimated $40 million in funding.
NEWS: Occupy Wall Street: Why It Chose Tumblr Follow DiscoveryNews on Tumblr
Corbis
Gurbaksh Chahal No one could ever accuse Gurbaksh Chahal of being an underachiever. By the time he reached 25 years old, Chahal, now 29, had already successfully founded and sold two companies, the first of which he began at age 16. Chahal even became a millionaire the same year he legally became an adult. And he wasn't done yet. Chahal currently is at the helm of RadiumOne, an online advertising company that "harnesses social interaction data to fuel new audience expansion." His net worth is upwards of $100 million.
Getty Images
Matt Mullenweg Anybody who's ever read, written or commented on a blog has probably at some point run into Wordpress co-founder Matt Mullenweg's handiwork. The now 28-year-old Mullenweg helped start Wordpress in 2003 and dedicated himself full-time to the platform beginning in 2005. According to VentureBeat, WordPress today is behind around 15 percent of the highest-trafficked site on the Internet. Mullenberg today has a net worth of around $40 million.
Corbis
Naveen Selvadurai Foursquare's Naveen Selvadurai probably wasn't looking to make a fortune when he and co-founder Dennis Crowley devised the social GPS-tracking site. Instead, he intended to use it simply to explore New York City. Founded in 2009, Foursquare now supports some 20 million users. Selvadurai at 28 has also amassed a fortune estimated to be around $80 million.
Corbis
Andrew Mason At 31, Groupon CEO Andrew Mason might seem like a senior relative to other entries in this slideshow, but Mason's success derives from a company he helped found in his late 20s. In November 2008, Groupon launched as a means of connecting urban residents to local merchants. The site began by offering users the ability to collectively buy into a discount from a local merchant in the Chicago area. The business model took off, leading Groupon to expand beyond Chicago and spawning a number of copycats. Groupon's seemingly overnight success led it to become one of the fastest company's in history to reach the billion-dollar valuation mark, thanks in no small part to Mason's contribution.
Corbis
Pete Cashmore At age 26, entrepreneur Pete Cashmore has an estimated net worth of $80 million. Cashmore amassed his fortune by making a name for himself with a website that follows the kinds of products created by these other entrepreneurs on this list: Mashable.com. Started in 2005 when Cashmore was a teenager living in Scotland, Mashable.com is now among the highest-trafficked blogs online and Cashmore boasts one of the most popular feeds on Twitter.
Corbis
Justin Kan Justin Kan is the face of what might be the most popular live-streaming website online: Justin.tv. However, the 28-year-old Kan's successful site can also be credited to cofounders Michael Seibel, Emmett Shear and Kyle Vogt. The four hatched the site in 2007, with Kan beginning a constant video stream from a webcam attached to his hat. Broadcasting his life through a never-ending stream over a period of eight months spawned the term "lifecasting."
<a href="http://www.icontact.com/" target="_b
Ryan Allis and Aaron Houghton Ryan Allis and Aaron Houghton might not be household names. But since 2003 when both were just teenagers, the duo has steadily built a successful e-mail marketing platform that pulled in $40 million in revenue in 2008. Even before they built iContact, both of these young men had started businesses that likely informed their future success. At age 11, Allis began a consulting business to teach senior citizens how to use computers. Houghton started not in tech, but instead in bike repair, looking for spare parts in local junkyards to power his early business.
NEWS: Social Media More Addictive Than Booze, Cigs

The cinematography in Baz Luhrmann's new film version of "The Great Gatsby" portrays the Jazz Age as full of lavish excess and glitz probably not even dreamed of in 1922, the year F. Scott Fitzgerald's story takes place.
Flaunting the wealth of Jay Gatsby is the movie's focal point of extreme gluttony: Gatsby's weekend parties feature more bling than Jay-Z. The source of his wealth, however, is somewhat mysterious: The phone rings constantly throughout the film, with calls identified only as "Chicago" or "Philadelphia."
"He owned some drug-stores, a lot of drug-stores," according to Gatsby's lost love, Daisy. Connections to the man who fixed the 1919 World Series and bootleggers are alluded to.
Could such a mysteriously wealthy person exist today, apart from fiction? Or would his wealth be outed as fast as Tom Buchanan could log on to Twitter?
It's plausible, said Michael Rubin, author of "Beyond Paycheck to Paycheck: A Conversation About Income, Wealth, and the Steps in Between."
"You could start a company that's not worth anything more than $100 and seven years later it's worth $50 million, and only you and your shareholders know it," Rubin said.
There's no wealth tax in the United States, Rubin points out, so legally accumulating a great deal of wealth and keeping it relatively secret is not uncommon.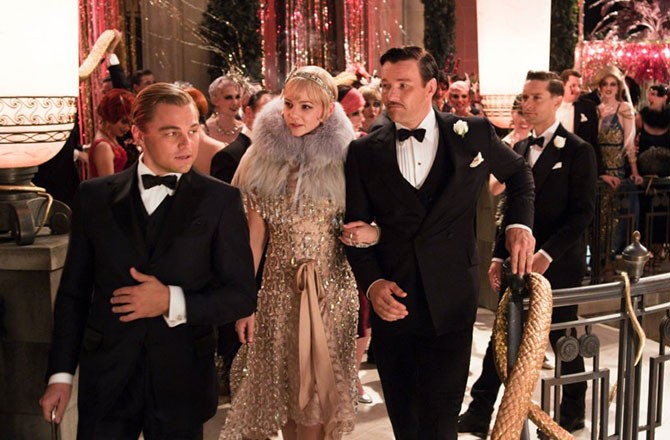 Warner Bros./Facebook
"There are plenty of millionaires amongst our midst that you would never know about," he said.
Of course, once you start throwing Gatsby-esque parties, the more questions your neighbors might ask.
"Almost certainly you can be rich without people knowing where you got your money," said Terrance Odean, professor of finance at the Haas School of Business at the University of California, Berkeley. "Real estate, an inheritance, art, the market .... As long as your social circle doesn't overlap too much with your vague source of wealth, you are probably fine. Many people consider it rude to ask. Of course, if a reporter pries some stories will fall apart fast than others. Thus it is helpful if you -- and your wealth -- come from another country."
On the flip side, many people in the United States may flaunt wealth they don't actually have.
"Some of those who lead a lavish lifestyle are actually in debt," Rubin said. "Recent studies show that up to 60 percent of the people in this country live paycheck to paycheck. I think people often assume that a big house means you're wealthy, but that's not really the case at all. There's some correlation, but it's a loose one."
Celebrities, of course, face closer financial scrutiny. In March, a website published private financial records of Jay-Z and Mel Gibson, Hillary Clinton, Beyonce, Paris Hilton and others. There's even a term for it: doxxing.
Fitzgerald's book draws a greater distinction between old money and new money. Not even Gatsby's great wealth wins him entree into the lifestyle of the woman he lusts after.
"Her voice is full of money," he tells neighbor and narrator Nick Carraway.
While Gatsby's finances seem tenuous, he never reaches financial ruin. The story, of course, still ends in tragedy.