Could Body Cams Reduce Police Tensions?
While many say that mandating police officers to wear recording devices would lessen unnecessary police force, the reality may be more complicated.
Xinhua/Shen Ting/Corbis
Police in riot gear observe protesters on the street near the police station in Ferguson, Mo., on Nov. 23, 2014. Officer Darren Wilson will not face charges, the St Louis County prosecutor said Monday night, in the killing of an unarmed 18-year-old, Michael Brown. The protests in Ferguson are just the most recent in a decades-long history of civil unrest following violence against African Americans. Here we look at notable cases which spurred a nationwide outcry.
David Butow/Corbis
In April of 1992, after a jury acquitted four police officers involved in the beating of Rodney King, riots broke out throughout South Central Los Angeles, killing 55 people, injuring another 2,000, and causing more than $1 billion in damage. Above, a member of the National Guard stands near a burning building during the riots.
BLOG: Are Gun Owners More Racist?
Patrick Chauvel/Corbis
In 1989, three days of race riots began in Overtown, Miami, when a black man fleeing on a motorcycle was killed by a Hispanic police officer. During the riots, 125 blocks were sealed off.
PHOTOS: Ukraine Uprising's Most Violent Days
ROBERT GALBRAITH/Reuters/Corbis
In 2009, Bay Area Rapid Transit (BART) officer Johannes Mehserle shot and killed Oscar Grant, an unarmed black man, which triggered riots in Oakland. Above, in July 2010, demonstrators in Oakland protested the verdict in Mehserle's trial. He was found guilty of involuntary manslaughter and not guilty of second-degree murder and voluntary manslaughter.
VIDEO: Why Are Police Allowed to Use Lethal Force?
Justin Carlson/Corbis
Trayvon Martin, who was carrying only a bag of Skittles and iced tea, was shot in 2012 after an altercation with neighborhood watch volunteer George Zimmerman, who pursued Martin on foot after being told not to by 911 dispatchers. A day after Zimmerman was found not guilty on all charges, protests were held around the United States. Above, a student-organized march at Washington Park in Chicago.
Where Gun Laws Are Most Lenient
Bettmann/CORBIS
Chicago native Emmett Till, 14, was murdered in 1955 by two white men in Mississippi after he allegedly flirted with the wife of one of the men. Above, Till's mother, Mamie E. Bradley (left), appears at the trial of Roy Bryant and J. W. Milam, who were charged with Till's murder. Bryant and Milam were acquitted though they later admitted to committing the crime. Till's mother insisted on a glass-topped casket to show how her son had been brutalized. The murder caused national outrage and helped fuel the civil rights movement. Till's family recently donated the casket to the Smithsonian's National Museum of African American History and Culture.
NEWS: Is Violence Contagious?

If Ferguson, Mo. police officer Darren Wilson had been wearing a camera when 18-year-old Michael Brown was killed last week, the details of the case would almost assuredly be indisputable.
But the effort to lesson unnecessary police force may not be as simple as slapping a body cam on every officer in the country.
"There have been a lot of claims in favor and against [body cameras], and there are only five studies in the entire body of literature on the subject," said Michael White, an associate professor in the School of Criminology and Criminal Justice at Arizona State University, who recently concluded in a report for the U.S. Department of Justice that there is not enough evidence to make a recommendation for or against them.
"There's enough evidence that if a department is interested they should proceed, but with caution," he said.
Currently more than 1,000 U.S. police departments are equipping officers with body cameras. The cameras are a step beyond police patrol car dashboard cameras, whose footage have helped piece together incidents for decades.
In the Ferguson case, White thinks police body cams could have helped ease tensions.
"In cases like we're seeing in Ferguson, we're hearing two very, very different versions of events. If he had worn a camera they could have gone to the video, and the potential would have been for it not to escalate: if the bystanders view was accurate and it was murder, then they could have proceeded with the firing and arresting and prosecuting of the officer. Or if the flip side were true, then work could have been done with the community stakeholders to explain what happened step by step."
The details can be both complex and cumbersome, however: Officers and unions -- who may be reluctant to adapt the technology -- must be on board with a mandate. And even something as seemingly simple as storing the data becomes prohibitive when deployed on such a massive scale. Then there are bigger issues, such as privacy.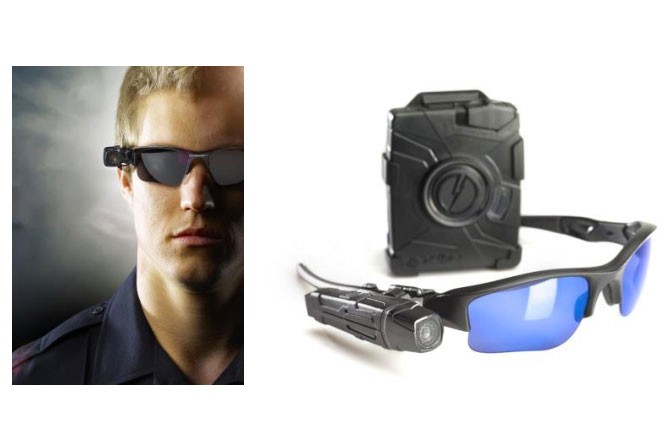 The Axon body cameraTASER International, Inc.
"The same technology that lets us do these things can also be abused," said Dan Gillmor, who teaches digital media literacy at Arizona State University. "I think we all deserve a zone of privacy in our normal lives, and these devices we carry around are just dandy as surveillance on us. But there's a growing belief that for people who have life and death power over others, it's quite proper for them to have ongoing recordings of their interactions with the public."
The ideal scenario, White said, would be for police departments to garner support from the ground up: involve officers, unions, and the community in decision-making, and address privacy concerns and resources up front, he suggests.
Of course, it's not only police officers who can record a crime. In fact, most police chiefs advise officers to assume that everything they're doing is being recorded.
"It's a sad comment on the state of law enforcement, but I now encourage people who see the police doing something that seems out of the ordinary to document it with pictures or video and save it (if not post it online)," wrote Dan Gillmor,in The Guardian.
But even those who espouse citizen involvement, such as the American Civil Liberties Union, are rooting for police cameras.
"The use of cameras to document the abuse of power is an important development," Gillmor said. "But the ideal thing would've been for the police themselves to be wearing cameras."
The public seems to agree:  Two online citizen petitions calling for police to wear cameras have garnered over 150,000 signatures.
And despite his inconclusive research, White predicts that police body cameras may follow the same trajectory as Tasers, which became common in police departments within a span of a decade.
"This technology has the potential to expand that quickly if all the concerns are addressed," he said.
The price of the cameras have dropped substantially in the last 18 months, White said, and last week, Taser stock prices increased 10 percent, which most attribute to demand for its body cameras.