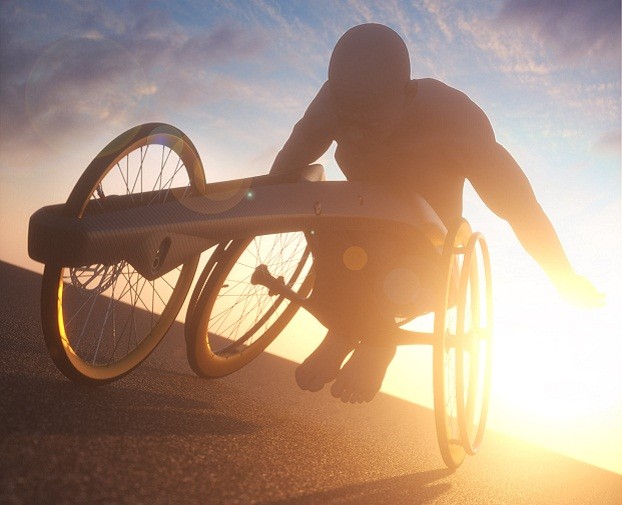 Image: Andrew Mitchell
To the non-initiated, wheelchair design seems pretty straightforward. But just as non-cyclists know little of the world of difference between mountain and touring bikes, there's more to wheelchairs than most would think. This concept, from UK designer Andrew Mitchell, is designed to give users the ability to go farther than ever before: its' the Ultra Long Distance Wheelchair.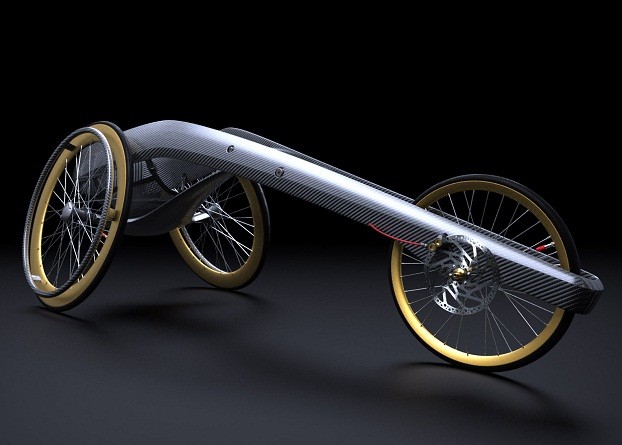 Image: Andrew Mitchell
Mitchell took inspiration form bikes and cars made for long-distance travel, taking into account the comfort of the rider as well as the performance of the vehicle. The user sits with his chest in an open position so he breathes easily; the legs are more relaxed than they would be in a wheelchair built for sprinting. Mitchell gives the details:
By keeping the shoulders over the front edge of the driving wheels, the whole body position can be engaged by the rider to provide maximum power. In this orientation, the body position is quite open and thus helps prevent stress and strain over long periods of time. The chassis of the Ultra Long Distance Wheelchair is a carbon fiber shell with expanded foam core incorporating aluminium structures for extra load spreading.
Wheelchair marathon racing is a serious sport; if it were produced, Mitchell's design could have a real impact.