Climate Change Action Now Helps Win Elections: Poll
Most Americans favor action on climate change, a new Yale study finds, and want the President and Congress to make it a priority.
Politicians who oppose taking action on climate change or discount the whole matter could be risking their careers.
Public opinion in the United States has shifted in favor of doing something about climate change, and politicians who want to get elected need to take note of it, according to a new study by the Yale Project on Climate Change Communication.
A nationwide survey conducted before the November election found that concern about the effects of global warming is high across political groups, with most Democrats and Independents expressing concern about global warming and its potential harm for people today as well as to future generations. A clear majority of registered voters, 58 percent, said they would consider a candidate's position on global warming when deciding how they will vote.
Most Republicans get the message as well, with 52 percent saying that global warming should be a priority for the President and Congress. In fact, only 2 percent of Democratic voters, 10 percent of Independent voters and 28 percent of Republican voters say the United States should make no effort to reduce global warming.
"We have a whole series of questions we ask again and again and track over time," said Anthony Leiserowitz, director of the Yale project, which polls the same approximately 1,000 people, year in and year out, to get a view of how public opinion changes over time.
Pollsters and statisticians agree that 400 is the minimum survey size for getting a representation of U.S. public opinion, with an accuracy of plus or minus 5 percent. The Yale project uses a pool of 1,000 randomly selected Americans so that they can study sub-groups -- like Democrats, Independents and Republicans -- and still get statistically meaningful results.
Next page: See a graph showing poll results of Americans' feelings on climate change.--->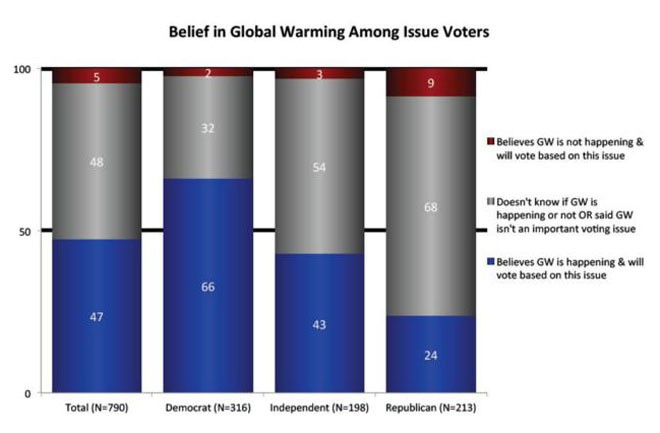 A new Yale Project poll shows how taking a stand on climate change can help politically.Yale Project on Climate Change Communication
For politicians of either party thirsting for the Independent vote, favoring action on climate change would appear to be a good idea, Leiserowitz explained. Only 3 percent of Independents do not believe that climate change is happening, with fully 43 percent say they will vote based on the issue. The remaining 54 percent are unsure or won't base their vote on the issue.
That compares with 9 percent of Republicans who said don't believe global warming is happening or vote accordingly, a whopping 68 percent of Republicans who are not sure, and 24 percent who believe global warming is real.
Among the politicians probably benefiting from public opinion is Governor Jay Inslee of Washington. Inslee was elected while being conspicuously vocal about climate change and even coauthoring a book on the promise of clean energy.
"Every ton of coal that is burned anywhere on the planet Earth ends up in Puget Sound," said Gov. Inslee at a recent meeting with the press in Olympia, Wash. When asked about the negative effects of ocean acidification -- caused by the burning of fossil fuels worldwide -- to the state's shellfish industry, he said, "This is not only about the polar bears. It is about business opportunities in our state that are today being damaged."
The survey also underscores the large segment of people still on the fence about climate change, which is a matter of concern, said Mark McCaffrey, who works on climate change policy matters for the Nation Center for Science Education.
"The thing that really pops out at us is the fact that people are not understanding the basics," McCaffrey said. "This points to the need for a national effort to educate people."