City May Lose Dinosaur Museum
The Highlands Prehistoric Museum, with its impressive T. rex skeleton and other dinosaur fossils, may soon be leaving Cookeville, Tennessee, reports the Herald-Citizen. While this could be bad news for locals, another city may house the museum in future, as owner Jerry Jacene is currently considering an offer from a different Tennessee city as well [...]
The Highlands Prehistoric Museum, with its impressive T. rex skeleton and other dinosaur fossils, may soon be leaving Cookeville, Tennessee, reports the Herald-Citizen. While this could be bad news for locals, another city may house the museum in future, as owner Jerry Jacene is currently considering an offer from a different Tennessee city as well as two offers from out of state.
(Curator Jerry Jacene and an assistant work on the museum's T. rex skeleton. Image: The Highlands Prehistoric Museum)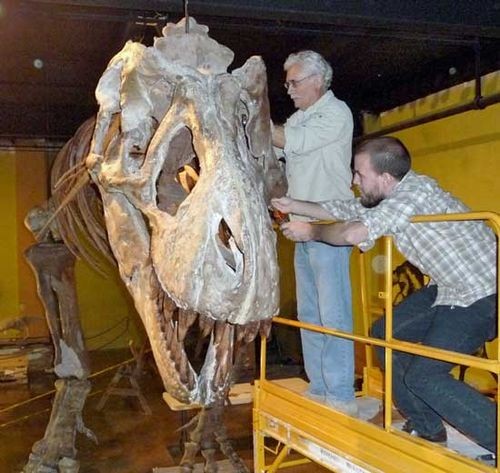 The museum will soon feature a display on woolly rhino bones from China, lent by a private collector. A cast of the fossils will be made so the prehistoric bones could lead to a more permanent exhibit.
Visitors can also see paleontology in progress. Jacene and earth science students from Tennessee Tech are now excavating a 11×8 slab of Montana earth that contains multiple dinosaur fossils. The slab is at the museum, with a special viewing area that allows the public to watch the researchers extract the bones.
Most of the museum's 100-400 visitors per week come from out of state. It's hoped that a move would increase those numbers. But, for now, it sounds like Jacene is keeping all options open. 
If you plan to visit Tennessee, why not take a road trip with your family to the Highlands Prehistoric Museum. Just click on that link to visit the museum's homepage, or call (931) 526-3204 for more information.