Chinese "Tony Stark" Builds a Virtually Indestructable Iron Pod
Tony Starks' Iron Man suit may be something out of comic books, but Chinese businessman Yang Zongfu has built something in real life, out of iron-clad steel, that is just as effective, albeit not as form-fitting. According to Shanghai Daily, the entrepreneur created a modern day version of Noah's Ark: a steel spherical capsule which [...]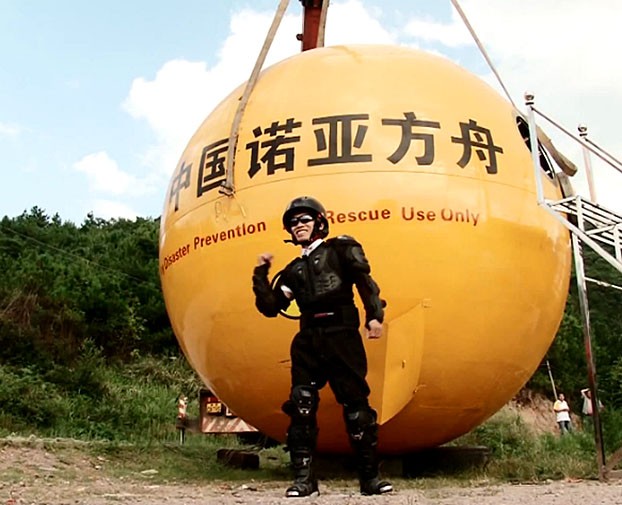 Photo via yulemedia on YouTube
Tony Starks' Iron Man suit may be something out of comic books, but Chinese businessman Yang Zongfu has built something in real life, out of iron-clad steel, that is just as effective, albeit not as form-fitting. According to Shanghai Daily, the entrepreneur created a modern day version of Noah's Ark: a steel spherical capsule which can withstand nuclear radiation and 1700 degrees of heat. It can also keep humans inside safely, no matter what the elements — it has even kept raw eggs intact on several tests.
Reports say that the capsule can safely sustain a family of three for two weeks with stored food and water, and can even float on water in the event of a flood. This was all demonstrated by Yang Zongfu himself, in a stunt that looks a bit like zorbing down a big hill, but in a sphere of steel:
However, the Chinese aren't the only ones with balls of steel; a Japanese company also has a version of "Noah's Ark," available for $3900 USD, according to Treehugger. And with a recent history of tsunami and nuclear accident in that country, you can never been too prepared. In fact, people are already making orders.