Chinese 'Occupy Obama' On G+: DNews Nuggets
Soon after China's censorship block was lifted on the social networking site Google+, President Obama's campaign page was flooded with comments... in Chinese.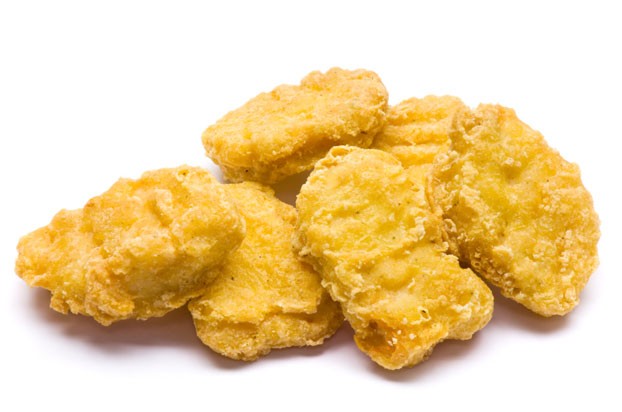 Feb. 26, 8:22 p.m. — After Chinese censors apparently lifted the blocks on Google's networking service Google+, the first target for many Chinese appears to have been President Obama's official campaign page. Hundreds of comments have flooded every entry on the "Obama for America" page. Have a look for yourself. And it's not automated spam. Many of the messages (primarily in Chinese) have been written for fun, some are asking for Green Cards and others are very political. "Mr. President, we want American freedom," says one commenter. Another commenter argues that they cannot "occupy president Hu … so we can just occupy Obama, forgive us …" via The Associated Press
Feb. 26, 11:47 a.m. — The compound were Osama bin Laden lived and died in Abbottabad, Pakistan, is being razed, the BBC reports. The erstwhile leader of al-Qaeda was shot there by U.S. military forces in May 2011. The Pakistani government appears to be on a fast track to erasing the place, though it hasn't yet said why. Local residents report being asked to stay indoors amid a curfew Saturday night. Work began late on Saturday. via BBC News
Feb. 24, 4:30 p.m. — After WWII, the U.S. Government had lots of hazardous chemicals to dispose of. What better place than an ice-covered lake? Sodium and water cause quite the "energetic reaction," as my high school chem teacher Mr. Bright used to say. You won't be disappointed in this newsreel; just try not to think about the environmental impact. via Archive.org, seen on YouTube
Feb. 24, 3:50 p.m. — Here's a parting gift for the weekend: "Jean-Luc Godard Captures The Rolling Stones Recording 'Sympathy for the Devil' (1968)". It doesn't seem like more words than that are necessary to hit the "play" button on the video below. It's long, but well worth watching unfold. via Openculture
Feb. 24, 12:50 p.m. — You don't have to buy an iPhone for your friends to think you own one. For $1 a month, a Chinese service will automatically add the tagline "sent from my iPhone" to every email you send. Talk about faking it! via Dvice
Feb. 24, 11:15 a.m. — After a few days in space, Astronauts crave hot sauce. Apparently, astronauts lose their sense of smell in space and "They crave peppers, they crave sour and sweet things," Jean Hunter, a food engineer at Cornell University told NPR. Michele Perchonok, who leads NASA's food science program, explains why astronauts lose their sense of smell in space. via NPR
Feb. 24, 6:34 a.m. — Another way to contribute to green energy in the future? Have the heat from your cremains warm the local swimming pool. The British government is considering duplicating the heating plans of a Worcestershire swimming center that is taking advantage of a nearby crematorium to heat its pool this spring. via MSNBC
"Senior lawmaker Sir George Young, the leader of the House of Commons, told The
Feb. 24, 3:18 a.m. — Was that UFO in Bolivian skies a top secret U.S. spy plane? On Jan. 17, a video of what appeared to be a mysterious aircraft flying over Bolivia went viral. Even Deputy Foreign Minister Juan Carlos Alurralde expressed concern for the apparent incursion of his nation's airspace. But like many UFO videos before it, the whole thing was a hoax and the government is officially investigating. via Life's Little Mysteries
Feb. 23, 8:35 p.m. — Jets of fluid being ejected from two syringes may sound like a simple scenario, but the dynamics behind the collision of the jets are as puzzling as they are beautiful. University of Cambridge researchers have filmed two syringe jets and found that at certain speeds, the jets erupt into a rapidly alternating "fishbone" pattern. The high-speed video looks cool (below), but the dynamics behind it remain a complex problem for scientists. via io9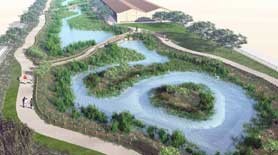 Feb. 23, 8:06 p.m.
— What used to be a 9-acre cement parking lot and MBTA stop in South Los Angeles is now a wetland. The South Los Angeles Wetland Park is an artificial ecosystem that was built to naturally clean polluted storm water before it reached the Los Angeles River. For a state that has lost 90 percent of its wetlands since the 1800s, this reclamation is a small dent. But the area does process up to 680,000 gallons of storm water every day, and that's a step in the right direction. via Inhabitat
Feb. 23, 4:50 p.m. — Are you trying online dating? Why not online seat-buddying? This month, KLM began testing its "Meet and Seat" service, which lets passengers choose their seat buddies based on their social networking profiles.The Dutch company isn't the only airline trying out such programs: Malaysia Airlines uses Facebook to find friends on the same flight, and Danish program Planely and Hong Kong's Satisfly both want to match people based on social media profiling. Someday, tweeting at the airport might be more about fun than depression. via NYTimes
Feb. 23, 3:46 p.m. — States have official birds, flowers and even fossils. And now, California could add an official state marine reptile to the mix. A bill was introduced last week by Assemblyman Paul Fong. According to the Los Angeles Times, it "would name the endangered Pacific leatherback sea turtle to a growing list of symbols that includes the California quail, the gray whale, the California poppy and the garibaldi — the state marine fish." via LATimes
Feb. 23, 1:55 p.m. — This, apparently, is the oldest college football game captured on film. Ever. The New York Times in 1903 called it "one of the most remarkable games ever played." Guess it's worth watching! It was between Princeton and Yale, with Princeton beating Yale 11-6 to become the best team in the nation that year. Hut! via Sports Video Daily and Open Culture
Feb. 23, 1:20 p.m. — When oceanographers wondered why one of their gliders was not operating at full capacity, they went to investigate and found a loggerhead turtle hitching a ride. A photo by Eric Bowles of the turtle and the glider was presented at a poster session during the American Geophysical Union Ocean Sciences Meeting this week. via Jen Biddle @subsurface_life #oceans2012
Feb. 23, 10:15 a.m. — The extreme intelligence of dolphins and whales merits a cetacean bill of rights that puts them on a par with humans, says an international team of scientists. The animals have culture, society and personalities so sophisticated that they should be considered "non-human persons," according to TNT Magazine. The researchers, which included an ethicist and a psychologist, were speaking at the American Association for the Advancement of Science in Vancouver. via TNT Magazine and Underwater Times
Feb. 22, 4:57 p.m. — Today marks National Margarita Day, Thinking Day, Be Humble Day, Single-tasking Day, Spay Day, George Washington's Birthday, National Pancake Week, Engineers Week and Brotherhood/Sisterhood Week. To celebrate, we should all be thinking exclusively about how we can humbly honor the engineers who brought us pet spaying, while enjoying a birthday pancake honoring our first president with our brothers and sisters. Bonus points if you eat a potato pancake, or if today is your wedding — it's National Weddings Month and National Potato Lovers Month too! Double bonus points if it's a sweet potato pancake and you mention George Washington Carver — who found many uses for sweet potatoes, peanuts and soy — as it's also Black History Month. inspired by Punchbowl
Feb. 22, 4:08 p.m. — What if a blood test could predict everlasting love? Would you ask your date for a sample? Researchers found that people with higher blood levels of oxytocin, the hormone that rises during lovemaking, in the early part of their relationship were more likely to stay together for a longer period of time than those couples who had lower levels of oxytocin. via Time Healthland 
Feb. 22, 2:22 p.m. — More indications that our oceans — and the fish in it — are in trouble. The number of commercially caught fish has declined by around 55 percent over the last 40 years, according to Villy Christensen, an ecosystem modeler with the University of British Columbia Fisheries Center. Half of the 2 billion tonnes of fish in the oceans are smaller fish, good for feeding whales, but not so much for feeding people. As waters get warmer with global warming, fish will move northward in search of cooler waters, but a general decline in ocean water quality will ultimately mean fish stocks will continue to decline. via The Windsor Star
Feb. 22, 3:30 a.m. — New York may join several other states in the nation in taking legal action against shark finning. A new bill in Albany proposes to ban the sale of shark fins from New York possibly as soon as 2013. Assemblywoman Grace Meng, of Flushing, Queens, who grew up eating shark fin soup in her parents' Chinese restaurants is co-sponsoring the bill. "This is going to be a huge adjustment for the community," she told The New York Times, "but it's important to be responsible citizens." Currently, Florida, Illinois, Maryland and Virginia also have legislation pending, and California, Hawaii, Oregon and Washington have bans in place. via NYTimes
Feb. 21, 4:50 p.m. — Is that problem we have with plastics filling up landfills and leaching into our soil soon to be over due to an accidental find in Equador? Uh, we hope so. A group of student bioprospectors from Yale may have "struck environmental gold in the jungles of Ecuador," according to the Yale Alumni Magazine. In the September issue of Applied and Environmental Microbiology, Jonathan Russell and his colleagues describe how they found a fungus they identified as Pestalotiopsis microspora — and then discovered its unique polyurethane-digesting talents. via Yale Alumni Magazine
Feb. 21, 2:55 p.m. — Three Australian Web developers, who are former Google employees, have launched an email service called Fluent that they think will rival Gmail. According to the team, Fluent will help people sift through their bulging inboxes 20 percent faster because it will stream messages similar to how they appear on Facebook. It will also allow for instant searching, show attachments as slide shows and allow users to manage multiple accounts under one log-in. via Sydney Morning Herald
Feb. 21, 1:21 p.m. — Your cell phone might be turning you into a jerk. Our surroundings affect our moods and feelings about what we're experiencing; the same goes for our digital lives. Cell phones seem to decrease prosocial behavior, keeping us internally connected, while we ignore those around us. I have to go read a text message … via The Atlantic
Feb. 21, 12:15 a.m. — Toilet paper use has now surpassed newsprint in the United States. The average American uses 23.6 rolls of toilet tissue a year – or about 7 billion rolls for the country, according to an article in Grist. So what's the alternative? Do as lots of other cultures do and clean with water. Technically it's cleaner. But a switch seems unlikely, Grist points to a recent survey showing only 6 percent of Americans are willing to consider cutting back on their toilet paper use. via Grist
Feb. 21, 10:55 a.m. — The famous painting "The Scream," by Edvard Munch, is expected to pull in over $80 million when it's auctioned on May 2, according to a Reuters report. The pastel, one of four versions, was created in 1895. This version is privately owned by Norwegian businessman Petter Olsen, whose father was a friend of Munch's. via MSNBC and Reuters
Feb. 20, 5:10 p.m. — The first-person shooter "Medal of Honor" could have significant benefits for people with certain eye conditions. This is the preliminary conclusion to come from psychologist Daphne Maurer who carried out a study of six adults who were born with cataracts. Although their condition had been treated, their eyesight was impaired. But by playing the video game for 40 hours over the course of a month, a significant improvement in eyesight was detected. Researchers want to try to replicate results with a nonviolent game, but it could be that the adrenaline rush triggered by being "under fire" was a factor in the results measured. via Geeks Are Sexy
Feb. 20, 5:05 a.m. — On Sunday, the animated comedy "The Simpsons" aired its 500th episode. Now in its 23rd season, the show has become the longest-running prime-time scripted program on U.S. TV. The show is contracted for another two seasons. The 500th episode featured Wikileaks founder Julian Assange, who recorded his lines from the U.K., where he is currently fighting extradition to Sweden. via BBC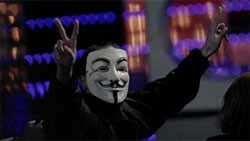 Feb. 20, 12:30 a.m.
— Anonymous, the group of hackers responsible for a string of disruptive online protests, took a bold step into the real world on Sunday. At the Goyas award ceremony in Madrid — the Spanish equivalent of the Oscars — three masked Anonymous members circumvented tight security and made an attempt to get on the stage during the award for "Best Director." Although security managed to stop them, this high-profile awards ceremony crashing will no doubt keep the hacking group in the headlines. via Gizmodo