Chinese Journalist Covers Quake In Bridal Gown
When a devastating earthquake struck China over the weekend, television anchor Chen Ying took to the street to cover the breaking news -- in her wedding dress. Continue reading →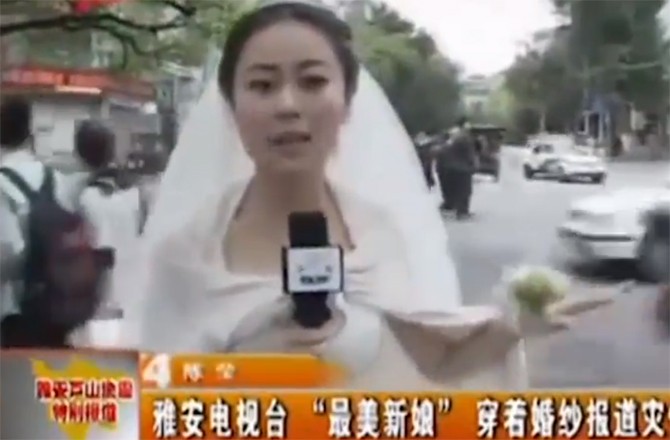 When a devastating earthquake struck China over the weekend, television anchor Chen Ying took to the street to cover the breaking news — in her wedding dress.
The journalist was set to get married on Saturday in China's Sichuan province, when an earthquake of magnitude 6.6 struck the region.
Deadly Magnitude-6.6 Quake Hits China's Sichuan
Based on several media reports, including ABCNews, Chen was either already attending her wedding ceremony or on her way. A video shows Chen in her beaded white wedding gown — complete with headpiece, veil, and a corsage on her wrist — conducting interviews and reporting on the situation.
Her dedication and "professional spirit" have earned her many accolades on Weibo, a Chinese social media site.
The earthquake left at least 192 people dead and more than 11,000 injured.
Reports indicate that Chen did eventually exchange her vows and then went straight back to work.
IMAGE: Video grab of Chen Ying reporting on the Saturday earthquake in Ya'an, China.