Chilling Wine to the Perfect Temperature, Every Time
Finding the perfect temperature for wine can be an ordeal. Too cold, and you can lose the wine's crafted complexities. Too warm, and the alcohol taste can become too strong and obscure the flavors. But one device says it can chill wine perfectly, every time: Corkcicle. Conventional ice buckets continue chilling wine until it can [...]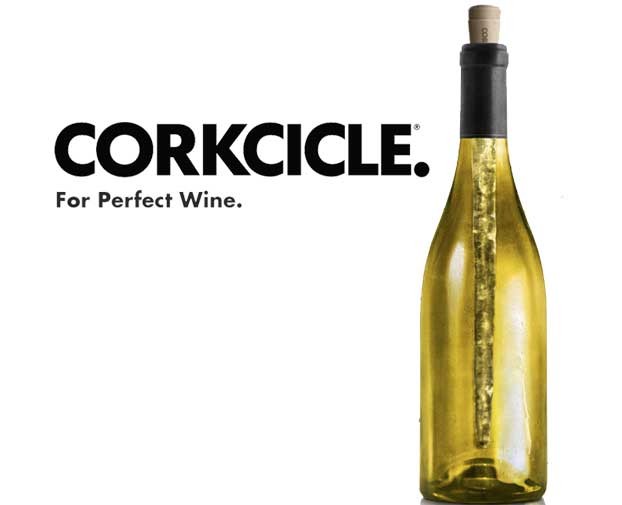 Image: Corkcicle
Finding the perfect temperature for wine can be an ordeal.
Too cold, and you can lose the wine's crafted complexities. Too warm, and the alcohol taste can become too strong and obscure the flavors. But one device says it can chill wine perfectly, every time: Corkcicle.
Conventional ice buckets continue chilling wine until it can be too cold. Yet placing a bottle on a table allows the wine to warm too much. Corkcicle, an icicle made from non-toxic gels and a BPA-free plastic sheath, maintains a constant cool temperature from within.
To use, place it in the freezer for at least two hours. Meanwhile pour a taste from the bottle to make room for the Corkcicle. Stick the icicle inside the bottle, and it'll begin chilling the entirely bottle evenly. This can be reused and works for both whites and reds, which have various ideal drinking temperatures, listed below.
Wines – Ideal drinking temperature, in Fahrenheit
Light Whites (Pinot Grigio, Sauvignon Blanc, Rose) – Upper 40s
Heavy Whites (Chardonnay) – Low 50s
Light Reds (Pinot Noir, Beaujolais) – Upper 50s
Medium Reds (Merlot, Cotes, du Rhone) – Low 60s
Heavy Reds (Cabernet Sauvignon, Zinfandel, Shiraz/Shirah) – Mid 60s
The Corkcicle is sold for $22.95 — a small price to pay for perfect wine, right?