Chasing Tornado Debris For Better Warnings
The Super Outbreak of tornadoes that struck the Southeast U.S. on April 27, 2011, set a new distance record for tornado debris, with the furthest items thrown flying to the right of the tornado track. ->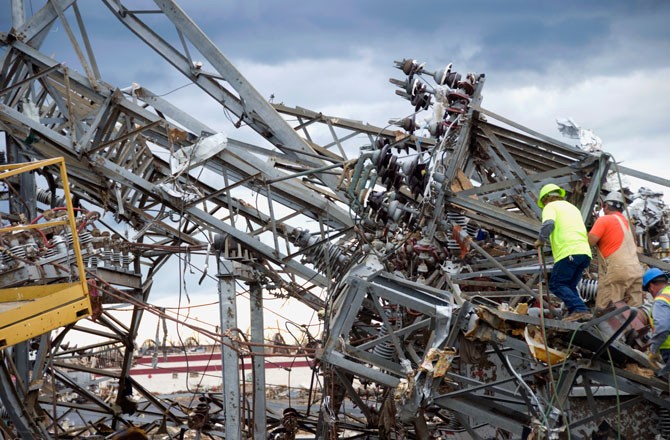 When family photographs and paper began falling from sky over northern Alabama, in April 2011, just hours after a storm of tornadoes ravaged the south, one woman began collecting the documents and posting them on a Facebook page for their owners to claim.
Now two years later, more than 1,700 lost-and-found items posted on that page have not only found their way back to their owners, but have also shown that the Super Outbreak of tornadoes that struck the Southeast U.S. on April 27,  2011, set a new distance record for tornado debris.
PHOTOS: NASA's Extreme Weather Photo Contest: Winners
One photograph of a mountain steam traveled 220 miles (353 km) from the northwest Alabama town of Phil Campbell to the east Tennessee town of Lenoir City, reported the AP.
Using the information on the Facebook page that Patty Bullion created, geographer John A. Knox of the University of Georgia worked with a team of meteorologists and geoscientists from Illinois and Norway to model how objects traveled during the storm. They correlated at least 15 different tornadoes to 934 objects thrown that day. The Super Outbreak had generated more than 120 tornadoes within hours of each other, leaving more than 300 people dead.
Knox and his team found that most of the debris fell slightly to the left of the tornado tracks, but surprisingly "the longest trajectories exhibited a previously undocumented tendency toward the right of the average tornado track vector," the researchers reported online in the Bulletin of the American Meteorological Society.
The implications could help better predict future tornado fallout. "Let's say a tornado struck some kind of toxic waste dump. Sure, some of the debris or dust would have some contaminants in that," atmospheric scientist Joshua Wurman, who founded the Center for Severe Weather Research in Boulder, Colo., and was not involved in the debris study told the AP.
"Understanding which direction those contaminants would go could be useful," he said.
IMAGE: Workers dismantle a large power station and hazardous materials in Joplin, Mo., following an EF5 rated tornado that struck the town on May 22, 2011.