CES 2013: Samsung Unveils An 'Entertainer's Fridge'
This fridge has a display that runs apps and lets users share photos, videos and recipes. ->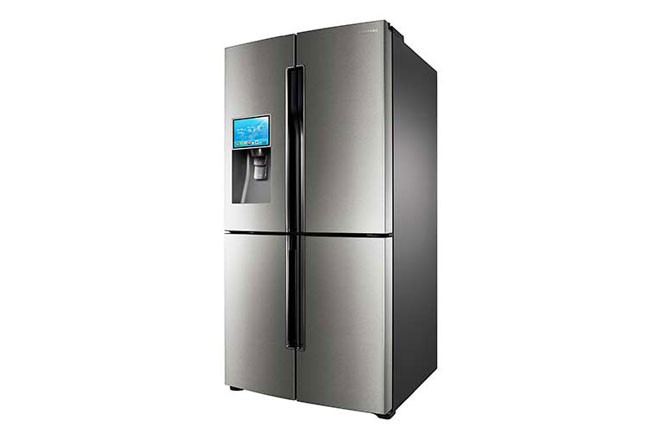 Samsung has expertise with consumer electronics, including TVs, laptops and cameras and they also develop appliances. Now they're combining the two areas by putting an LCD display into a fridge.
At CES 2013, Samsung unveiled the 32-cubic-feet T9000 Four-Door Refrigerator (we like the four doors, btw) and is billing it as "the home entertainer's ultimate refrigerator" for several reasons. For starters, the LCD display can run apps, such as though for calendars and the weather. At the company's CES press conference announcing the T9000, Samsung put the focus on Evernote, which lets users share photos, videos and recipes. Those whose recipes live on their smartphones may find that the inclusion of a display on the fridge could reduce greasy fingerprints on iPhone screens.
As a refrigerator, the T9000 parallels industrial coolers in temperature and humidity control. With two compressors, three evaporators and other sensors, the refrigerator's cooling system can keep food fresher for longer.
Perhaps the most compelling reason why the T9000 is billed an entertainer's refrigerator is the ability to alter the function of different compartments. Extra space in the freezer for example, can be converted into fridge space and vice versa. That's handy for anyone entertaining or hosting a dinner party.