Cause of Indianapolis Stage Collapse
A sudden gust of 60-70 mph winds, likely a microburst downdraft, toppled a concert stage in Indianapolis Saturday night, leaving 5 dead.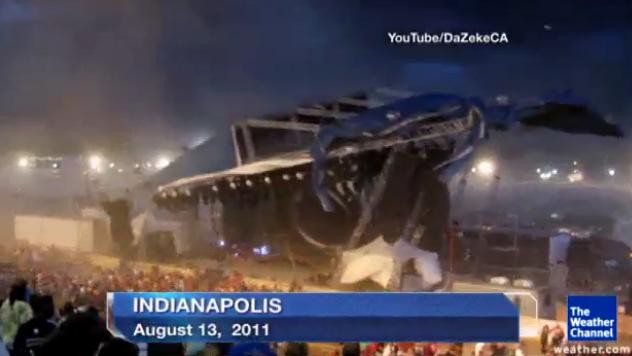 The announcer on the stage in Indianapolis at the Indiana State Fair had just given the audience instructions on what to do in case of an evacuation due to an approaching storm. But expectations remained that the next band, Sugarland, would soon begin performing. That's when the approaching storm turned into a sudden and immediate threat as a gust of wind blew over the light support and rigging directly on top of those closest to the stage.
The Associate Press reports that five people have died and dozens are injured and still being treated in neighboring hospitals.
But instead of evacuating many in the audience rushed to help. "The response was excellent not just from first responders but from participants, people that were attending the event," Frank Straub, of the Indianapolis Department of Public Safety reported to news agencies. "When the structure came down, people at the event worked with emergency providers tried to lift the structure to help people underneath."
The Associated Press reported:
The chief meteorologist for the National Weather Service in Indiana estimates a wind gust of 60 to 70 mph hit the stage. Meteorologist Dan McCarthy said at a Sunday news conference that the wind gust was not typical and that wind in other parts of the state fairgrounds wasn't close to that speed. Indiana Gov. Mitch Daniels says no one could have foreseen the blast of wind. He calls it a "freakish accident" and a "fluke event."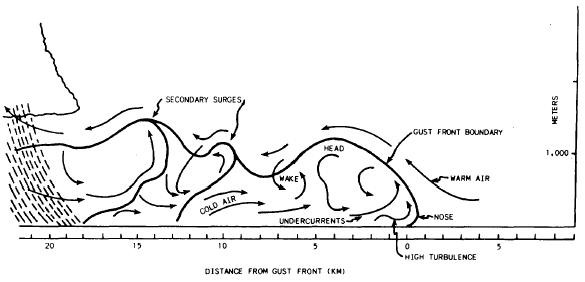 But wind shear is known to induce trouble well in advance of approaching thunderstorms. The complexity of mixing fronts between warmer ground temperatures and cooler rain clouds can cause changes to wind patterns 15 miles away from a storm.
NASA has given special attention to microbursts "local, short-lived downdrafts that radiate outward as they rush toward the ground," which sounds similar to the situation that struck Indianapolis. But the technology to detect such microbursts is used specifically to alert pilots of the danger during take-offs and landings.
Image 1: Video still from The Weather Channel.
Image 2: Wind shears associated with thunderstorms. (Integrated Publishing)