Cardinal Takes Over at Pope-Less Vatican
Cardinal Tarcisio Bertone assumes control of day-to-day business until a new pope is elected. ->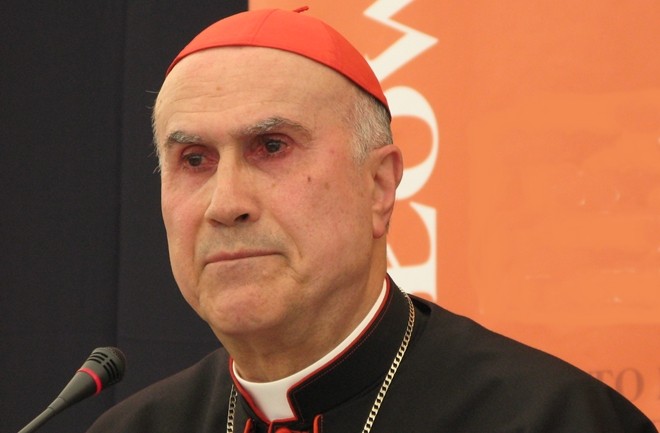 As Rome woke up with no Pope, a period known as the "Sede Vacante" or "Vacant See" began at the Vatican.
Following Pope Benedict XVI's resignation, and beginning at 8 p.m. Thursday, the "Vacant See" marks the interim period between the end of one papacy and the election of a new pontiff. During this time the papal apartment is locked and sealed with wax by the "camerlengo," or chamberlain.
According to Vatican law, this key official takes possession of the Apostolic Palace, "safeguarding and administering the goods and temporal rights of the Holy See" until a new pope is elected.
PHOTOS: Pope Benedict's Final Farewell
Benedict XVI, now called Pope Emeritus, chose in 2007 his former Secretary of State Cardinal Tarcisio Bertone, 78, for this important role.
Cardinal Bertone will skip one of the camarlengo's main responsibilities, as this time he won't need to certify the death of the pope.
To mark the end of Benedict XVI's papacy and to prevent forgery during the vacancy, he will destroy the Fisherman's Ring worn by Benedict at the very last moment. Camarlengo Bertone will then run day-to-day business that cannot be postponed until the new pope is elected.
PHOTOS: Pope Benedict XVI's Reign
However, he won't have the authority to nominate new bishops, approve decrees or publish documents, as only the Pope can execute such tasks.
To mark the transitional time, the Vatican issued on Friday a series of four interregnum postage stamps, repeating a tradition which dates back to 1939, during the transition between Pius XI and Pius XII.
Showing the Vacant See symbol — a striped umbrella over crossed keys held by an angel — and the words "Sede Vacante, Citta del Vaticano, MMXIII" (the year 2013 in Roman numerals) the stamps have a face value of 70 euro cents (about $0.91), 85 cents for Europe and the Mediterranean, two euros for Africa, Asia and the United States and 2.50 euros for Australia.
Special coins marking the period will be also minted.
NEWS: Pope Acknowledges 'Rough Seas' in Final Address
Meanwhile, many of the 115 "Princes of the Church" who will elect the 266th pope have arrived in Rome. They will begin informal discussions at 9:30 a.m. local time on Monday; a second meeting will take place at 5 p.m. local time.
However, it is unlikely that the cardinals will set a date for a conclave on those meetings.
In a letter Friday, Cardinal Angelo Sodano, Dean of the College of Cardinals, made it clear that the conclave date won't be set "until all the elector cardinals have arrived."
Image: The Camarlengo, Cardinal Tarcisio Bertone. Credit: Wulfstan/Wikimedia Commons