Canon's New Handheld, Studio-Quality Camcorder
The professional camera is capable of high-resolution digital motion picture production.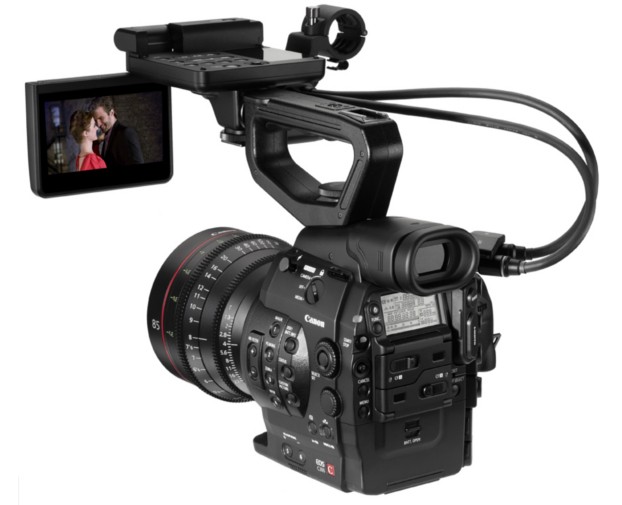 Canon EOS C300 Digital Cinema Camera: $20,000
Last week in Hollywood, Canon held an event to give the motion picture industry an up-close view of their forthcoming EOS C300 digital cinema camera. Slated for a January release, they hope the C300 will be met with the same enthusiasm by professional movie makers as the original Flip handheld was by consumers. The Flip Mino came to market with a blend of quality, portability, usability and price that went on to define the handheld HD camcorder category. Canon U.S.A. executive Larry Thorpe told DP Review that with this first entry in Canon's 'C' system interchangeable lens video cameras, they are "going to enter the motion picture industry with a very sharp focus on movie making, on television production on commercial production."
It features a single Super 35mm-equivalent CMOS sensor able to deliver full bandwidth individual red, green and blue video components without the need for any debayering algorithms. Canon will produce two different (but otherwise equivalently configured and priced) models, one with the industry-standard PL lens mount and the other utilizing an EF lens mount — making the C300 compatible with Canon's dozens of existing lenses, along with some impressive-looking new ones. While it can take stills — and record them to an SDHC card — it's clearly made for video.
To accommodate different shooting styles, the viewfinder tilts up to 60 degrees, the 4-inch LCD monitor/control panel rotates 270 degrees, it's got Start/Stop buttons in four different locations and large dials are positioned in two places to allow operation from the side. It features a removable handgrip that's completely rotatable in 15-degree increments. And an onboard waveform monitor and vectorscope eliminates the need for external exposure and color analyzers.
For twenty grand — considered a decent price for what it does — the package includes the EOS C300 body (roughly 3 pounds and 5 inches by 7 inches by 7 inches), the monitor unit, viewfinder, eye cup, handle, thumb rest, XF Utilities, shoulder strap, WFT attachment, tripod base, battery pack, battery charger, AC cable, power adapter and DC cable. Canon is encouraging parties interested in purchasing or renting it to fill out an online form.