Canada to Claim North Pole
Canada signaled intentions to claim the North Pole and surrounding Arctic waters while announcing the filing of a UN application seeking to vastly expand its Atlantic sea boundary.
Christian Aslund/AFP/Getty Images
Greenpeace activists display a large art work at the North Pole, entitled "Save the Arctic."
James Weliver/USFWS
These three Canada lynx (Lynx canadensis) kittens live in the Great North Woods region of Maine. In June of 2010, the kittens were studied by a team of biologists from the U.S. Fish and Wildlife Service (USFWS) and the State of Maine Department of Inland Fisheries and Wildlife.
James Weliver/USFWS
Studies of the Canada lynx has been conducted by the USFWS and the State of Maine Department of Inland Fisheries and Wildlife since 1999. Here, a wildlife biologist sets an ear tag in place.
James Weliver/USFWS
The shadow of climate change hangs over these young lynx. As New England warms, the cats are losing their habitat.
James Weliver/USFWS
Lynx strut on long legs with big feet perfect for walking on snow. The wild felines depend on heavy snow to maintain their advantage over other predators as they stalk snowshoe hare, their primary prey.
James Weliver/USFWS
Reductions in snowfall in the Great North Woods region of Maine (shown here) where the lynx research took place may cause the cats to suffer.
"Lynx are uniquely sensitive to climate change based on their physical attributes," said Chris Hoving, of the Michigan Department of Natural Resources and Environment in a press release. "Their preferred habitat requires at least 2.7 meters of average annual snowfall. If snowfall decreases, there may be almost no suitable habitat in Maine where the only verifiable lynx population on the East Coast exists."
Hoving published a study of lynx habitat needs in the Journal of Wildlife Management.
James Weliver/USFWS
Canada lynx thrive in the wilderness of Canada and as well as Alaska, Montana, Idaho, Washington, Oregon and Wyoming in the United States. Other states support smaller populations. In 2000, the USFWS officially listed Canada lynx as a threatened species in 13 states.
Michael Zahra
Canada lynx kittens grow up to look like this adult in approximately two years. Adult Canada lynx differ from bobcats (Lynx rufus) in that they sport long ear tufts that aid in hearing, have longer legs and bigger feet, and tend to be more gray compared to the spotted bobcat.
James Weliver/USFWS
Lynx kittens spend their first five weeks in their den. Between seven to nine months of age they begin to hunt. By the beginning of the breeding season on the next year, the kittens are ready to leave mom's side, though they might not breed themselves for another year.

Canada signaled intentions to claim the North Pole and surrounding Arctic waters while announcing the filing of a UN application seeking to vastly expand its Atlantic sea boundary.
After a decade of surveying the country's eastern and far north seabeds and gathering supporting evidence, a claim was submitted to the Commission on the Limits of the Continental Shelf on Friday.
Foreign Affairs Minister John Baird said the filing mainly concerns the outer limits of Canada's continental shelf in the Atlantic Ocean.
But it also includes "preliminary information concerning the outer limits of (Canada's) continental shelf in the Arctic Ocean," he said.
"We have asked our officials and scientists to do additional work and necessary work to ensure that a submission for the full extent of the continental shelf in the Arctic includes Canada's claim to the North Pole," he told a press conference.
"Fundamentally, we are drawing the last lines of Canada. We are defending our sovereignty," added Arctic Minister Leona Aglukkaq.
Asserting sovereignty over an expansive Arctic archipelago and surrounding waters has been a key plank of Canadian Prime Minister Stephen Harper's Tories in the past three elections since 2006.
But Russia and Denmark are expected to file overlapping claims, which could lead to confrontation between the Arctic neighbors.
Interest in the polar region has flared up as rising temperatures open up shipping routes and make hitherto inaccessible mineral resources easier to exploit.
The North Pole seabed itself is not believed to hold large reserves but has symbolic value for the countries in the region, which also includes Norway and the United States.
Natural Resources Minister Joe Oliver said enlarging Canada's Arctic boundary is important for "Canada's long-term economic prosperity."
Observers, however, note that energy firms face harsh conditions in the Arctic, and environmental concerns could delay resource extraction in the pristine waters.
Just gathering supportive evidence for Canada's claim has been a challenge, commented Fisheries Minister Gail Shea.
"The Canadian Hydrographic Service and the Geological Survey of Canada have collected a great deal of data in areas that are ice-covered, difficult to access, and that in some instances had not previously been surveyed," the minister said.
Scientists also described treacherous mapping expeditions to the coldest reaches of the planet.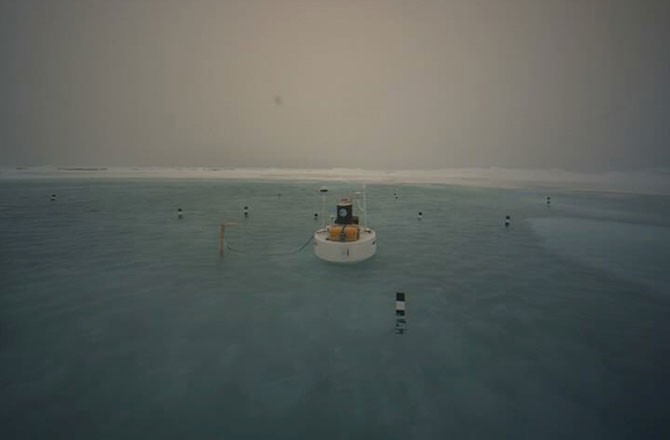 A picture of a buoy anchored near a remote webcam at the North Pole shows a meltwater lake surrounding the camera on July 22.North Pole Environmental Laboratory
Data collection mainly involved the use of aircraft, ice breakers and robot submersibles covering a 58,000-kilometer (36,000 mile) stretch of ice-covered waters.
And periodically unpredictable ice conditions forced the emergency evacuation of ice camps, officials said.
Foreign ministry official Hugh Adsett told a technical briefing "substantial progress" has been made in the data collection, but added without specifying a timeline, "there is more work to be done."
"The objective is to obtain the most expansive continental shelf for Canada," he said.
Nations bordering the Arctic currently are entitled to a 200-nautical-mile economic zone from their coastlines, but claims for extending their territories are to be decided under the United Nations Convention on the Law of the Sea.
In order to be successful Canada must show that its continental shelf extends beneath the North Pole, which sits on a slope of the underwater Lomonosov Ridge.
Environmental group Greenpeace meanwhile condemned Canada's announcement, warning any future drilling in the Arctic could lead to a "climate maelstrom."
"Extending the Canadian territory to expand Arctic oil extraction is equal to condemning future generations to an environmental nightmare," Greenpeace said in a statement.
Canada's Atlantic Ocean claim stretches from the shores of its easternmost Nova Scotia province northward along the Grand Banks to the northern tip of Labrador 7,700 kilometers (4,780 miles) away.
The area is more than 1.2 million square kilometers (460,000 square miles) in size, or as large as Canada's Western plains.
Canada expects overlapping claims in the Atlantic from Denmark in the Labrador Sea and with the United States south of Nova Scotia.
Canada said France also intends to file a submission in respect to its tiny islands in the northwest Atlantic, Saint Pierre and Miquelon, "so we may have a dispute with France in the future," the official added.
The UN is scheduled to consider Canada's partial submission in July-August 2014.