Can Watching the Olympics Make Us Fitter?
The Games heighten our awe at what people can accomplish when they train hard for years in relative obscurity -- and may inspire us to get moving.
As spectator sports, Olympic events make hearts race and palms sweat as viewers vicariously experience the thrill of victory and the agony of defeat.
But can watching some of the world's fittest athletes compete actually make spectators fitter?
When people watch sports, even if they are sitting on the couch eating popcorn, their brains and bodies respond in physical ways, according to accumulating research. Unfortunately, those changes are unlikely to be extreme enough to accomplish any muscle sculpting.
Instead, any potential benefits lie in the inspiration that comes from marveling over athletes who have dedicated their lives to becoming the best they can be.
Like New Year's Eve, experts said, the Olympics give spectators an opportunity to start anew and make athletic resolutions.
And because the Games come around only once every four years in the midst of a 24-hour news cycle, they heighten our awe at what people can accomplish when they train hard for years in relative obscurity.
"There's something amazingly special and unique about the Olympics in terms of the whole aura of commitment, perseverance, dedication, training and the whole beauty of sport itself," said Dan Lebowitz, executive director of the Center for the Study of Sport in Society at Northeastern University in Boston.
"If you're on the couch watching, you start saying to yourself, 'Wow, here's a great example of humanity pushing the envelope in terms of what athletics can allow humans to do.'"
In a study that garnered hopeful -- if misleading -- headlines several months ago, researchers reported that watching a video from the perspective of someone else running induced physiological changes that mimicked what happens during actual exercise. The heart rates of viewers increased. They breathed faster and perspired more, and blood flow increased to the skin.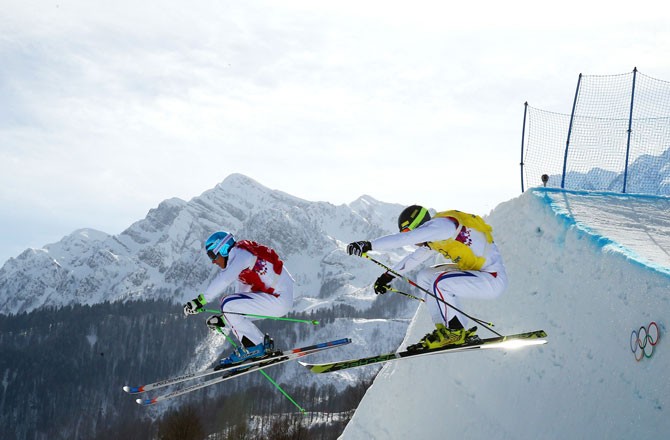 Jean Frederic Chapuis of France (red bib) and Jonathan Midol of France (yellow bib) compete during the Freestyle Skiing Men's Ski Cross 1/8 Finals on day 13 of the 2014 Sochi Winter Olympics.Cameron Spencer/Getty Images
None of those reactions were strong enough to count as a real workout, but the findings echo recent discoveries that have changed the way scientists think about the brain, said Marco Iacoboni, a neuroscientist at the University of California, Los Angeles' David Geffen School of Medicine.
Mirror neurons are cells in the brain that fire not just when we do things, but also when we watch others do things. These neurons facilitate empathy and social relationships, Iacoboni said, and they help explain why viewers can get so sucked into movies and sporting events.
When it comes to the Olympics, spectators are most likely to feel like they're part of the action if they have participated in the sport they're watching. If you ski, for example, your brain practices turns every time you watch competitors navigate the giant slalom course.
That means that watching skilled athletes perform can lead to better performances for spectators, too -- but only if they get up and practice afterwards. And there is some anecdotal evidence that the Olympics inspire people to get moving, said Michael Berry, president of the National Ski Areas Association in Lakewood, Colo.
For the NSAA, Berry said, the Games provide a powerful marketing opportunity to get people out on the slopes with well-timed promotional programs like the ongoing, nation-wide "Learn to Ski and Snowboard Month." Even so, he added, weather has a bigger impact than anything else on whether people ski or not.
Internal motivation matters, too.
"If you're an active person and watching people do sports inspires you, you can get better" and fitter, Iacoboni said.
But if you're content to watch semi-final after semi-final of slopestyle while munching on nachos, Olympics-viewing probably won't do much for your cardiovascular health.
"The more you watch, the more you're sitting," he said. "That's actually going to get you into worse shape."