Can Court-ordered Rehab Work?
Is recovery possible when its involuntary? The answer may surprise you.
Lindsay Lohan checked in at the Betty Ford Clinic this week, marking at least the seventh time she's been in rehab. Lohan's case isn't even all that unusual, as the New York Daily News points out with a slideshow featuring over 40 celebrities who have been in rehab. Meanwhile, Gawker published a guide to the most popular rehab centers among celebrities.
But it raises the question: Does court-ordered rehab work?
It can, said Dr. Marvin Seppala, chief medical officer at Hazelden, a preeminent treatment center for alcohol and other drug addiction. In fact, knowing that over 90 percent of its patients are "forced" to be there, either by a court or employer or family, Hazelden researched this question internally a few years ago. The results were surprising.
"The assumption is that those who come on their own are more likely (to succeed), but no, it's the same, or even a slightly better outcome" for those coerced into checking in, Seppala said. "It may be that it's gotten to the worst point for those people, so there's more motivation to address the issue. But people don't have to believe it's going to work, or even to recognize they have a problem, at the onset."
Still, statistics show just how challenging recovering from addiction can be: The best rehab programs find that about 55 percent of their patients are clean at the 1-year mark, Seppala said. That might seem low, but Seppala points out that it compares favorably to other chronic illnesses (hypertension or diabetes, for example) that require major lifestyle changes. And he expects the statistics to improve as understanding of the brain improves.


"The brain is affected by the problem, and it's the very organ that's supposed to help you," Seppala said.
There are long-term brain changes -- taking weeks or months to heal -- that occur in addicts that scientists are just beginning to understand, he said. At a very basic level, the reward center of the brain gets reprioritized, so that addiction supersedes normal survival behavior. And it's subconscious, so the patient doesn't recognize life-threatening situations.
Combine that with the complications of leading a celebrity lifestyle, and the penchant to focus on a celebrity's failures, and Lohan's situation becomes more understandable. Lohan's own feelings on her current rehab stint seem fairly ambivalent.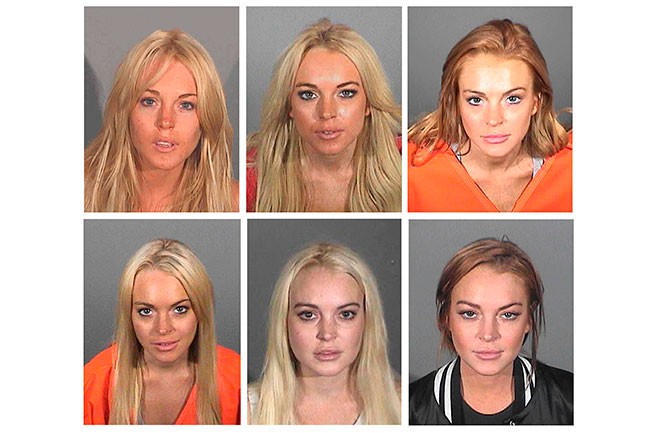 Actress Lindsay Lohan is shown in various booking photos provided by law enforcement agencies from over the years for her brushes with the law. Corbis
"I don't think it will be a bad thing for me to be away with myself for three months," Lohan recently told Piers Morgan in a lengthy interview. But "I don't think I need to be on lockdown for three months. I don't think that's rehab. I've been court-ordered to do it six times. I could write the book on rehab. Constantly sending me to rehab is pointless. The first few times I was court-ordered to rehab it was like a joke, like killing time."
That attitude may not mean Lohan is out of luck, however. Because treatment in the United States varies so widely (there are no standardized nationwide guidelines), outcomes also vary. At a quality program, though, it shouldn't matter how the patient got there, Seppala said. The patient may not need to want to be there on Day 1, but they do have to find that motivation before they can recover.
"When people enter treatment, the main initial focus is motivation," Seppala said. "Our counselors use motivational techniques to help the person who isn't quite convinced (they want to be there). And so frequently that's the case. We work to engage the individual, to help them understand for themselves the main motivation for change. Once people can get to that point and can see it accurately, then they're much more likely to do well."
Lohan's current rehab stint is 90 days, as mandated by the court -- a timeline often set by a judge. But since judges aren't usually doctors, the length of time prescribed doesn't necessarily match what's needed, Seppala said. The goal, then, becomes to engage patients enough in that timeframe that they will choose to stay as long as necessary.
Still, even the most motivated frequently fail. Defining success, in fact, is problematic. Sometimes it takes several attempts at rehab before it sticks, said Ellen Elias, director of the Center for Alcohol and Drug Resources in Hackensack, N.J.
"People will cycle through many times through different treatment programs," she said. "Sometimes people say X program is the best, but to me, it may be that all of the things that happened in their life are part of who they are," and each rehab stint may have contributed in some way to the end success.
"You can't really tease out why this or that worked," she said.